SUMMER SCHOOL
By Jerome Chou
20 Mar 00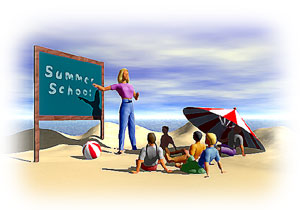 THE LOWDOWN:
For administrators at troubled urban public schools, the popular scapegoat these days is social promotion. In a wave of reform, big-city schools from Chicago to L.A. have begun replacing promotion with retention, holding back students who don't meet standards. Former Chancellor Rudy Crew and the NYC Board of Education jumped on the bandwagon in 1998, ordering 32,000 3rd and 6th graders to attend summer sessions. Undaunted by a series of well-publicized gaffes, the Board expanded its retention goals last fall to include students in grades 3-12.
This year, Interim Chancellor Harold Levy inherits a program of staggering proportions: 321,000 students received letters in early March warning them they'd be spending their vacation in class if their performance didn't improve. If those numbers don't change, the Board of Education will need to hire 17,000 teachers in the next four months. The City has budgeted about $160 million dollars for summer school, on top of an additional $153 million to install air conditioners in 7,000 classrooms citywide.
Recent coverage has ignored New York's last summer fling with retention. In the early 1980s, Mayor Ed Koch and the Board implemented the Promotional Gates program, mandating that students in 4th and 7th grade attend summer school. According to reports from auditors who reviewed the program, students who were kept back performed no better in the long term than those who were allowed to graduate before the retention policy was put in place.
With time running out on the Board of Education, Mayor Giuliani and the teachers union (the UFT) have both seized the opportunity to squeeze Chancellor Levy. The UFT is bargaining for a raise for summer school teachers--up from the current rates of $33 an hour. The Mayor, who has helped privatize many other areas of city governance, has earmarked $64 million--more than a third-of the City's proposed summer school budget for private companies to help teach students (the Board of Education has already received bids from 61 companies offering services).
SCHOOL'S IN:
NYC Board of Education - Latest word from the Chancellor is he'll have an update sometime this week. In the meantime, study their basic statistics on NYC's schools at http://www.nycenet.edu/news/facts/facts98.html
Council of Great City Schools - A generally pro-retention coalition of urban school districts. A search for "summer school" on their site turns up brief articles on successful summer school programs nationwide.
Jess' Lil' Policy Corner - Goth Gaz Managing Editor chows down with the Chancellor at Biz Bigwig Breakfast.
CLASS DISMISSED:
Advocates for Children - Downloadable reports offering incisive, well-informed challenges to retention programs.
Manhattan Institute - In her scathing editorial, Diane Ravitch warns NYC is trying to do too much too fast. Why would schools that fail to teach during the year magically get it together when the temperature reaches 90 degrees?
CHICAGO SUMMER:
Chicago's retention program, in place since 1998, has generated reams of commentary and analysis:
Designs for Change - This Chicago-based education reform group has published studies showing that retention - including an extensive summer school program - has failed to improve student achievement and has helped increase dropout rates.
Education Weekly "Study Looks at Retention Policy" - Debra Viadero's article on Chicago's program provides a number of helpful links, including the findings of Ernst House, a University of Colorado Education Professor who helped evaluate-and end-New York's Promotional Gates program (in PDF format).
Visit the IOTW Archives!
WHADDAYASAY?? GothGaz wants to know what YOU say about this issue. Fire away!