Superfund!
12 February 01
by Michael Burger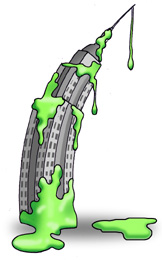 Samara Swanston works in Brooklyn, in one of the most heavily polluted urban areas in the country, community district one, which includes sections of Fort Greene and Williamsburg, and is rife with industrial discharges, both legal and illegal. As an attorney with the Watchperson Project, an environmental advocacy and education group, Swanston knows the nastiness - at least the illegal part of it - will not be cleaned up without the state Superfund. And the Superfund is about to go broke.
The Superfund provides money to the New York State Department of Environmental Conservation to clean up polluted surface water, groundwater and soil on properties where the company or individual responsible for the contamination either can not be found, no longer exists, or else just refuses to pay without a court battle. The program which has cleaned up about 600 sites since its birth in 1982, operates as the state's version of the federal Superfund.
But Governor George Pataki says that the Superfund needs to be reformed, and he has tied its refinancing to the legislature's passage of the changes he seeks. Environmentalists say Pataki's reforms concede too much authority to private interests. Whichever side is right, cleanup at the city's toxic waste sites could be backed up for months, if not years. According to Anne Rabe of the Citizens Environmental Coalition, new investigations and cleanups actually ground to a halt a while ago. "There are plenty of sites they're not cleaning up because they know they just don't have the money," Rabe says.
Within the next few weeks, the check will clear that will pay for cleanup at two landfills in Brooklyn, one on Fountain Ave., the other on Pennsylvania Ave. At that moment, the Superfund will at least officially become bankrupt. Indeed, it will be saddled with $59 million in debt, some of which is owed the city. And the city will be left with 110 hazardous waste dumps, landfills, abandoned factories and other polluted sites already identified as requiring investigation and cleanup.
THE CHANGES
In the budget he presented last month, Governor Pataki dedicated $138 million to deal with the state's universe of toxic waste: the Superfund, oil spill cleanup and brownfields redevelopment. The refinancing is packaged with a slew of changes recommended by the Superfund Working Group, a team the governor put together in 1998.
The proposed changes are in part a response to complaints from people like Ken Pokalsky of the Business Council, an industry lobbying group. Pokalsky maintains that the existing Superfund law sets goals for cleanup, but lacks coherent standards. Currently, what is required, as the statute puts it, is full cleanup at all sites "to the extent feasible and authorized by law." Environmentalists have interpreted this to mean that all traces of toxic contamination must be removed, and sites must be monitored until the engineers are certain the threats to environment and public health are gone. In actuality, Pokalsky says, the law has meant that cleanup differs widely from site to site.
The governor's budget proposal advances a three-tier approach, with clear, and clearly different, standards for each tier. Cleanup at first tier sites would aim for the current goal of complete cleanup, securing properties for unrestricted future uses. Cleanup at second tier sites would depend on what use they are (or will be) put to, whether residential, commercial or industrial. And cleanup at third tier sites would allow flexibility to businesses and government agencies to determine together what's right for a particular location.
"In a residential setting, you have exposure 24 hours a day, seven days a week, 365 days a year," explains Pokalsky. "In an industrial setting, you have exposure during certain hours of the day, for, what, 260 days a year."
Jennifer Post, a spokeswoman for the state Department of Environmental Conservation says that this approach would be adequate to protect the public. "The governor's program maintains the highest cleanup standards in the country."
Anne Rabe charges Pataki with selling out the program. "Right now our policy is 'how clean can we make it?'" says Rabe. "The Business Council and Governor's proposal wants to make the policy 'how dirty can we leave it?'"
Rabe claims the governor is gambling with scientific and environmental uncertainties; more research needs to be done before the state can say which chemicals are safe enough to leave in the ground. American industries employ more than 70,000 chemicals, she says, and scientists at the Environmental Protection Agency and in university laboratories have yet to fully document the toxicity of many of them, especially their role in causing neurological damage, birth defects, attention deficiency disorder and asthma.
Swanston has a different beef with the reforms. She does not have faith in industry's desire to address environmental and public health concerns. "When you have private interests determining what kinds of cleanup are going to go on, zoning and community interests are going to be left behind," says Swanston. "Bankers and developers are not environmental health scientists and they are not working for the public."
Swanston, one of the founders of the New York City Environmental Justice Alliance, declares that she is pro-development, meaning she wants contaminated sites put back to work. But she also wants sustainable development, and believes that government is far more likely to make the right decisions for the public health. "We want to make neighbors feel confident that contamination is not bringing down property values and posing a risk to public health," she says. "But we feel more comfortable having government - no matter what people say about government - select people who are trained to determine what is safe." Moreover, environmentalists say an audit released by state comptroller H. Carl McCall last week found that gaps in the present system could leave future owners unaware of restrictions placed on sites under the new system.
THE SOURCE OF THE SUPERFUND
The Superfund program goes after the companies and people responsible for pollution, and when possible makes them pay for cleanup. Private parties have shelled out about two-thirds of the $2.9 billion spent on cleanup through the Superfund program, in order to clean up contaminated sites that they own. But the pool of money from the Superfund itself is used in instances when the responsible parties have disappeared.
Under the current system, private businesses contribute approximately 58 percent to the Superfund pool, taxpayers the remaining 42 percent. Under a bill introduced last year by Assemblyman Pete Grannis, D-Manhattan, businesses would chip in 75 percent of the fund, and taxpayers only 25 percent. Under the system put forward in this year's budget proposal, the tab would be split 50-50.
"There is no inherent appropriateness to that split," says Ken Pokalsky. He points out that the original formula resulted from compromises made during negotiations for the $1 billion 1986 bond act that created the state's Superfund. "The proceeds were supposed to go for toxic waste cleanup," he says. "They have not. A lot of it has been spent on state staff and closing landfills." Pokalsky suggests that 100 percent of the Superfund should come from the state tax pool. "Our perspective is: why should an existing business which is complying with laws pay for cleanup at a site that it has no relation to?"
Assemblyman Grannis wonders what relation taxpayers have to properties contaminated by business. "50-50 may sound equitable, but these are industries that have grown up over the years by not taking care of these problems," Grannis says. "You can go through all the Socratic arguments you want, but the bottom line is who is going to pay for this."
Related Links:
###
Visit the Issue of the Week archives.
Tell us what you think about this issue. Write a letter to the editor.