Surveillance
by Jerome Chou
10 July 00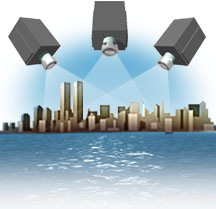 Lorraine Coleman loves the surveillance cameras at her housing project. "It's worked wonders since they put them up there," she says, pointing from her wheelchair to a camera perched above the entrance to her building. A grandmother and a tenant association member at the Grant Houses in Harlem, Coleman remembers what life was like before the NYPD installed the cameras in 1997. "There was a whole lot of vandalism and whatever. Now you just don't hear much about that."
Some of Coleman's neighbors aren't so thrilled. Kevin Pinckney, who visits his mother at the Grant Houses, says the cameras mainly help cops track, and sometimes harass, law-abiding tenants congregating in front of their buildings. Pinckney is sitting on a park bench outside his mother's building on a hot afternoon, drinking beer from a plastic cup -- presumably under the watchful eye of one or more cameras. "It is safer around here," he says, "but it's wrong the way they do it."
Like more and more New Yorkers, the residents of the Grant Houses may have their differing opinions about surveillance, but they recognize it has become a part of everyday life. In cyberspace, employers read employees' e-mail, internet companies track consumers' every click, and people can install "snoopware" programs on their home computer to spy on their family members. Surveillance cameras monitor everything from office restrooms to upscale restaurants to private homes. Following on the heels of the movies"The Truman Show" and "EdTV" and the new TV show "Survivor," CBS will debut a primetime television series this summer that places ten strangers under 24-hour surveillance for three months for the chance to win half a million dollars; the show is called "Big Brother".
And indeed, increasingly, Big Brother is watching. More and more, surveillance cameras in cities across the country are trained on public space. In 1998, a team of researchers from the NYC Surveillance Camera Project, created by of the New York Civil Liberties Union, located 2,397 surveillance cameras in Manhattan that record people in public space. At that time, more than 2000 of these were owned and operated by private companies. Citibank estimated that cameras at its branches throughout Manhattan captured more than a quarter-million New Yorkers a day.
Since then, the New York Police Department has expanded its operations to include more than 1000 surveillance cameras, focusing exclusively on three areas: subway stations, parks, and public housing. Most of these cameras monitor five public housing projects, including the Grant Houses; five more projects will be wired by the end of 2001.
The cameras are monitored around the clock, seven days a week, by "video patrol officers" (usually, according to the department, officers who have been taken off street duty because of an injury). Guidelines issued last February by the NYPD prohibit officers from peeping into private apartments or using cameras for non-police purposes. They also require that tapes that do not document criminal activity be used again for new recording after seven days.
At a recent hearing before the City Council's Public Safety Committee, Assistant Commissioner Thomas P. Doepfner of the New York Police Department's Legal Bureau cited statistics showing that from 1998 to 1999, while there has been a decrease of 13.3% in major crimes in Housing Developments overall, major crime has gone down 25% in the Grant Houses. Doepfner and other police officials, however, have admitted they cannot be certain to what extent cameras reduce crime or simply displace it, as criminals learn to avoid surveillance areas.
As with other controversial police tactics such as aggressive stop-and-frisk in high-crime neighborhoods, the use of surveillance cameras balances individuals' civil liberties and public safety. Before cameras were installed at the Grant Houses, tenants met with the New York Civil Liberties Union to discuss the risks and benefits of increased surveillance.
Fresh in tenants' minds was a recent police initiative to round up high school yearbooks in order to create a database of students' pictures. "There was a lot of concern that the cameras would be a high-tech version of the yearbook project," said Beth Haroules, an NYCLU staff attorney.
Haroules said that the NYPD got wind of the scheduled meeting with the tenants, and showed up "with this enormous phalanx" of officers. "They basically made it clear to the tenants they didn't have any choice in the matter."
The NYCLU wants to make sure people understand they could help shape policy on this issue. "Video Surveillance cameras have arrived with effectively no organized discussion or debate on their role in our city," states the NYCLU on their website. "It is up to us to decide if they are here to stay, and if they are, then under what conditions." Public Safety Committee Chair Sheldon Leffler is seeking to introduce a local law to require public hearings before any City agency installs additional cameras. The NYCLU also wants stricter regulations on surveillance: requiring the City to register all cameras with the Public Advocate's Office, place prominent signs wherever cameras are operating, and explicitly restrict the distribution of surveillance tapes.
Even NYCLU staff acknowledge, however, that the voyeuristic thrill of surveillance is stronger than the public's sense of alarm. "People know if they go into a changing room at Macy's there's a surveillance camera there. In the grand scheme of things, if a person's facing a whole range of problems, is public surveillance going to rank right up there? No. I think in the end, people say to themselves 'They do surveillance all over. As long as they don't look in our apartments, it's ok." And guidelines, of course, prohibit that≥unless it's for a TV show.
OTHER RESOURCES
NYCLU Surveillance Camera Project - NYCLU site with lists and maps of all 2,397 cameras they documented in their 1998 survey. Also compiles all the relevant links (including an exhaustive archive of news articles from around the world) on public surveillance you'd ever want to see.
Surveillance Camera Players - This theater group stages plays in surveillance areas. Their stated mission: to entertain bored law enforcement officials monitoring surveillance cameras. "A bored surveillant is an inattentive surveillant; and an inattentive surveillant is a waste of space, time, and money."
Atlantic Monthly - Map of surveillance cameras deployed near Herald Square.
Public Surveillance 101 ≥ History, legislation, the surveillance industry, national trends--courtesy of the Village Voice
Privacy International
http://merlin.legend.org.uk/`brs/cctv/tenreasons.html
www.echelon.wiretapped.com
http://hacktivism.tao.ca
Join the surveillance resistance...
Or peruse the cutting edge of spy satellite technology
www.orbimage.com
www.digitalglobe.com
News from the UK, the unofficial surveillance capital of the world.
###
Visit the IOTW Archives!
WHADDAYASAY?? GothGaz wants to know what YOU say about this issue. Fire away!