Air Rights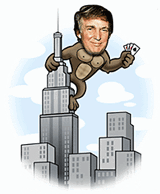 THE LOWDOWN:
Though Donald Trump makes great copy when he mocks the rich, the controversy over air rights is about more than esthetic NIMBYism among the well-heeled. Battles over the Trump World Tower and the Eighth Avenue Subdistrict raise larger policy concerns about the rules that promote or impede such buildings from being constructed -- the New York City Zoning Resolution (ZR). Should property owners be allowed to buy development rights from a neighboring property? If so, to what extent should they be able to exceed the zoning regulations to which they are subject? What constitutes a neighboring property? City Planning Commission Chair Joe Rose hopes to wrestle with air rights and other big issues during a wholesale revision of the Zoning Resolution this fall.
KEY DOCUMENTS:
NYC Zoning Resolution Ü Long, convoluted, and heavily amended, this document is responsible for NYC as it stands today. In downloadable format.
How Zoning Works Ü An overview of zoning, from Pace Law School: its definition, purpose and implementation in NYS and NYC. This primer also explains who has authority to make which decisions, with accompanying laws and citations. Excellent.
Joe Rose's speech Ü Read Joe Rose's speech on reforming NYC zoning. His plan? Make zoning predictable; comprehensible; enforceable; able to accommodate growth and change; and able to protect the quality of life. You might not agree with him, but there's some good thinking here.
Transferable Development Rights (basic) Ü Transferable development rights include, but are not limited to, air rights, as they are debated in the Trump World Tower and Theater Subdistrict controversies. This site is another excellent primer by the Pace Law School, with links to city and state statutes.
Transferable Development Rights (advanced) Ü Joseph Stinson and Michael Murphy's extensive guide to the role and history of TDRs in NYC. Especially recommended are the landmark court decisions French Investing Co. v. City of New York and Penn Central Transportation Co. v. City of New York.
ESSENTIAL POLITICAL ROADMAP:
Norman Marcus Ü Former General Counsel of the New York City Planning Commission (1963-85) explains transferable development rights from a planner's perspective: why TDRs exist in NYC and why we need them.
THE MAN WHO STOPPED THE EIGHTH AVENUE PROJECT:
John Fisher Ü Spokesperson and advocate for Hell's Kitchen/Clinton says that zoning was misused in the Eighth Avenue Theater Subdistrict Project.
THE ADVOCATES:
Turtle Bay Association Ü Vice President and Land Use Chairman Bruce Silberblatt voices his objections in a letter to Mayor Guliani. A cogent argument against Donald Trump's assertion that the debate is about rich people "who don't like losing their view." Silberblatt claims that the Tower is in violation of the Zoning Resolution on several points. The community group's latest newsletter gives a status report on their efforts.
Eighth Avenue/Theater Subdistrict Zoning Plan Ü Noisy Clinton/Hells Kitchen residents detail their battle with Broadway theaters and the City. This extensive site includes resolutions from the community boards, statements from civic organizations, environmental assessments, and summary and details of the zoning plan.
The Municipal Arts Society Ü One of the first opponents of the Trump Tower updates its readership on its two pending lawsuits attempting to thwart further construction. Who's to blame? The NYC Zoning Resolution, says MAS.
The New York Observer Ü What do Kofi Annan, Walter Cronkite, Kurt Vonnegut and Representative Carolyn Maloney have in common? They are among the high profile New Yorkers embroiled in the Trump Tower controversy. Devin Leonard covers the unattractive political posturing in the 12 July issue of the Observer.