The Uninsured
by Jerome Chou
05 June 00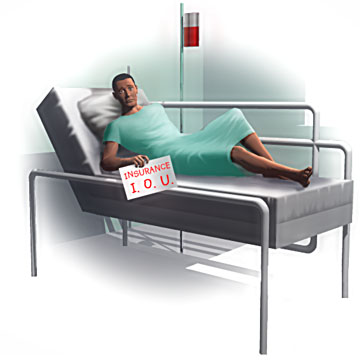 THE LOWDOWN:
Despite a booming economy, nearly two million New Yorkers find themselves with no health care insurance--either they aren't covered through their employers or they haven't applied for Medicaid, the government program created more than 30 years ago to provide health care to the very poor and the very sick. "As a society," says Howard Berliner, chairman of the health management and policy department at the New School for Social Research, "we have just decided that health insurance is not that important an issue, and we've let it slide."
Although Mayor Giuliani has announced he would make health care a priority for his remaining time in office, both he and Governor Pataki have attacked New York's health insurance system as an inefficient financial drain that must be streamlined. In recent years the Mayor's Human Resources Administration has discouraged people from applying for medical benefits, while the Governor has cut Medicaid's budget drastically. At the same time, with the rise of managed care and HMOs health care providers increasingly look to cut costs.
President Clinton recently has passed legislation to give the states more money for health care programs. In New York, Child Health Plus, which will receive $256 million from the Federal government each year for the next decade, could potentially cover up to 90% of the more than 400,000 uninsured children in New York. An additional 600,000 adults will be eligible for a companion program, Family Health Plus, which has been allotted $1.4 billion over the next three-and-a-half years.
From 1990 to 1998, the percentage of New Yorkers without health insurance increased from 21.1% to 27.2%.
Source: 1991 and 1999 Current Population Survey, United Hospital Fund
New funding alone, however, will not solve the City's health insurance problem. If the Mayor wants to make good on his pledge, he must address three critical problems:
1. The Working Poor
In his State of the City address earlier this year, Mayor Giuliani said that about 1.4 million of the City's 1.8 million uninsured residents were employed. But many low-wage, part-time, or temporary positions simply do not provide health benefits, and people changing jobs often find they cannot transfer their health care coverage. For years the Mayor has promoted what is now called the HealthPass program, which allows small businesses to band together to buy health insurance coverage for their employees. A pilot version of the program, which the Mayor originally proposed would involve 26,000 businesses, reportedly has been launched.
2. Information Gap
Hundreds of thousands of New Yorkers who are eligible for health insurance don't have it. Why? The problem can be summed up as Don't Know, Don't Tell. Take Medicaid, for instance. The number of New Yorkers enrolled in Medicaid, currently about 1.8 million, has declined in recent years, in part because people making the transition from welfare to work or applying for welfare aren't aware they're eligible. Advocates have long accused the Mayor of discouraging people from applying for Medicaid in the name of ending "dependency" on welfare. Last year, a federal judge ordered the Giuliani administration to revamp its welfare rules after welfare workers were caught blocking people from applying for Medicaid. Last January the Mayor announced he would create a special office within the Mayor's office to enroll residents eligible for health insurance. Such efforts will be critical as new benefits programs such as Child Health Plus and Family Health Plus are implemented in the City.
3. Future Prospects
Even those covered by Medicaid may find their medical options dwindling. Governor Pataki's cuts to the Medicaid budget in recent years have meant smaller payments to the City's community health centers, often the only resource for people living in underserved neighborhoods without access to hospitals. According to the Community Health Care Center Association of New York, the City's 33 nonprofit centers,which operate on shoestring budgets, served more than 200,000 uninsured New Yorkers in 1996. Further proposed cuts may force some of these centers to close their doors.
Also uncertain is how Medicaid recipients will fare as the entire program shifts to managed care, a move intended to keep health care costs affordable for poor and working class residents while giving them more health care options. But as City Limits and the Public Advocate's office have reported, some Medicaid recipients have found themselves lost in the shuffle.
HEALTH CARE CENTRAL
NYC Health and Hospitals Corporation - Court rulings have stalled Mayor Giuliani's quest to privatize the City's public hospitals, but he has managed to downsize them. Since being appointed HHC president in 1995, Dr. Luis Marcos has trimmed thousands of staff and put the corporation in the black despite losing virtually all City subsidies, which totaled $333 million in 1994.
United Hospital Fund - Founded in 1879, this health services research and philanthropic organization has published numerous reports on the state of New York's health care system.
Families USA - National health-care advocacy group is one of the best resources on the subject. Look for links to articles and state-by-state analyses on health care policy.
MEET THE NEW RUDY...
State of the City Address, 2000
SAME AS THE OLD RUDY?
"The Mayor and Those PSA Tests" - Even as the Mayor and Police Commissioner Howard Safir praised the PSA test that detected their prostate cancers in the early stages, the Mayor was cutting a $750,000 cancer-screening program for those who cannot afford the tests.
HEALTH PROBLEMS
"I Don't Understand": Poor Education Campaign Weakens Start-Up of City's Medicaid Managed Care Program" and "Prescription for Pain" - Reports from the frontline on Medicaid residents caught in the City's transition to managed care.
Visit the IOTW Archives!
WHADDAYASAY?? GothGaz wants to know what YOU say about this issue. Fire away!