Seeking Treatment
By Erica Pearson
29 April 02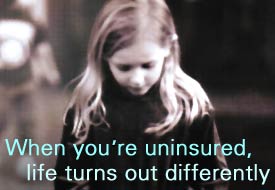 Some uninsured New York immigrants, worried about their health, save up for a plane ticket in order to fly to their home country for a needed operation. The cost of the ticket is nothing compared to the price of an overnight hospital visit in New York.
Other New Yorkers, lacking any coverage, go untreated until a friend or family member with insurance comes down with a similar condition, and then shares the medication.
Still others look to unlicensed practitioners for herbal remedies and prescription drugs.
These are just a few of the ways that uninsured New Yorkers have found to navigate a system with a safety net that has enormous holes. One out of every four New York City residents do not have health insurance [See The Uninsured by Rebecca Webber], and non-citizens are more than twice as likely to be uninsured, according to the United Hospital Fund. Many simply go untreated. Others visit a hospital emergency room without being able to pay for their visit. But a growing number turn to traditional healers or underground health care networks.
Many of the underground healthcare networks in New York's immigrant neighborhoods look a lot like what they left behind back home. Throughout Latin America, antibiotics are generally sold over-the-counter and pharmacists often fill a doctor's role. In Washington Heights, neighborhood bodegas sell antibiotics from the Dominican Republic. Other Latin American immigrants often attempt to visit pharmacies in New York City for both an examination and prescription. One Mexican-American from Queens explained that when she was sick as a young girl, she visited a pharmacy in her neighborhood with her mother. The pharmacist would examine her symptoms and prescribe medical treatment. "These kinds of pharmacies are all over the place in the city, you just don't know them," she said. "They look at people, no doctors fee, no extra charges, nothing. Usually, the pharmacists know their regular customers." They also take personal referrals.
Nora Chavez, the coordinator of health programs at the Latin American Integration Center, said that some of her clients talk about visiting pharmacies for treatment, but that she does not pump them for particulars. "I just prefer not to know the details," she said, with a nervous laugh.
The New York State Board of Pharmacy was unable to give information on how frequently pharmacists in the city overstep their legal bounds. Many different circumstances can leave someone struggling to find health care. Because of communication problems and swiftly changing legal precedents, many uninsured New York citizens and legal residents may not realize that they in fact do qualify for insurance programs. For example, during the past ten years, legal immigrants in New York have dealt with an unsteady policy on Medicaid. Under the 1996 federal welfare reform law, the federal government stopped paying for Medicaid for many legal immigrants, only providing emergency care and services for pregnant women. So, legal New York immigrants became ineligible, even if they met Medicaid's income requirements. However, last year the New York State Court of Appeals decided in Aliessa vs. Novello that it was unconstitutional to deny legal immigrants this service, and New York State is now responsible for providing the coverage. "As many as 100,000 legal immigrants who do qualify by income level were affected by the decision," said Adam Gurvitch, the director of health advocacy for the New York Immigration Coalition. Similarly, Family Health Plus was recently expanded to include legal immigrants. Young adults who no longer qualify for Children's Health Plus but who do not receive insurance from their employers often fall through the cracks.
Recently, a Queens family that came in to the Latin American Integration Center told Chavez about what they had done to solve a common problem. The family had two sons, but only one of them was insured. The oldest brother was 20, and no longer qualified for Children's Health Plus. When the older brother fell ill, the family worried, but did not know what to do until the younger son caught his sickness. Once the youngest fell sick, he visited the doctor, and the two boys shared the medicine that just one of them had been prescribed.
Most undocumented immigrants, whose illegal status bars them from programs like Medicaid or Family Health Plus, avoid visiting health care providers because the visit is sure to mean filling out a lengthy form. They worry that their information will be shared or reported to the Immigration and Naturalization Service. Undocumented immigrants and other uninsured New Yorkers may not be aware of the wide network of outpatient clinics that provide primary and preventive care for sliding scale fees.
When Gurvitch's organization coordinated a focus group about immigrants and health, uninsured immigrants often said that they go without care entirely, focusing on things within their control, such as eating well and reducing their stress.
The study also found that it was common for documented immigrants (who, unlike those without papers, are able to travel in and out of the U.S.) to fly back to their home country for operations or even routine treatment. "Maybe a plane ticket to China is several thousand dollars, but that is less than several days in the hospital," said Gurvitch.
According to a study released this month by Health Affairs, a health policy journal, the economic burden of common diseases is very steep in this country, even for those who receive preventative care instead of only emergency treatment. Diabetes brings an average cost of $5,646 per person each year, while hypertension means a cost of $4,073 and heart disease $10,823.
Faced with these kinds of expenses, many uninsured adults with an ongoing health condition in this city wait until their health becomes so serious -- until they have a seizure, perhaps, or an asthma attack -- and then visit the emergency room. During the emergency visit, some poor New Yorkers leave fake names and addresses, while others simply do not pay their bills. Because of this practice, New York City hospitals provide about two billion dollars worth of free care each year, according to the Greater New York Hospitals Association.
Unfortunately, such emergency room visits also often mean that patients, afraid of getting caught lying on their forms, will not return for a follow up visit. And they will yet again try to go without care for as long as possible.
See "The Uninsured" by Rebecca Webber
###
Visit the Issue of the Week archives.
Tell us what you think about this issue. Write a letter to the editor.