The Uninsured
By Rebecca Webber
29 April 02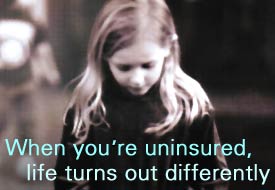 In pursuing her restaurant-owning dream in New York City, Brooklyn-born Nikki Williams has worked in managerial positions in many city eateries. But despite steady employment since she graduated from college in 1997, Williams, now 26, has been without health insurance for nearly two years.
"My last job didn't offer insurance and my insurance from two jobs previous ran out a long time ago," Williams said. "I recently started working for a small wine company that I believe may offer insurance, but they just don't tell their employees about it."
In any case, she says she has gone so long without insurance, she has learned to adapt. "It doesn't really stress me out anymore," she said. "However, the preventative check-ups that I used to be religious about have fallen by the wayside. And I've become really creative about getting prescription medicines because going to an actual doctor is just too expensive."
Young, employed, and far from impoverished, Williams is not unusual. One in four New Yorkers lack health insurance -- and most are working adults, for whom neither employer-sponsored nor government-paid health insurance is available.
"The uninsured are people who are playing by the rules, but they are losing," said David Sandman, senior program officer for the non-profit Commonwealth Fund's Health Care in New York program. Many, said Sandman, "earn too much to qualify for public insurance like Medicaid, but they don't earn nearly enough to buy private insurance on their own."
Though both state and federal officials have been seeking solutions for a long time [See Gotham Gazette article on the uninsured from June, 2000] , the problem is nowhere near fixed.
NYC Has It Bad
The city's uninsured rate of about 25 percent is far higher than the 17 percent in the nation as a whole, according to a report by the United Hospital Fund, "Coverage Trends Among New Yorkers." The high numbers of uninsured do correlate to concrete health problems -- such as a tuberculosis infection rate in the city that is three times higher than the national average.
"The uninsured don't get the same quality of care," said Jon Gabel, vice president of the American Hospital Association's Health Research and Educational Trust. "It has adverse effects on health status and life expectancy."
Public health officials bemoan high rates of uninsured. "There's no doubt that getting people enrolled in appropriate health insurance programs increases their access to care and to many more preventative opportunities -- including screenings for high blood pressure, cholesterol, and cancer," said Sandra Mullin of the New York City Department of Health.
But despite considerable progress in reducing the number of uninsured children in New York State over the past decade, the numbers of uninsured adults has risen substantially. In 1990, 16 percent of New York City adults had no insurance. Last year, it was up to 21 percent.
Employer-Sponsored Coverage
Most uninsured adults work, but their employers do not offer health benefits. Small businesses find it too hard to find affordable policies and low-wage workers prefer their compensation in cash.
"It never was easy for a small business and it's still impossible," said Liane Thomas Wade, the director of the Antiquarian Booksellers' Association of America, an NYC-based group with about five employees and 470 book dealer members throughout the nation. "I can't get the policy I want. My employees have asked and our members have wanted us to get them health benefits, but we're too small."
Wade has seen health insurance premiums double since she became director of the association in 1989, and still searches fruitlessly for affordable policies. "I'm meeting with someone next month. It didn't work before, but we're going to try again," she said.
In New York, businesses can generally deduct 100 percent of the health insurance premiums they pay on their employees' behalf, according to the New York State Department of Tax and Finance. Providing health insurance may also reduce payroll taxes for employers. And the employee's share of the premiums can often be paid with pre-tax dollars, saving them money too.
Despite these incentives, smaller businesses "don't have the economies of scale, so you can't get good policies," said Ira Davidson, director of Pace University's Small Business Development Center
Who's Uninsured And Why
At every income level, New York City residents are less likely to have employer-sponsored coverage than residents elsewhere in the state, largely because of the types of industries that dominate the city's economy.
Jobs in government, education, manufacturing, communication, and transportation usually offer good health insurance coverage. But service industries, which predominate in New York City, are much less likely to offer employer-sponsored coverage. "About one-fourth of the uninsured in the country are in retail," Gabel reports.
Those who cannot get health insurance through their employers, must turn to individual policies, which have always been prohibitively expensive, upwards of $400 per month for individuals, and well over $1,000 per month for families in New York City.
It costs more to enroll and bill individuals separately, but the main reason for the high cost of individual policies is "adverse selection," in which the individuals most likely to need health care sign up, while healthy individuals, whose premiums could help subsidize the sick, opt to avoid the expense and risk no coverage.
New York State's Response
New York State has attempted to deal with the uninsured through legislative reform, most notably, the Health Care Reform Act of 2000.
"New York has created a very generous and complicated patchwork quilt of coverage programs," said Sandman of the Commonwealth Fund. "What we need to do now is knit them together into a seamless program."
The state has implemented plans such as Child Health Plus, Family Health Plus, and Healthy NY. Child Health and Family Health expand public insurance, applying strict income limits, but costing recipients very little. Healthy NY, which began in January 2001, offers reduced rate insurance to employees of small businesses, and other uninsured individuals.
"We are targeting people who have chosen to be uninsured, those who couldn't qualify for public insurance, and didn't feel they could afford it on their own," said Joanna Rose, spokesperson for the New York State Department of Insurance.
In creating Healthy NY, the state enticed insurers with a "stop-loss" promise, whereby the state would subsidize all annual claims over $100,000. The two sides also agreed to a prescription drug limit of $3,000 per person, per year. So Healthy New York premiums are about half of what most people would find in the individual market, and about 15 percent less for small businesses. Individuals pay between $200 and $250 per month, and families $615 to $750, depending on the insurance company they choose.
"Is it cheap? No," said Rose. "But it's a step in the right direction."
So far, about 6,000 have signed up. Those who haven't probably think they still cannot afford it.
"If you are paying seven percent of your income on health insurance premiums and out-of-pocket health expenses, that's considered catastrophic," said Gabel, of Health Research and Educational Trust.
For those considering Healthy NY plans, individuals would need to earn more than $34,000 per year, and a family more than $111,000 per year, to keep their health insurance expenditure under "catastrophic" levels.
The Federal Response
"The uninsured is a problem that states can make some progress on, but states cannot solve the problem without federal assistance," said Sandman. Current federal measures include tax deductions for individuals who buy their own health insurance. Other proposals -- for tax credits, and programs that expand Medicaid -- are currently being discussed on a federal level.
Congress is considering legislation to provide tax credits to persons who purchase individual health insurance and the Bush administration has proposed a $1,000 tax credit for individuals and a $3,000 tax credit for families. A recent study by Health Affairs, a health policy journal, found that the amount would be sufficient in helping the young and healthy get insurance, but would barely make a dent in the expenditures of older individuals.
The Rising Costs Of Health Care
Experts say that health insurance premiums will continue to rise, which means more employers and individuals will have trouble affording coverage.
"We are seeing double digit increases in the cost of health insurance," said Gabel. Premiums for group insurance rose 11.1 percent in 2001. (There is no data for individual policies.) "A typical employer-sponsored policy for a family is maybe $8,500 or $9,000 a year. In 1988, it was around $4000 year," he said.
Insurers blame the rising costs of premiums on the rising costs of health care. "The single fastest growing component is prescription drugs," said Joe Luchok, spokesperson for the Health Insurance Association of America, a lobby and research group representing the private health insurance industry. "Last year, it grew at a rate of 19 percent." One major reason for the rise is the aging of America -- as we get older, we use more drugs -- particularly with the onset of chronic conditions.
The Pharmaceutical Research and Manufacturers of America agrees that greater prescription drug use accounts for the rising costs -- because doctors and patients are finding pharmaceuticals more effective than other treatments, they say.
The industry needs to remain profitable to attract innovation-sustaining investment, the drug lobby group says, and points out that only three of ten drugs that make it to the marketplace will earn more than their research and development costs.
Medical technology and rising hospital costs are also adding to the cost of health care.
It all adds up to continuing rises in health care premiums, and little hope for the working adults who are New York City's most stubbornly uninsured.
People like Nikki Williams continue to decide that the cost outweighs the risk, and adopt a hopeful, if fatalistic attitude.
"I have no assets," she said, "so if anything ever really happens to me, I have no way of paying anyway."
See "Seeking Treatment" by Erica Pearson
###
Visit the Issue of the Week archives.
Tell us what you think about this issue. Write a letter to the editor.