Unions and the New Workplace
By Kate Stohr
17 June 02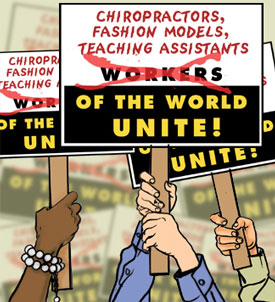 When Michael Bloomberg was elected mayor last November with virtually no labor support, observers declared that labor's clout in the city was all but dead, that unions had little influence.
But recent events indicate that labor may have some life left in it after all. Last week, the United Federation of Teachers reached a tentative contract agreement with the city giving its members raises of up to 22 percent over the next 30 months. Before that, Local 1199, which represents the city's healthcare workers, won $1 billion in state funding for raises for its members, helping Governor George Pataki win the union's endorsement for his re-election campaign.
The Working Families Party, formed and supported by labor unions, has played a major role in city politics this year, pushing for passage of a "living wage" bill and advocating tax increases to help fill the city's multibillion dollar budget gap.
And most unusually, this month, two unions vied energetically to represent 3,500 adjunct, or part-time, teachers at New York University. Unionization won overwhelmingly.
The campaign at NYU, along with organizing drives at the Pearl Paint art-supply stores and at greengrocers throughout the city, is particularly significant. They represent a growing movement by labor to reach out beyond its bases in industry and the public sector, and try to organize part-time, temporary, independent and immigrant workers. The labor force and the nature of work have undergone major changes in the past 10 years. Can labor attract the new workers? And can it meet the demands of the modern workplace?
GAINS AND LOSSES
"We're spending more now on organizing new members than probably at any time since before the 1940s," says Ed Ott of the New York City Labor Council, an umbrella group representing many of the city's unions. "But it's not enough. We're not growing fast enough."
In its efforts to organize new types of workers, labor faces a difficult task, says Steve Malanga who studies labor issues for The Manhattan Institute, a conservative think tank. "The problem with [part-time and independent workers] is that you can't go to one place and find a lot of them," he says. "There's a big difference between that and an era when you could organize a thousand workers in one place."
Outside The Union Hall
Union membership drives can be expensive and difficult -- and they offer no guarantees of success. As a result, some employees are turning to community groups and worker's rights initiatives for help on the job.
Make The Road By Walking, a community group based in Bushwick, organizes and assists workers in Brooklyn's garment factories. In larger factories, the group lays the groundwork for unionization. But in some situations, a union may not be the best answer, says staff attorney, Ben Sachs. "The bulk of factories in Bushwick are tiny, subcontracted garment shops that are difficult in the extreme to organize. If an organizing campaign gets underway, they close. So, at places like that our campaigns are ways workers can win some gains."
For example, the group is working to eliminate what it calls "sweatshop conditions" in some Bushwick factories by documenting alleged abuses and trying to win enforcement of labor laws.
About a dozen groups are involved in workers' advocacy campaigns throughout the city. Because they organize around policy issues, some experts say these groups can be more effective than unions that focus on collective bargaining agreements.
One worker's rights initiative, the Restaurant Opportunities Center, was established after September 11 to help people who lost unionized jobs at Windows on the World find new employment. Eventually, the center hopes to build coalitions with other workers rights centers and rally restaurant workers around legislation and policy issues. It says something that the center is funded by a union, the Hotel and Restaurant Employees Local 100, an admission by a union that unions don't have all the answers.
"There is no one way to advance society," says Ed Ott of the New York Central Labor Council. "God didn't give us a franchise here."
But the unions have scored some victories. Local 1199, which is now the state's largest union, has signed up more than 3,000 home health aid workers in the last year. Last year, the Union of Needletrades, Industrial and Textile Employees (UNITE) began a successful campaign to organize the city's deli workers.
And the New York State United Federation of Teachers now represents 10,000 substitute teachers, mostly in New York City, while the Office and Professional Employees International Union has organized such diverse groups as fashion models, appraisers, insurance agents and chiropractors.
Still, experts say the city's unions are losing members as fast as they gain them. While municipal unions have grown, the percentage of workers in the private sector represented by unions in New York City has declined dramatically in recent years. Only 15 percent of the city's private sector workers belong to a union, compared with 70 percent in the public sector, according to the Labor Research Association. And, while New York State still has the second highest percentage of unionized workers in the country, trailing only Hawaii, just a quarter of the state's workers are union members, compared with more than a third in 1964, says the federal Bureau of Labor Statistics.
REVERSING THE DECLINE
Union efforts to organize new members began in earnest in New York and across the country about five years ago. Union membership as a percentage of the nation's workforce had dropped dramatically -- from 35 percent in the 1950s to 14.5 percent in 1996. Fearing labor could become irrelevant, newly elected AFL-CIO president John Sweeney made organizing the labor federation's new mantra. He set a goal of increasing membership by three percent a year and called on locals to up their spending on organizing from an average of three percent of their total budget to as much as 30 percent.
Meanwhile, changes at the National Labor Relations Board -- the federal agency that rules on complaints of unfair labor practices, oversees union elections and determines which employees are eligible to form unions -- made organizing somewhat easier.
The Clinton administration restored much of the labor board's power and gave it more funding. New appointees issued more injunctions to bar companies from firing employees to stop unionization efforts. The board also expanded the definition of workers eligible to unionize, paving the way for labor to try to organize higher education workers, medical residents and temporary workers.
At the same time, in New York, new leaders had been installed at many of the city's most notoriously corrupt unions, including the Teamsters and the Laborers. Revitalized, locals began a vigorous campaign to recruit new members. The Laborers led a campaign to organize workers at non-union asbestos-abatement shops. The union signed up some 1,100 workers, 80 percent of the industry.
The Hotel and Restaurant Employees union organized 400 workers at the Millennium Broadway Hotel in midtown Manhattan. The United Auto Workers, which had already begun to enlist freelance writers, added graphic designers to its rolls. Labor leaders called New York a model for other cities.
It made sense for union leaders to turn to freelancers and independent contractors, referred to as "contingency" workers. These people often work long hours for relatively low wages, little job security and few benefits. Many do not have health insurance. And while manufacturing continues to shrink, many of these workers labor in areas of the economy that are growing or at least holding steady. The city's documented and undocumented immigrant workers, some of whom also worked on a contingency basis, represented another untapped pool of workers.
TOUGH BATTLES
The drive to represent the 3,500 adjuncts at NYU was one of the largest contested unionization elections in the private sector in the last twenty years. Disgruntled by low pay and a lack of benefits and job security, the so-called "roads scholars," (because they often teach at more than one school) had to choose between the American Federation of Teachers, the United Auto Workers, or no union.
The campaign at America's biggest private university lasted a year. During that time, the two unions pummeled the adjuncts with mail and e-mails, with each union purporting to be the best qualified to represent the part-time instructors. Of the 2,700 adjuncts deemed eligible to vote, 743 voted for the Auto Workers, 552 for the American Federation of Teachers and 294 for no representation. A runoff between the two unions is expected within the next few weeks.
NYU represented a tempting target for the unions because a relatively large number of potential members worked at a single location, and part-time university instructors and professors seem particularly receptive to union efforts.
But, in general, the new union strategy has proved hard to carry out. One reason is that immigrant and contingent workers often labor at companies with 100 employees or less, requiring unions to launch many small organizing campaigns.
Proprietors of little business are more likely to sell them than are owners of larger firms. Often no sooner does a union organize a small business, such as a deli, than it's sold to new management. "There is no protection for workers when management turns over," says Ott of the labor council. "A guy could come in and buy a deli, and the next day it's a new legal entity: 'We're changing it to Ruby's Deli, and I want my own workers. So, you guys are all fired.'"
Because many contingent workers move from job to job, they may not see any advantage to unionization. "I think there's enough animosity toward employers to unionize, I just don't think there's enough commitment to the career," says Jason Rhyne, a part-timer at a Chelsea coffee shop who says he has no intention of staying at his job longer than a year.
Theresa Loong, an adjunct at NYU, initially was hesitant to support the unionization drive there. "My feeling was, 'Why do I need a union?'" says Loong, who teaches only one class at the school. "It was not so much distrust, but there's a cost issue, and it was like do I want to get involved in this cause? Do I need to get involved in this cause?"
ORGANIZING IMMIGRANTS
But while workers such as Rhyne may have too little at stake in their jobs to want to organize, immigrants may have too much. "Immigrant workers are like any workers -- they're scared that if they join the union, they'll be fired," says Nadia Marin-Molina of the Workplace Project, a nonprofit group that works to improve working conditions for Latino immigrants in Long Island and Queens. And undocumented workers may fear that, if they try to organize, their employers will report them to the Immigration and Naturalization Service.
Marin-Molina says most unions are not doing as much as they could for documented and undocumented workers. Many, she charges, fail to address key issues, such as immigration status.
UNITE, however, has met with some success. Most of its campaigns involve immigrant workers, and the union has helped members with everything from immigration issues to fighting eviction notices.
But organizing director Jeff Eichler of UNITE Local 163, says the union still faces barriers when it comes to convincing immigrant workers that a union is in their best interest. For example, he says, in its recent effort to unionize workers at Jack's 99-cent stores, the local was able to build a relationship with Latino workers but had trouble winning over African and Haitian employees. The union brought in two interns who spoke French to try to help. But after nearly six months of organizing, the unionization effort failed.
In December, Governor George Pataki signed a law that could make unionization quicker at some small businesses. It will require an employer to recognize a union if a majority of its workers sign cards indicating their preference to do so. The bill only affects employers not covered by federal labor law, usually small businesses.
On the other hand, a recent decision by the Supreme Court which denies undocumented workers back pay if they are found to have been illegally fired for participating in union activities, could make it harder for unions to recruit immigrant workers.
LEGAL OBSTACLE COURSE
By far the biggest obstacles to organizing, labor leaders say, are state and national labor laws. Not only do the laws favor management and make it easy for employers to retaliate against workers who participate in union drives, they say, but the laws also preclude certain groups of workers from organizing at all.
For example, in 1999, the Auto Workers campaign began trying to organize graduate assistants at New York University. But the National Labor Relations Board had ruled that graduate assistants were not "employees, " but "students" and therefore ineligible to form a collective bargaining unit. In January, the National Labor Relations Board reversed that earlier decision.
"Up to that point, no grad employees from any private university had ever been organized," explains Maida Rosenstien, president of Auto Workers Local 2110 which spearheaded the campaign and is now trying to organize graduate students at Columbia University. "The university fought us at every step, but eventually we won the case."
In statements and testimony before the National Labor Relations Board, New York University, along with a number of other top schools, argued that unionizing graduate assistants, who both teach and are working on a degree, would infringe upon "academic freedom" at the university. "In higher education, the nature of the relationship between the faculty and those pursuing advanced degrees is not simply teacher-to-student. It is a collegial relationship, one involving mentorship. The university has concerns that the interposition of a union and a union contract in that relationship would be harmful to a system that works so well that it attracts students from around the world," the university wrote.
Columbia is appealing the decision to extend collective bargaining rights to graduate students. "Their argument is that teaching serves as an academic requirement and is part of our training," says Felicity Palmer, a graduate teaching assistant at Columbia. "But we are on payroll. We get W-2s. We pay taxes. There are lot of things about what we do that very much resemble employment."
ONE STEP FORWARD, TWO STEPS BACK
Where unions have organized and negotiated a collective bargaining agreement, they have generally won gains for their new members. Since it was formed in the early '90s the National Writers Union has provided members with access to affordable health insurance and with contract advice. It won a case against the New York Times, requiring the paper to pay writers for electronic rights to their work.
At the State Bank of India, clerical workers who recently joined the United Auto Workers, won a $30 raise per week with no reduction to their health care benefits. For workers at Pearl Paint, who recently joined UNITE Local 163, the union negotiated a starting salary of $8.50 adding an extra $1.50 an hour to many workers' pay checks.
Still, unions win only 50 percent of elections at private companies, according to the federal Bureau of Labor Statistics, indicating that many workers do not see an advantage in unionizing.
The biggest increase in employment in the last decade has been in industries such as finance, accounting, insurance and technology. And says the Manhattan Institute's Malanga, salary and benefit packages in these fields are better than in others - even though most employees in them are not unionized. Job growth in non-unionized sectors of the economy continues to outpace job growth in unionized sectors. Add to that the number of union workers who have lost their jobs because of company finances, and it's easy to see why unions are losing ground.
In some ways the characteristics that make New York's part-time, temporary, freelance and immigrant workers difficult to organize, also make them vulnerable to changes in the economy.
When organizers from the United Auto Workers and the American Federation of Teachers first reached out to NYU's adjuncts, Theresa Loong told organizers she wasn't interested. But that was before so many New Yorkers lost their jobs in the wake of September 11. Now she says, that a union could help protect the dispersed and fragmented NYU part-timers. She says, "You are hopeful that someone out there is looking out for you."
###
Visit the Issue of the Week archives.
Tell us what you think about this issue. Write a letter to the editor.