End of Welfare?
13 August 01
by Gail Robinson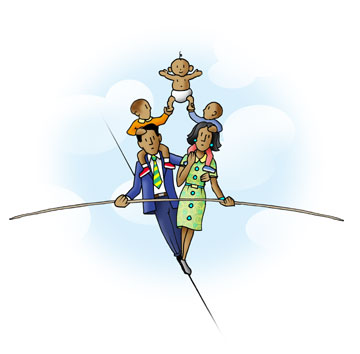 Francesca and Terence Mitchell have already gotten the letter in the mail, the letter that some 40,000 New York City families are receiving. A poster in the welfare offices sums up its message as: "Your time is up."
The Mitchells have four children still living at home, and Terence cannot work. The family is on welfare.
Five years ago, Congress enacted sweeping measures that were designed to end welfare as we knew it. Now, the Mitchell family and all the others who have been collecting benefits at least since 1996 are about to confront we lfare as no one knows it.
The 1996 changes provide a family in New York with basic welfare benefits partly funded by the federal government for a total of no more than 60 months. While millions of people have left the welfare rolls for jobs since then, some have been collecting benefits for five years and are still unable to find work or other means of assistance, or are simply unable to work. Some who are elderly or disabled will get a reprieve. But many of the families will confront the five-year deadline on New Year's Day. Even if the cutoff does not push them into the streets or homeless shelters, it will send them into a maze of uncertainties.
"We're definitely seeing more angst" among welfare recipients, says Bich Ha Pham of the Hunger Action Network, who works with people on public assistance.
"They don't tell you anything," complains Francesca Mitchell, whose letter informed her and her husband that they have collected welfare benefits for 54 months and that their benefits would run out at the end of the year.
But the situation is too complicated to sum it up the way the welfare office posters do. Under the state constitution, needy New Yorkers are entitled to some kind of support, and Albany is planning to comply with that. But planning for New York State's so-called Safety Net program has been riddled with delays. Meanwhile, conflicts persist between the state and city over how to implement the plan.
Further adding to the confusion is the forthcoming mayoral election. Mayor Rudolph Giuliani has taken a tough stand on welfare, instituting procedures and programs to discourage people from applying for benefits or continuing to collect them. Advocates for the poor hope his successor will be a bit less hard line. But difficult economic times could lie ahead, hindering efforts to get people into the workforce and straining state and city budgets. That too makes for a frightening future for people dependent on government aid.
CURRENT RESULTS OF 'WELFARE REFORM'
In the five years since welfare reform became law, the furor over the controversial measure has faded, largely because welfare rolls have shrunk dramatically across the country. In New York City, according to statistics compiled by the Robert J. Milano Graduate School of Management and Urban Policy at New School University, the welfare caseload dropped by more than 1.1 million people, or almost 54 percent, between March 1995 and December 2000. Today, according to the state comptroller's office, about 430,000 children and adults in approximately 162,000 families are on welfare in New York City. The Giuliani administration points to this as a major success, noting that welfare rolls have hit their lowest level since December 1966.
Others disagree sharply. "We shouldn't judge welfare reform by the reduction in case load," Wendell Primus, of the Center on Budget and Policy Priorities, a research organization, told a conference at the New School University this spring. "What we should judge it by is whether people's well-being and their children's well-being is improved."
That is much more difficult to determine. Between 1994 and 1999, the number of Americans on welfare dropped from 5.0 million families to 2.4 million, according to an article in American Prospect. A higher percentage of single mothers are in the workforce than ever before.
But, the article continues, while most former welfare recipients are in the workforce, "for many the connection to the labor market is quite tenuous." They earn low wages and remain in poverty.
Social scientists struggle to find ways to assess whether families are more cohesive and happier when parents work, taking them out of the home but into the workplace.
Proponents of welfare reform said one goal of the Personal Responsibility and Work Opportunity Reconciliation Act of 1996 was to break the so-called cycle of poverty. Critics of the old system charged that it created no incentive for people to go to work, encouraging families where generations had depended on public assistance and entire communities where few people had paid jobs.
Under the new law, "no family has a federal right to assistance, and states have no obligation whatsoever to provide families with welfare benefits." The old Aid to Families with Dependent Children program was eliminated, and states got blocks of money that they were to use to run aid programs with deadlines and work requirements. The basic benefit was dubbed Temporary Assistance to Needy Families (TANF) and it is, indeed temporary.
NO WORK, NO MONEY
Few localities have been as zealous about carrying out welfare reform as New York City under Rudolph Giuliani. The mayor vowed to end welfare by 2000, and in 1998 brought in Jason Turner to run the Human Resources Administration. Turner had previously managed Wisconsin's statewide JOBS program, which emphasized getting welfare recipients into jobs.
Under Giuliani and the Pataki administration in Albany, most healthy adults must work in New York in order to receive benefits. If they can't find something on their own, many are placed in jobs. And, reports the Center for New York City Affairs at the Milano School, some 70 percent of those jobs in the city are often menial (such as janitorial jobs), set up under the Work Experience Program or WEP.
Turner believes the emphasis on work is essential. "The only way to improve the income prospects for our population is for them to find work," he says. And, he says, people doing even the most mundane tasks are making a contribution to the quality of life in the city.
Giuliani's harshest critics cannot dispute the sharp drop in welfare recipients. But they say the administration looks for ways to discourage poor people from even applying for welfare -- and to keep them in the dark about other benefits to which they are legally entitled (and in need of), such as food stamps.
"Caseworkers really want you to be off the system," says a Manhattan woman who has been on welfare for several years. "They're trying to close your case. The more cases they're closing, the better it is for the agency."
The result, critics charge, is to force some students to drop out of college and take dead-end jobs -- which may in the short term mean cleaner parks but has a devastating effect in the long term on those drop-outs, and on the city.
Maureen Lane, codirector of the Welfare Right Initiative at Hunter College's Center for the Study of Family Policy, says more than 20,000 welfare recipients attending City University of New York have left college in the last several years.
WHO'S STILL ON THE ROLLS
Despite the strong inducements to work, the bureaucratic barriers to benefits and the booming economy, thousands of New Yorkers have not found sufficient paid work to get off welfare. In a report issued in July, the office of the state comptroller said 42,010 New York City families had already received benefits for 52 months, seemed unlikely to find permanent employment soon and so would face an expiration of benefits in December.
Researchers make few generalizations about how people who got off welfare differ from those who remain on it. Elizabeth Spross, a spokeperson for the state Office of Temporary and Disability Assistance says a lot of the long-time recipients may confront "multiple barriers to employment." And the Christian Science Monitor reports that "in many cases those on welfare today, are poorly educated and have little or no job experience."
The New York Times, for example, cited the case of Florence Dawson, a 42-year-old mother of five, who is confronting the deadline. Two of her children tested positive for tuberculosis and had to be taken to a clinic almost every day. Another child had ringworm. And she has only a seventh grade education.
Those like Dawson facing the deadline have two major questions: Can they qualify for continued benefits and, if so, what will those benefits be?
TO REAPPLY OR NOT TO REAPPLY
One thing is clear: The federal government will not provide assistance to able-bodied people who have been on welfare for more than five years.
So much is up to the states. New York will provide aid under a new so-called Safety Net program, the cost of which will be divided between the state and local government. As a result, the state, Spross says, has budgeted $40 million for Safety Net for the next fiscal year. But no one is certain yet how a family will qualify for Safety Net and what it will provide.
An example of the confusion, conflict and uncertainty surrounding the new system is the dispute over whether New Yorkers whose welfare is running out will have to reapply for benefits, or whether they will be enrolled in Safety Net automatically.
The Giuliani administration wants all people to reapply. "We believe that individuals should use the five-year milestone as an important opportunity to reassess their lives and their progress toward achieving self sufficiency," Turner told the City Council in May.
In calling for this, Turner set off a heated exchange between himself and Council Welfare Committee chairman Steven DiBrienza. "What do you think happens to real people in a real time while they reassess?" DiBrienza demanded.
Pham says there is no reason to reapply; recipients already have to meet with their caseworkers on a regular basis. "We believe it's another hoop to require people to go through," she says.
The decision on whether to require reapplication must be made in Albany and the state's stand on the issue is far less clear than the city's. In May, Governor Pataki seemed to be taking Giuliani's side. "I think reapplication makes sense to make sure that people are in fact still eligible," the governor said.
A spokesperson for the Democratic Assembly says that legislators have been told that most recipients would probably not have to reapply.
John Madden, a spokesman for the state assistance office, says no reapplication program is in place. But he says there are proposals that would require it, and discussions are taking place with the city. "Five years is a long time to be on assistance," Madden says.
Even if welfare recipients had to reapply to move on to safety net, those qualifying would continue to get benefits, he says. "We don't want to see a lapse in benefits for people who are playing by the rules."
But while Madden says no plan in place, Pham reports that at least one recipient she knows has received a letter telling her to reapply for benefits.
So, Christine DiMeo of the Federation of Protestant Welfare Agencies says, "there's state law. There's interpretation of state law and there's the city's interpretation of state law."
OUT OF THEIR CONTROL
Spross says recipients who can move on to Safety Net will get the same amount of money they had been getting. But instead of receiving cash, the portion for rent will go directly to the landlord and the cash to pay the utility bill will go straight to the utility.
The state has considered divvying up almost all the benefit check, and putting the money on an Electronic Debit Transfer card that could be used only at businesses that agree to accept it. That arrangement, City Limits reports, would have forced recipients to patronize a limited number of merchants and left a single parent with two children with $58.10 in cash a month. Francesca Mitchell finds the prospects for such a system alarming. "How are we supposed to wash the kids' clothes?" she asked. "How are we supposed to buy clothes for the kids? It's crazy."
The complete electronic Safety Net plan has been delayed, at least for the time being, leaving only the rent and utility portions intact. But Terence Mitchell sees the rent system alone as problematic. If the rent transfer doesn't work correctly, he says, "It's going to be real chaotic. People are going to wind up in the shelter, people who came out of the shelter system, and it's going to cost the city more money."
PROSPERITY -- OR PANTRIES?
The welfare benefits will run out just as a new mayor takes office. Despite that, welfare has played little role in this year's mayoral campaign. Of the leading candidates, only Fernando Ferrer mentions it prominently on his web site. He calls for a smooth transition to Safety Net and for providing more child care and training programs.
At a recent forum on the issue, DiMeo says, Mark Green, Peter Vallone and Alan Hevesi seemed to support changes in welfare but were vague as to what those changes might be.
The issue promises to become more convoluted as the year goes on. For five years, states have been given federal block grants. New York receives $2.4 billion annually and, given the drop in the number of welfare recipients and the economic boom, has a $1.3 billion surplus, according to City Limits.
In 2002, welfare reform goes back to Congress for reauthorization, and many experts predict Congress will slash funding. Matt Pacenza writes in City Limits, "The fact that New York has spent so little of its cash could come back to haunt policymakers, particularly if Congress uses the state's excess billions as an excuse to slash the grant."
The drop in welfare rolls since the enactment of welfare reform has coincided with an economic boom. No one can predict whether the former welfare recipients now making $6 to $8 an hour will be able to keep those jobs if, as now seems likely, the boom ends.
Given all the uncertainties, Pham says, the early days of 2002 will likely see crowds at Human Resources Administration Centers. And if caseworkers there cannot efficiently provide the city's poorest residents with benefits, New York's food pantries could be the next ones to feel the crunch.
###
Visit the Issue of the Week archives.
Tell us what you think about this issue. Write a letter to the editor.