Workfare for the Homeless
By Jessica Green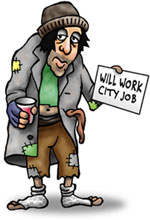 THE LOWDOWN:
In a controversial move, Mayor Giuliani has put forth a proposal that would extend the rules of workfare to homeless individuals and families. At first glance, even non-bleeding hearts may wonder at the apparent heartlessness of it all, but closer inspection reveals greater complexity. Among the trees in the forest: 1) Family tree. The new regs threaten to place homeless children in foster care if their parents are evicted from shelters for any reason, including refusing to work. Any violation of welfare requirements or regulations -- even those committed through negligence, or worse, by flaws in the system -- could potentially separate families. 2) Money tree. The US government mandates that 50% of all public assistance recipients be working for their benefits by 2002, or face fiscal penalties. With federal and state TANF funds at stake, continuing to cut the rolls seems fiscally prudent for several reasons. Yet NYC has been so effective in moving people from welfare to work that it will meet federal standards with ease. Mayor Giuliani's proposal is still just a proposal and far from being implemented. First there are some formidable legal hurdles. Stay tuned . . .
Excerpts from the Comptroller McCall's report:
On the Five Year Benefit Limit: "Since the City pays for half the cost of SNA benefits, but only a quarter of TANF costs, City expenditures would increase by about $25 million FY 2002 (partial year impact), $60 million in FY 2003 and about $75 million annually thereafter."
On Job Centers: "Last January, welfare advocates alleged that the application process in the job centers improperly denied the needy prompt access to food stamp and Medicaid benefits. A federal court found merit in these allegations and the City was enjoined from converting additional welfare offices until corrective actions were taken."
Source: Review of the Four-year Financial Plan for the City of New York Fiscal Years 2000 Through 2003 (July 1999, Office of the State Deputy Comptroller for the City of New York)
THE POLICIES:
Workfare . . .
NYC Human Resources Administration - A brief explanation of federal and state welfare reform.
NYS Department of Family Assistance - Full text of Temporary Assistance to Needy Families (TANF) State Plan. A clear guide to how federal welfare reform impacts upon NYS, and what is required of participants receiving TANF assistance.
Office of the State Comptroller - H. Carl McCall's January 1999 report on welfare reform implementation voices two main concerns: child care and job training. In order to successfully move people from welfare to work, McCall argues that sufficient and flexible child care is necessary. Also needed is extensive support and job training to prepare the City's most "unemployable" for the job market.
Independent Budget Office - Critical analysis of welfare reform implementation in NYC. This indispensable report documents the impact of welfare reform to date and makes projections about future fiscal impact of a possible downturn in the economy, and federal term limits on public assistance.
. . . and Giuliani's Proposal
"Reaching Out to All New Yorkers by Restoring Work to the Center of City Life" - Policy speech made by the Mayor last year foreshadowing his new proposed homeless policy.
"A work plan for homeless stirs a storm of protest" - Giuliani's proposal met with objections.
"Work for Shelter Plan Halted Till Judge Rules" - The Legal Aid Society and the Coalition for the Homeless question the legality of the new homeless proposal.
THE ADVOCATES:
Patrick Markee - of the Coalition for the Homeless, says that Giuliani's proposal will undo the last twenty years of progress made in helping the City's homeless.
Mike Arsham - On why workfare for the homeless is bad family policy.