Giving And Its Consequences
Mark Berkey-Gerard
08 October 01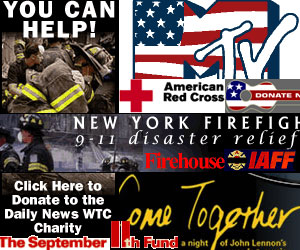 Immediately after September 11, many people across the country and the world wanted to do something, anything, to respond to the terrorist attacks and help the families of victims.
Thousands of everyday citizens volunteered to dig through the rubble, long lines formed outside of blood banks, food pantries overflowed with donations, clothes and cases of bottled water piled high on the sidewalks outside of places like the Salvation Army.
Soon the city and relief organizations were so overwhelmed, they asked that people just donate money.
The world responded. Children at Alice Harte elementary school in New Orleans brought in pennies and raised $3,000 for families of New York City firefighters. Barbara Kraus, a teacher and mother of four in California, donated the $10,000 prize she won for coming up with the best recipe in a Hellmann's mayonnaise contest. The government of Qatar, an Islamic state bordering Saudi Arabia, pitched in $2 million to the relief efforts.
In the month since the attacks, more than $750 million has been raised for relief efforts in New York and Washington. [See a list of prominent New York City relief funds]
It is the largest philanthropic outpouring ever in the shortest period of time. The amount donated in just the first two weeks after September 11 represents a quarter of the money raised by relief charities and other international groups in all of the previous year. (This is in addition to the federal fund set up by Congress that could cost taxpayers as much as $15 billion.)
Helping.org, a web site of the AOL/Time Warner Foundation, lists over 70 different funds that have been set up to support specific kinds of beneficiaries:
Even the New York City public school system has a relief fund to "maintain a safe and supportive environment for each of its 1.1 million students."
Mayor Rudy Giuliani insists more donations are still needed.
"Let's say your goal is that the families [of victims] are financially secure, that the children can go to school, can go to college, because they've lost their father or in some cases their mother," Giuliani said. "A lot of money has been donated, but certainly not enough. "
While the record giving will certainly help the city recover, it is already having some undesired complications.
There have been cases of fraud, both from people hoping to cash in on national goodwill and from victims' families that have tried to get aid from several organizations for the same expense. Some are concerned that some organizations may not use the funds properly or that the money may not reach those who need it most. Still others warn that the current outpouring of donations specifically focused on the World Trade Center disaster could divert funds from other charitable causes. Combined with a struggling national economy, a bare-bones state budget, and overwhelmed city finances this could devastate New York nonprofits.
"There are approximately 25,000 nonprofits in New York City," said Fred Lane, professor at the School of Public Affairs at Baruch College. "We could lose one out of five nonprofits in the next three years."
TEN TIPS FOR RESPONDING TO THE WORLD TRADE CENTER DISASTER
Compiled from the American Institute of Philanthropy
1. Give to charities that have an established track record of effectively helping in a crisis. There are several web sites, such as the American Institute of Philanthropy and Philanthropic Research, that rate organizations.
2. Give to respected intermediaries that have set up charitable funds. For example, the September 11th Fund was recently formed to help victims of this crisis and will be administered by United Way and The New York Community Trust.
3. Restrict or designate your contributions for this specific crisis. If you do not, there is a risk that the charity will use your donation for a different purpose. Donors should also consider giving unrestricted funds to charities so that they have funding to cover less popular but necessary programs and overhead.
4. Give with check or credit card. There is little assurance that coin or currency donations will make their way to the intended beneficiary.
5. Give money rather than goods. Cash donations enable charities to buy the most needed type of food, medicine, clothing, shelter materials and other supplies.
6. Do not respond to or forward e-mail solicitations. No established organization is fund raising through e-mail chain letters.
7. Designate contributions to the families of disaster victims who have limited financial resources.
8. If you are giving to local police or firefighter funds, contact the unions or individual precincts and houses to see if they are aware of the fund.
9. Consider giving to groups that protect the safety and civil rights of Arab-Americans and Muslim-Americans.
10. Pace your giving and support charities that are not directly involved in this crisis.
HELP FROM COMICS AND CARPENTERS
The plight of New York seems to have moved everybody to give, from the smallest theater company to the largest conglomerate, from everyday people to celebrities, from schoolchildren across the country to foreign governments around the globe.
Jerry Seinfeld and Bill Cosby are teaming up for a stand-up comedy benefit. Musicians from Paul McCartney to Britney Spears are playing benefits and recording tribute albums. The telethon "America: A Tribute To Heroes," watched by 89 million viewers, raised $150 million, three times as much as any other television fundraiser in history. New York Mets players donated their salaries from the first game after the attack and raised $500,000. A high-ranking official from Japan recently visited the New York City Council and brought a check for $10 million.
Much of this money will go to the families of those who died in the World Trade Center. Some estimate that each family could receive as much as $1 million.
Other money will go to pay for food and supplies for rescue and construction workers at the site, or to general funds of organizations like the Red Cross, Salvation Army, and United Way that respond to disasters around the world.
There are also specific funds to place ownerless pets in new homes, to counsel New York City school children, to train search and rescue dogs, and to help hotel workers, janitors, and window-washers who have lost their jobs.
Tom Valenti, chef and owner of the restaurant Ouest, is organizing 6,000 restaurants around the world to donate all or part of their revenues on October 11 for the families of the Windows on the World workers and the hundreds of others employed in food outlets in the World Trade Center who are among those killed.
"These are not high-wage earners. These are not pension-plan, 401(k) types," said Valenti. "This is a group of people that, hopefully, put some money away -- but a lot of them were living check to check."
The New York Blood Center, which only weeks ago had a critical shortage, issued a statement saying that the immediate needs of area hospitals had been met. They still encouraged people to donate more in the weeks and months to come, since blood is perishable. Red blood cells must be used within six weeks and platelets must be used within five days.
Many food banks are also overwhelmed and have run out of space to store food or do not have enough trucks to transfer food to other areas of the city or outlying areas.
THE POWER AND LIMITS OF CHARITY
The charitable giving after the terrorist attacks is certainly a sign of the country's will.
"Our generosity is our strength," said Kathleen McCarthy, director of the Center for the Study of Philanthropy at the Graduate Center of the City University of New York. "People are giving not only out of sympathy, but as a way of fighting back and not giving in. The fact that we have developed this common identity is remarkable."
But McCarthy also noted that the city and state must ensure that the money is spent in a prudent manner with a significant amount of the money going into ethnic communities, lower-income areas, and organizations that promote tolerance.
"The greatest good may not be to put the money to immediate use, but to put some aside in reserve for the long-term challenges," said McCarthy.
Many charitable organizations in the city were facing difficulties before September 11, like a slowing national economy, foundations whose investment portfolio were down, a state that barely passed an emergency budget, and a city administration that is often slow in issuing contracts.
These factors, combined with the current outpouring of charity, according to Fred Lane, a professor at the School of Public Affairs at Baruch College, has put nonprofits in a crisis. "Some of this is new giving, but some of it will be redirected from traditional charities," said Lane. "We don't know how much yet."
In order to save the city's nonprofits, Lane said that donors and foundations must continue giving even as the economy struggles, and volunteers who are willing to contribute in a disaster need to be encouraged to give their time to a variety of causes in the weeks, months, and even years to come.
"The city of New York must also see nonprofits as partners that are critical in the delivery of services," said Lane, who argued that nonprofits are sometimes viewed as mere recipients of city funds. "The city must take them seriously and help maintain these programs."
NONPROFIT CAPITAL
There is something ironic to all the money pouring into New York City, which has been called the nation's nonprofit capital. "Philanthropy has been one of New York City's major exports for a century," says Sara Engelhardt, the president of The Foundation Center, a New York-based clearinghouse for information on American philanthropy.
New York is a city that knows how to raise and distribute money, but even the philanthropic institutions of the city have been hurt by the terrorist attacks. Hundreds of nonprofit groups operating in Lower Manhattan are scrambling to recover, according to a report in the Chronicle of Philanthropy.
For example, Helen Keller Worldwide, an organization located across the street from the World Trade Center which works to prevent blindness in developing areas of the world, estimates that it lost some $500,000 in eyeglass lenses in addition to computers, files, and Helen Keller archives.
"We had things in the office that are heartbreaking to have gone," said president John Palmer, who estimated it would cost $2 million for the organization to find new offices and reorganize. For now, the organizations 50 New York employees are working out of offices donated by a board member and beginning to try to raise money for recovery.
Some of the social galas that draw affluent New Yorkers and raise large amounts of money have been postponed or cancelled. Recently, benefits for the Museum of Modern Art, Ronald McDonald House, and the Memorial Sloan-Kettering Cancer Center were all called off.
"There is a feeling that it's inappropriate to be asking people for things that are not related to the relief effort -- college alumni funds, hospitals, the lot," said Stacey Palmer of the Chronicle of Philanthropy. "We're getting calls asking: 'What should we do? What are other people doing?' Charities are in a hard place."
Some nonprofits that depend on government grants are worried about short-term cash-flow problems as government offices deal with delays and disruptions.
"Logistically, the question is: Can they pay us on time?" said Tuhina De O'Connor, executive director of the New York Asian Women's Center, an organization that serves victims of domestic violence.
SCAMS, FRAUD, AND OVERSIGHT
In the hours after the attack on the World Trade Center, some New Yorkers began receiving phone calls soliciting donations. Those initial appeals turned out to be fraudulent and the mayor quickly urged people not to donate over the phone. Several email solicitations also sent donors to fake relief web sites where credit card numbers were stolen. Most of those web sites have since been shut down.
But fraud is not limited to those trying to take advantage of well-meaning donors. Larry Levy, deputy counsel to Mayor Giuliani said disaster officials had already seen instances of victims' families seeking reimbursement from multiple agencies for the same expense.
There are also concerns about how the state and the city will oversee the organizations that receive the donations and ensure that they are used for the proper purposes.
"Some of these funds were newly created in the aftermath of the attacks," Alair Townsend, publisher of Crain's New York magazine wrote in an editorial. "They have few guidelines, no boards of directors or staff to handle distribution, and little clarity about which victims they will serve."
State Attorney General Eliot Spitzer has proposed creating a database to track donations and recipients of aide, an idea that some charities, including the Red Cross, oppose. "People will not come to us if they think we are going to put their names in some big database," said Dr. Bernadine Healy, president the Red Cross.
Last week it appeared that oversight of donations could become a political turf war, when Mayor Giuliani announced that he, not the State Attorney General, would coordinate the charitable groups. After a series of phone calls, both sides said they were committed to working together, but the specific roles of each would take was vague.
"The mechanics of turning generosity into direct help will not be easy," said Spitzer. "Millions of generous Americans are depending on us to see to it that their donations are used wisely, and that every dollar goes to those most in need."
The issue is further complicated by the $15 billion airline bailout passed by Congress. In an effort to limit lawsuits and airline liability, the law included a victims compensation fund that offers those who were killed or injured the option of applying for money from a central fund, or they could still sue in a New York court.
Just how the money from potential lawsuits, the federal fund, and the donations to charities will be divided among families of victims and who will coordinate all these programs has not been decided.
THE FUTURE OF GIVING IN NEW YORK CITY
How the attacks on the World Trade Center and the Pentagon and current outpouring of donations will affect charities in the long term is still unclear.
A study of 13 crises in U.S. history including Pearl Harbor, John F. Kennedy's assassination, the 1987 stock market collapse, and the Oklahoma City bombing, showed that charitable giving a year later declined in only four instances. Economic downturns seem to affect individual donors the most: they give less when they have less to give. The worst drop-off occurred after the oil embargo in 1973 when charitable giving dropped by over 30 percent.
A recent editorial in the New York Times called for the government and charities to "begin thinking about distributing a greater share of their aid to the 'indirect' victims--the people who survived the collapse of the towers but lost their homes, jobs or small businesses, suffered mental trauma or found their lives disrupted in other ways."
Foundations, corporations, and individuals may also have to be more creative in how they donate their money and time to the disaster and other causes in the months ahead.
"Your next-door neighbor's father dies, you know what to do. You bring a casserole," David Hinkley wrote in a column for the Daily News. "How do you bring a casserole to the World Trade Center? "
NEW YORK RELIEF EFFORTS
A list of some of New York City relief funds can be found at Helping.org
Also there are specific funds for:
OTHER PROMINENT FUNDS
American Red Cross Disaster Relief Fund
American Red Cross is providing lifesaving assistance in the form of immediate disaster mass care and blood to victims and emergency workers in New York, Washington, D.C. and Pennsylvania. Donations can also be made to local chapters.
American Red Cross
ARC in Greater New York
150 Amsterdam Ave
New York, NY 10023-5025
877-733-2767
Daily News Charities, Inc
A fund established to aid the families of police, fire and Emergency Medical Service workers who died on September 11. The funds will be distributed to the Widow's and Children's Fund of the Police Department, Widow's and Children's Fund of the Fire Department and the Emergency Medical Services Command Memorial Foundation.
Daily News Charities, Inc.
P.O. Box 3307
New York, NY 10001
The New York Firefighters 9-11 Disaster Relief Fund
International Association of Fire Fighters is preparing to send financial assistance to the families of all fallen firefighters and to coordinate efforts to assist fire and Emergency Medical Service personnel on the scene in New York City.
PO Box 65858
Washington D.C. 20035-5858
888-852-4777
New York Police and Fire Widows' and Children's Benefit Fund
A non-profit organization that assists the families of fallen New York City firefighters and police officers. The Fund provides funds to families at the time of a death to assist with immediate expenses. In addition, the benefit fund distributes an annual check to each of the surviving families.
PO Box 3717
Grand Central Station
New York, NY 10163
New York State World Trade Center Relief Fund
Set up by Governor George E. Pataki to benefit all victims both injured and deceased, including civilians, the dedicated firefighters, policemen, Port Authority officers, Emergency Medical Service personnel and relief workers. After the monetary needs of these affected people have been addressed, consideration may be given to other related relief and recovery expenses. The fund will be administered by The Salvation Army and coordinated with the September 11th Fund, established by the United Way of New York City and the New York Community Trust, as well as the Twin Towers Fund established by the City of New York.
New York State World Trade Center Relief Fund
P.O. Box 5028
Albany, New York 12205
800-801-8092
New York Times 9/11 Neediest Fund
A campaign to collect contributions from the public to relieve the suffering of families struck by death or injury in the World Trade Center tragedy, both civilians and rescue workers. Funds will be allocated to the seven social service agencies that disburse funds in the annual Neediest Cases campaign and to three foundations representing the uniformed services and other emergency services. The seven social service agencies are: Brooklyn Bureau of Community Service; The Catholic Charities of the Archdiocese of New York; Catholic Charities, Diocese of Brooklyn and Queens; The Children's Aid Society; The Community Service Society of New York; UJA-The Federation of Jewish Philanthropies of New York; and The Federation of Protestant Welfare Agencies, Inc. The three foundations representing the uniformed services and other emergency services are the Fire Safety Foundation, the Police Foundation and the John Jay College of Criminal Justice Foundation.
The New York Times 9/11 Neediest Fund
P.O. Box 5193, GPO
New York, NY 10087
212-556-1092
Port Authority Police World Trade Disaster Survivors' Fund
Donations will be used to provide financial help to all the families of members of the Port Authority Police affected by the disaster.
611 Palisade Avenue
Engelwood Cliffs, NJ 07632
201-871-2100
Salvation Army
The Salvation Army's emergency food and aid vehicles and personnel have been on-site at the World Trade Center area assisting victims and emergency personnel, along with hundreds of counselors and social workers throughout the north eastern United States and Canada, on call to serve victims, families, friends, and rescue workers 24 hours a day.
440 West Nyack Road,
Post Office Box C-635,
West Nyack, New York 10994-0635
845-620 7200
September Eleventh Fund
The United Way of New York and the New York Community Trust have established a fund to help the victims of the attacks and their families.
The September Eleventh Fund
c/o United Way, 2 Park Ave
New York, New York, 10016
212-251-4035
Twin Towers Fund
Set up by Mayor Giuliani to assist, support, and recognize the families of the members of the uniformed services of the New York City Fire Department and its Emergency Medical Service Command, the New York City Police Department, the Port Authority of New York and New Jersey, the New York State Office of Court Administration and other government personnel who lost their lives or were injured at the World Trade Center in New York City. If resources permit, the families of other persons who lost their lives or were injured during those tragedies may also be included as beneficiaries.
Twin Towers Fund
General Post Office
P.O. Box 26999
New York, NY 10087-6999
###
Visit the Issue of the Week archives.
Tell us what you think about this issue. Write a letter to the editor.