The Biggest Stories of 2000
26 December 00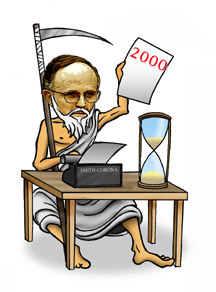 The Election. It was to be a marquee race between First Lady Hillary Clinton and Mayor Rudolph Giuliani for the U.S. Senate seat from which Daniel Patrick Moynihan was retiring. But it fizzled in May when Giuliani, suffering from prostate cancer and plagued by questions about his troubled marriage to Donna Hanover and his relationship with "very good friend" Judith Nathan, withdrew from the contest. Long Island Rep. Rick Lazio strove to pick up where Giuliani left off, but to little avail. In November, the most expensive Senate race in U.S. history ended with Clinton trouncing Lazio by an unexpectedly margin of 12 percent, and becoming the first first lady ever to go on to elective office. Even before she was sworn in as New York's junior senator, some pundits were touting her as a Democratic president contender in 2004.
The Election Mess. National attention focused on the electoral machinations in Florida, of course. But New Yorkers had problems of their own. Throughout the state, various candidates faced daunting requirements before gaining a place on November's ballot. Many city voters found it difficult to register, while others were confronted with broken voting machines. Some mass transit advocates charged that a confusing New York City ballot kept many citizens from voting on the transportation bond issue, simply because they couldn't find it. Vote counting in the too-close-to-call race between veteran Republican State Senator Roy Goodman and Democratic challenger Liz Krueger (which Goodman eventually won) was further complicated when it was learned that some district residents had been given absentee ballots that didn't list either candidate.
Down for the Count. When the results of the 2000 Census are finally tallied, it is expected to show that some 40 percent of New Yorkers are foreign-born -- a proportion not equaled since the last great wave of immigration to the city, at the beginning of the 20th century. But, in a repeat of its flawed methods of 1990, the U.S. Bureau of the Census failed to take an accurate count of this population. The city's response rate was only 55 percent, compared to a national rate of 67 percent. Few census-takers in Chinatown spoke Chinese; the bureau was slow to send out questionnaires in Spanish; too frequently, only one census form was sent to buildings which were once single-family homes but had since been split into several apartments. All this has tangible consequences. A study of the undercounting in the 1990 Census determined that it cost the city the loss of a seat in the State Senate and three Assembly seats.
School Days. Harold Levy, a Citicorp executive with a history of involvement in education but no teaching experience, was named schools chancellor, becoming the seventh person to head the nation's largest school system in 15 years. Levy seems likely to emphasize bringing business techniques into the schools. In his first year, he took steps to turn some of the city's worst schools over to a private company, announced a new plan for bilingual education and set about to revitalize the neighborhood high school.
Summer in the city became summer in the school for many students as some 250,000 youngsters were told to attend summer classes to avoid having to repeat a grade. Despite the ambitious program--and air conditioning--some 20,000 students were still left back.
Diallo and Dorismond. Police relations with black and Hispanic New Yorkers continue to be tense. In February, an Albany jury acquitted four officers accused of murder in the 1999 shooting death of African immigrant Amadou Diallo. A few weeks later, Patrick Dorismond, an unarmed security guard, was shot and killed by police on an undercover drug-buying operation. The controversy escalated when Mayor Giuliani authorized release of Dorismond's juvenile arrest record. No charges were brought in the death.
Meanwhile, the city wrangled with the U.S. government over federal monitoring of New York's Finest. Lawyers for police torture victim Abner Louima went beyond seeking financial compensation from the city, and at year's end were trying to hold the police union accountable and to win changes in departmental policies.
After four years, Howard Safir resigned as commissioner. Giuliani appointed Corrections Commissions Bernard Kerik to replace him.
Subway Series. While the rest of the country largely ignored this year's Fall Classic, New Yorkers reveled in the first Subway World Series in 44 years. (The last time it happened, the Dodgers still played in Brooklyn.) Fans kept the battle between the 6 and 7 trains surprisingly good-natured, but the rivalry between Yankee Roger Clemens and Met Mike Piazza reached King Kong vs. Godzilla proportions in the tabloids. In the end, the Yankees won the series 4-1 and claimed their fourth championship in five years.
Dot-gone. After leading the New York economy in job growth and helping the Nasdaq rise to record highs, Silicon Alley's dot-coms began to falter. Investors, frustrated as many of the firms showed no profit, began to stop funding the companies. With no other source of income, many dot-coms--like Doubleclick, New York's biggest internet company--fired employees by the hundreds, and some, such as as babygear.com, ended operations altogether.
Airborne Gridlock. New York's crowded skies became a national problem as the Federal Aviation Administration blamed delays at LaGuardia for 25 percent of all late flights in the United States. While Queens residents and passengers grumbled about the problem, Washington proposed a cut in flights to the crowded facility. But some members of Congress opposed the reduction in service.
Stories That Were Supposed to Happen
The fate of Governor's Island, the 172-acre former Coast Guard station situated a half mile off Battery Park, remains unresolved. Though members of Congress and the Clinton administration, along with various NYC figures, had begun considering ways to open up this prime piece of harbor-front city real estate to the public, as of yet no convincing plan has yet been formulated. There is some talk that it is now too late.
Then there is the city's zoning code. Predicted to be a big story for the past two years, it appears that City Planning Commissioner Joe Rose's plan to modernize NYC's zoning laws -- last updated 40 years ago -- will not be considered until January, if then. But even if it does make it to the surface, it may not gain approval of the city planning board, because of opposition by developers, among other reasons.
Governor Pataki Learns Who E.B. White Is. Asked during one of her debates what it means to be a New Yorker, Hillary Clinton dropped the name of E.B. White, the beloved author of Charlotte's Web, Stuart Little, and The Elements of Style, a winner of the Presidential Medal of Freedom, and a native New Yorker who wrote for the New Yorker for half a century. He is known as well for writing what is considered the best single essay ever written about the city, "Here is New York." In the spin session afterwards, the Yale-educated governor was dismissive. "Mrs. Clinton quoted some guy, Wyatt or somebody," Pataki said. "I don't think he was from Brooklyn." Actually, Governor, his parents were from Brooklyn, and he grew up not far from your family farm.
As E.B. White wrote (in Here Is New York): "New York is peculiarly constructed to absorb almost anything that comes along."
###
Visit the IOTW Archives!
WHADDAYASAY?? GothGaz wants to know what YOU say about this issue. Fire away!