New Zoning Resolution for NYC?
By Jessica Green
20 Dec 1999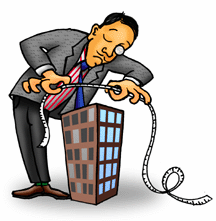 THE LOWDOWN:
On 8 December, City Planning Commissioner Joseph Rose presented his proposed changes to the impenetrable Zoning Resolution (ZR) Ü a 900-page document riddled with contradictions. Rose's proposals, labeled the Unified Bulk Program, primarily treat height and heft restrictions of commercial buildings, as its name suggests. The changes seek to streamline the ZR, and to eliminate the "numerous loopholes and interpretive gymnastics" in the present zoning rules. Specific targets include zoning lot mergers, or transferable development rights (which permitted the Trump tower to be erected in the mainly low-rise Turtle Bay area); bonuses for public space, which have heretofore been granted liberally; split lots, which straddle zoning districts; height limits and setback controls. Though the process of notification and approval has yet to begin, Commissioner Rose stated in April that he hopes to have the reforms in place within twelve to eighteen months.
KEY DOCUMENTS:
NYC Zoning Resolution Ü Long, convoluted, and heavily amended, this document is responsible for NYC as it stands today.
The Commissioner's speech Ü Read the April 1999 speech that introduced Joe Rose's plan for zoning reform. He asserts that NYC needs more development, not less; and that the interpret-as-you-please nature of the Zoning Regulation must be ended. For the reform process he promises a willingness to listen, but warns that any "political hijacking" will discontinue efforts for reform.
The Unified Bulk Proposal Ü Rolled out last week, this 100-plus page report outlines the major targets of the zoning reform. They include: height and setback controls; split lots (lots that straddle zoning districts) and mergers (such as transferable development rights); bonuses for public space, density controls; and design. For zoning mavens, download the whole document; the less ambitious should check out the press release and the executive summary.
How Zoning Works Ü An overview of zoning: its definition, purpose and implementation in NYS and NYC. This primer also explains who has authority to make which decisions, with accompanying laws and citations. Excellent.
Uniform Land Use Review Procedure Ü A brief overview of the ULURP process, the review process through which most land use actions must proceed.