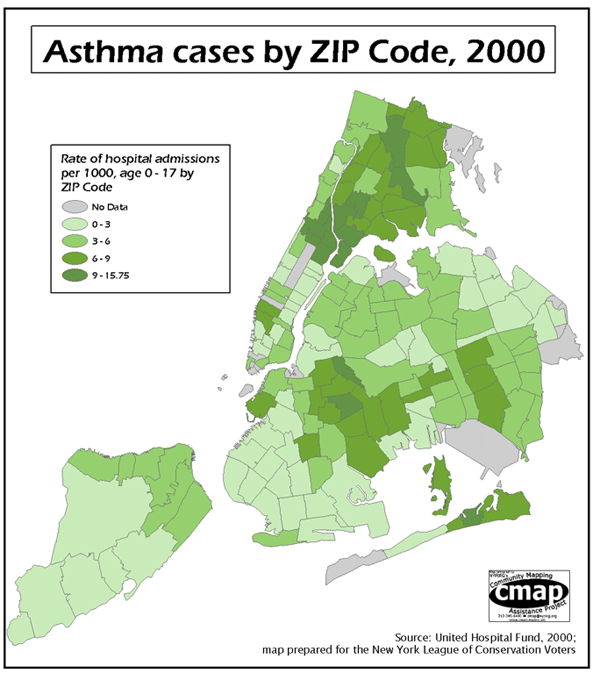 New York City has the worst asthma rate in the nation. As we reported earlier, asthma afflicts more than 500,000 New Yorkers, some 35,000 severely enough to send them to the hospital each year. This map shows where those 17 years of age and under are likely to live (What it actually shows is the numbers of young people who have been treated for asthma in hospitals in these areas; it is assumed that such patients will live near the hospital where they were admitted.)
"The worst asthma rates are in low income and communities of color that have more than their share of polluting facilities," says Leora Hanser, the New York City legislative director for the New York League of Conservation Voters, which commissioned the map. "In Harlem, where there are bus depots; in the South Bronx, where there is a lot of truck traffic, in Queens, where there are a lot of power plants sited.
"People think that asthma is a problem for which nothing can be done," says Hanser, "but there is much that the city can do. The city could create express bus lanes, cut down on truck traffic, and more equitably distribute polluting facilities."
Check out the Map Archives!


$app = JFactory::getApplication(); $menu = $app->getMenu(); $menu_items = $menu->getItems('menutype', 'mainmenu'); var_dump($menu_items); * */ ?>