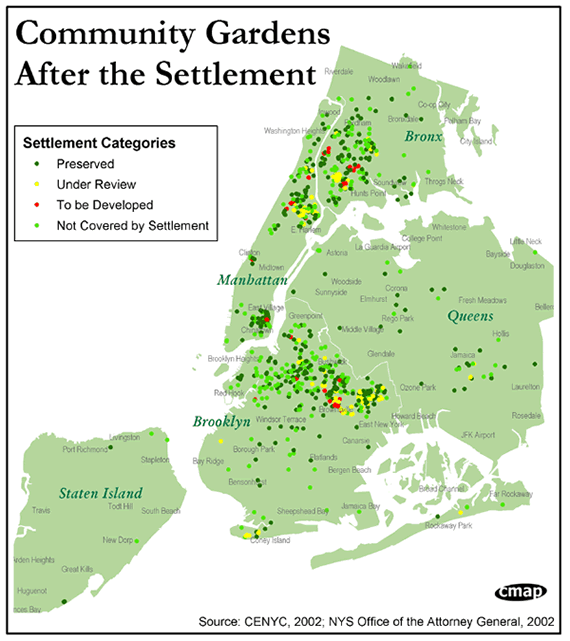 This map shows the location of the 838 community gardens in the city and how the recent agreement between New York State Attorney General Eliot Spitzer and Mayor Michael Bloomberg affects the status of each garden.
Under the agreement:
391 (shown in dark green) will be preserved.
114 (shown in yellow) are subject to future sale or development. Before a garden can be sold, it must go through a review process that requires the city to offer alternative land for neighborhood gardeners.
38 (shown in red) are slated for immediate development. Over 2,000 new units of housing will be built on these lots.
295 (shown in light green) are not covered by the settlement. Gardens registered after 1999, on private property, or those that have been purchased by the Trust for Public Land or the New York Restoration Project are not part of the agreement.
The agreement, announced on September 18, 2002, resolves three years of lawsuits. In 1999, Mayor Rudolph Giuliani wanted to sell more than 100 gardens for commercial development.
"We need to preserve as much green space as possible, while at the same time allowing for development where appropriate," said Attorney General Spitzer. "I applaud Mayor Bloomberg for recognizing that these two goals are not mutually exclusive, and for saving so many community gardens, which are a vibrant part of the city's neighborhoods."
However, some gardeners and advocates see problems in the details of the agreement. For example, the city's parks department Green Thumb program, which cares for many gardens, will remain in existence only as long as there are enough city funds.
"This settlement demonstrates that the city officials recognize the importance of open space by preserving hundreds of gardens," said Christian DiPalermo of New Yorkers for Parks. "However it fails to permanently protect these sites and does not set up meaningful process for creating new gardens."
To locate community gardens by name, address or neighborhood, visit the Council on the Environment's garden finder.
For a copy of the legal agreement, see the Attorney General's web site. The site also includes information on each of the community gardens in the agreement, by borough:
Check out the Map Archives!


$app = JFactory::getApplication(); $menu = $app->getMenu(); $menu_items = $menu->getItems('menutype', 'mainmenu'); var_dump($menu_items); * */ ?>