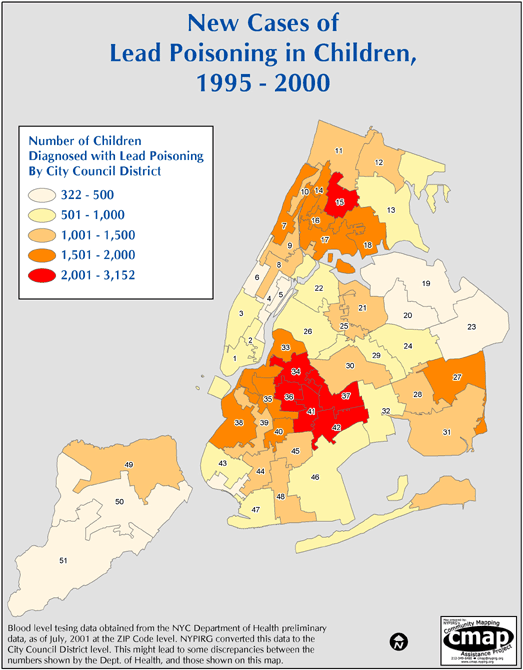 This map shows new cases of lead poisoning in children by New York City Council district. Between 1995 and 2000, more than 65,000 children were diagnosed with lead poisoning, according to the city's Department of Health.
The area with the highest number of new cases is district 37 in the Brooklyn neighborhoods of Wyckoff Heights, Cypress Hills, and East New York where 3,152 children were found to be poisoned. The district with the lowest number of new cases is district 51 at the south end of Staten Island: that area had just 322.
In New York City, children of color are at particular risk. Ninety-four percent of new cases are found in Black, Latino, or Asian children.
"There is a correlation between race and substandard housing in the city," said David Palmer of the New York Public Interest Group who commissioned a recent study and the map. "And in reality the numbers of cases are much higher, since only half of the city's children are tested."
As we explained in a Gotham Gazette article in April 2001, lead poisoning in children can cause learning disabilities, behavioral problems, and at very high levels, seizures, coma and even death. In New York City, the most common source of lead comes from deteriorating paint and contaminated dust, found primarily in buildings that were constructed before 1960.
A new bill (Intro 101) that would classify lead dust as a hazard and would require the city's housing department to conduct inspections of buildings where a landlord has a record of poor maintenance has been introduced into the City Council. Landlords would be required to clean contaminated apartments within six months. To date, 31 of 51 City Council members have signed onto bill.
Representatives of landlords like the Rent Stabilization Association oppose the measure, arguing that the current law passed in 1999 is sufficient. They also cite Department of Health statistics showing that the number of known lead poisoning incidents has declined 68 percent since 1996.
An initial City Council hearing on the issue is scheduled for September.
Check out the Map Archives!


$app = JFactory::getApplication(); $menu = $app->getMenu(); $menu_items = $menu->getItems('menutype', 'mainmenu'); var_dump($menu_items); * */ ?>