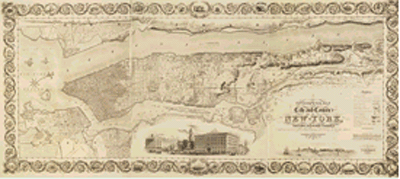 This map, from 1836, is entitled: Topographical Map of the City and County of New York and the Adjacent Country: with Views in the Border of the Principal Buildings, and Interesting Scenery of the Island
It is from the new exhibition at the Metropolitan Museum of Art, "Art and The Empire City: New York, 1825 - 1861," the first exhibition of its kind and its scale focusing on the city that the Met has done in its 130-year history.
By the time the map was created, New York City was paved, gaslit and fully occupied up to 14th Street, but the famous "grid" is plainly visible all the way up to 42nd Street. New York's grid plan, created in 1811, leveled hills and filled in valleys and streams, in order to create a city with blocks that existed at right angles, so that it was less expensive to build.
From the exhibition's catalogue: "Antebellum New Yorkers often described the colonial section of their city (those streets south of City Hall Park -- then called simply 'The Park') as 'essentially defective,' 'a labyrinth--a puzzle--a riddle--incomprehensible to philosophers of the present day.' It was nothing of the sort. Laid out by the Dutch as a rough grid (adapted to the shoreline) with major streets paralleling the East River waterfront and perpendicular streets leading back into the core of the island, the city was continually extended in the process of land reclamation along the shore."
Check out the Map Archives!


$app = JFactory::getApplication(); $menu = $app->getMenu(); $menu_items = $menu->getItems('menutype', 'mainmenu'); var_dump($menu_items); * */ ?>