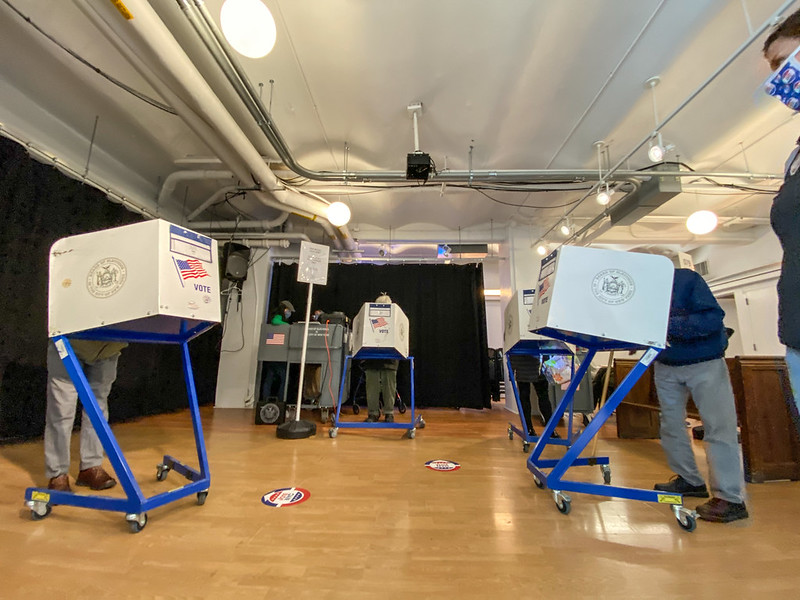 Voting during a pandemic (photo: Michael Appleton/Mayoral Photography Office)
---
Governor Cuomo just shut down indoor dining in New York City for the second time this year. Hospitalization rates and COVID-19 positivity rates across the five boroughs continue to soar, and the Mayor is warning that a full shutdown is imminent.
Earlier this month, Dr. Anthony Fauci announced that "we could start to see things start to get really bad in the middle of January, not only for New York state but for any state or city." Amid this dire backdrop, the City's Board of Elections is holding a special election in Council District 12 in the northeast Bronx, where voting has already begun, and is also preparing for four other City Council special elections, to take place in the coming months. Two Queens elections are already scheduled for February, and two Bronx elections, including my race in District 11 in the northwest Bronx, will likely be scheduled for March.
In light of what the City faces, we need to make sure to prioritize public health and our fight against this virus, while guaranteeing that all New Yorkers have full representation on the City Council as soon as is safely possible. Here are some proposals to make sure the four upcoming City Council races do not set us back in our fight against the coronavirus.
Suspend Requirement Candidates Collect Voter Signatures to Appear on Ballot
In normal circumstances, candidates running in a special election for City Council are required to file petitions with 450 signatures of registered voters in their district in order to appear on the ballot. In reality, election lawyers encourage candidates to collect three times that number -- 1350 -- in case the petitions are challenged in court.
While petitioning for the Queens races has already taken place, petitioning can and should be suspended for the upcoming Bronx races. To require what could be more than a dozen candidates in these two races to travel their communities to come in close contact with thousands of people at this time is highly irresponsible and could result in more people contracting this virus. As an alternative, candidates who have qualified for the Campaign Finance Board's matching program, which requires City Council candidates to receive a minimum of 75 in-district donations of $10 or more, should be allowed to appear on the ballot.
Send Postage-Paid Absentee Ballots to All Eligible Voters
For any election, voters should have as many options to cast their votes as possible. For these upcoming elections, this must include every effort to encourage people to vote by mail. If every eligible voter has an absentee ballot sent directly to their home, more will vote by mail. Period.
Postpone In-Person Voting Until More People Have Been Vaccinated
The City Charter requires the Mayor to call special elections within 80 days of a City Council Member leaving office. But while the Mayor is obligated to schedule these elections, the Governor can postpone them, as he has done with other elections this year to help to slow the virus' spread.
The expansion of mail-in balloting in New York has reduced the number of people physically at the polls, but many will still vote in person, either out of preference, or because they do not receive a ballot by mail, or because they require assistance.
With vaccines now being deployed, a postponement of in-person voting for these four elections to April or May could make a tremendous difference -- for poll workers, for voters, and for their families. With the state prioritizing vaccine distribution to New Yorkers above the age of 65 and to those with underlying health conditions, even a modest delay could mean thousands of our most vulnerable neighbors would be more protected before exercising their right to vote.
***
Abigail Martin is a social worker and an adjunct professor at the Columbia University School of Social Work, and a candidate for City Council in District 11 in the Bronx. On Twitter @Abigail4theBX.
***
Have an op-ed idea or submission for Gotham Gazette? Email This email address is being protected from spambots. You need JavaScript enabled to view it.