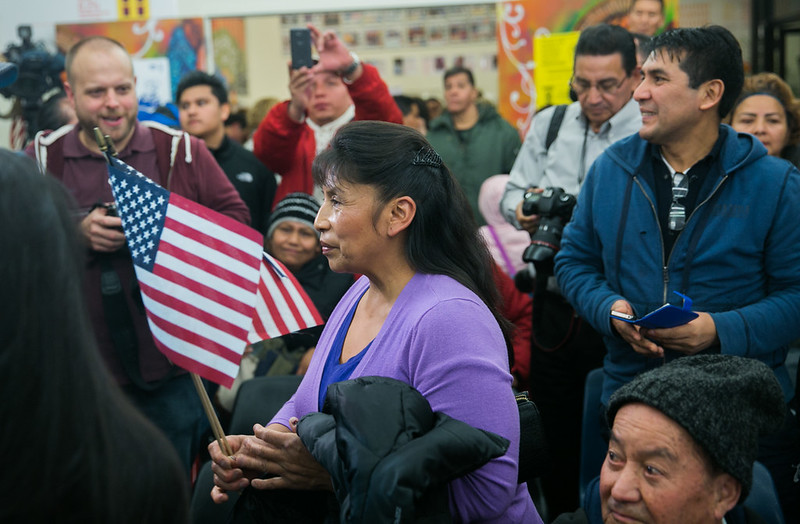 Immigration celebration (photo: William Alatriste/City Council)
---
When it comes to immigration, the United States suffers from a deeply split personality: are we a "nation of immigrants," a country built on immigrant contributions, where Lady Liberty welcomes those fleeing persecution and seeking opportunity? Or are we a country that itself persecutes those perceived as different, that closes our borders to newcomers, and whose very institutions seek to preserve whiteness?
We're both, of course. But with the Citizenship Act of 2021, we have the opportunity to cement the part of our immigration history that does us proud. The Citizenship Act presents a sweeping vision for immigration reform -- one that recognizes immigrants as an essential fiber of our common tapestry. It's a bill that prioritizes the dignity and humanity of our immigrant siblings in ways that shouldn't be refreshing, but are. New York's local and state governments have the opportunity to embrace these changes and effect implementation in important ways.
As an elected official and nonprofit leader in New York City, we recognize the essential role local communities and local policy play in our national immigration system. National policies have a direct impact on our neighbors, community members, business owners, students, and families -- and our local efforts can affect the national picture.
The Citizenship Act of 2021 proposes sweeping and welcome changes to our immigration laws. It includes provisions that would allow millions of undocumented people to access a path to full legal status. It reforms the current visa system, which is outdated and slow, in order to facilitate family unity. It sets up an office within Customs and Border Protection to address misconduct within that agency. And, important to our shared commitment to supporting the unique needs of vulnerable immigrants such as children, the law uses a "best interest of the child" standard to ensure treatment of child migrants that goes beyond the minimal standards set via lawsuits and settlement agreements. It pledges to provide government-paid lawyers to particularly vulnerable people, including children. It even establishes a pilot grant program that will distribute grants to state and municipal governments, as well as community-based organizations, to assist immigrants.
Those municipal pilots will be critical, as successful engagement in immigration issues on the local level is essential to preserving the unique character and strength of our state and city. To do so, New York City government must be ready to work together with local organizations like Safe Passage Project, which represents immigrant children facing deportation, so that if passed the law reaches everyone it is intended to help. Safe Passage and other local legal services organizations have, over years of representing clients in complex and often harrowing legal matters, built trust within our clients' communities. As the Trump administration rolled out cruel changes to the immigration system over the last four years, we were there, helping New Yorkers navigate the new labyrinth. We accompanied them as they fought a hostile system. We represented them in individual cases, and sued the government (and often won!) to stop the changes at the source .
The Citizenship Act of 2021 is the exact opposite of what took place under the Trump administration. Take Operation Matador for example. This much-touted Trump initiative purported to round up and deport dangerous gang members, but in fact resulted in local law enforcement targeting young teens of color for offenses such as wearing their native country's soccer jerseys. School "safety officers" branded these teens as murderous criminals, when in fact they simply sought stability and safety with family members on Long Island.
With the Citizenship Act of 2021, we have a chance to turn a new leaf. Instead of reactivity or, worse, complicity, we can choose restoration and justice.
We must remain vigilant against unscrupulous or unlicensed practitioners who would prey on immigrant communities as the law is rolled out. We must demand law enforcement reform and community alternatives to policing. Finally, we must continue to embrace innovative public-private partnerships on immigration issues that have been successful over the last few years. The ICARE Initiative, for example, was a groundbreaking partnership between the Robin Hood Foundation and the New York City Council that funded deportation defense attorneys for unaccompanied children in New York. Since its founding in 2014, ICARE has represented more than 2,500 such children. We have the opportunity to build on this success as we welcome changes on the federal level.
Despite a challenging economic environment, now is not the time to pull back our commitments to immigrant New Yorkers. We look to the city and to private donors to maintain or increase their financial commitment to defending young New Yorkers from deportation. Together, we can ensure that the promises of the Citizenship Act are kept in New York.
***
City Council Member Carlina Rivera represents parts of Manhattan. Alexandria Rizio is an attorney with the Safe Passage Project. On Twitter @CarlinaRivera & @SafePassageProj.
***
Have an op-ed idea or submission for Gotham Gazette? Email This email address is being protected from spambots. You need JavaScript enabled to view it.