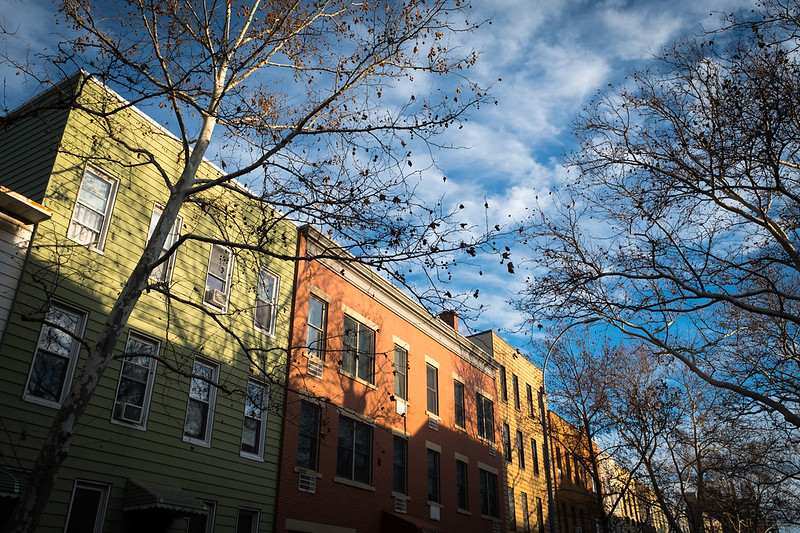 Housing (photo: Edwin J. Torres/Mayoral Photography Office)
---
Charged with leading post-covid New York to a more equitable future, our next mayor should increase opportunities for New Yorkers to build equity through affordable homeownership.
Historically a blind spot in our city's, state's, and country's affordable housing discussions and budgets, which tend to focus on rentals, affordable homeownership is a way for low-income people to begin to build wealth and for us as a city to reduce racial and economic inequality. Homeowners are wealthier than renters at every income level, and for the majority of homeowners most of their wealth comes from their homes.
Homeownership is elusive for most New Yorkers. In 2018, the last year of available data, just 33% of residents owned their home, dipping as low as 18% in the Bronx. White New Yorkers, at 43%, are far more likely to own their home than Black (27%) or Hispanic New Yorkers (17 %), and it's getting worse: a recent report from the Black Homeownership Project showed that the Black homeownership rate has dropped by 13% over the last two decades citywide, preventing long-term equity building and exacerbating racial wealth gaps.
Yet, expanding new opportunities for working families, especially of color, to purchase affordable homes is often left out of New York's housing policy discussions entirely. When it is brought up, even within the affordable housing sector, the conversation is often focused on demand-side challenges like down-payment assistance, credit-building, first-time homebuyer education, and ending discriminatory practices in the homebuyer market. These issues are important, but they miss the larger crisis: there are not enough homes available at prices accessible to working-class households to move the needle.
A Center for NYC Neighborhoods analysis of ACRIS data showed that in 2019, there were approximately 9,000 homes purchased for $420,000 or less, which is considered accessible with the right financing to low- and moderate-income homebuyers. In a city of 8.3 million people and over 1 million owner-occupied homes, this number is shockingly small and makes up only 22% of all home purchases of 1-4 family homes, condos, and co-ops.
To make matters worse, homebuyers, even with the right credit, down-payment assistance, and mortgage qualifications, were beat out by cash buyers over half the time. According to a recent study from Center for NYC Neighborhoods, 52% of all low-priced homes were bought with cash, often by private equity groups, limited liability corporations, or investors rather than individuals seeking to move in.
The good news is that the conversation is changing in a significant way, and our next mayor has a blueprint from 90-group strong The United for Housing coalition with specific recommendations to expand affordable rental and homeownership housing.
It calls on the next mayor to expand and reform the city's Open Door homeownership construction program, invest in preservation strategies that would convert rental properties into resident-owned limited equity cooperatives, and utilize Community Land Trusts as a method to keep people in their homes while creating permanent affordable homeownership opportunities for low- to moderate-income New Yorkers.
Better yet, the plan creatively challenges institutional processes like New York's tax lien sale and down-payment assistance programs, putting forward solutions that would utilize limited financial resources to bolster household and community assets for residents and neighborhoods. In other words, the report helps arm our future leaders with the detailed policies they need to tackle this crisis – and candidates are listening.
Some of the candidates for our city leadership have addressed these disparities and put forward specific homeownership policies that expand the conversation past the demand-side solutions that place the onus on the homebuyer to break into the homeownership market. Still, the issue hasn't been thoroughly addressed in the larger housing debate. New Yorkers deserve to hear more from candidates about how they will not just help them rent an affordable apartment but buy one and build wealth and own a piece of their neighborhood.
Affordable homeownership supply cannot be an afterthought in a sea of rental development strategies. Even in New York, the idea of homeownership cannot be a pipe dream reserved only for the rich or famous. Increasing affordable homeownership opportunities must be a central pillar of the next mayor's vision to build the smart, progressive, and equitable city New Yorkers deserve.
***
Matt Dunbar is the VP of External Affairs at Habitat for Humanity New York City, collaborator with Interboro Community Land Trust, and an Advisory Board Member of the New York Housing Conference. On Twitter @misterdunbar & @HabitatNYC.
***
Have an op-ed idea or submission for Gotham Gazette? Email This email address is being protected from spambots. You need JavaScript enabled to view it.