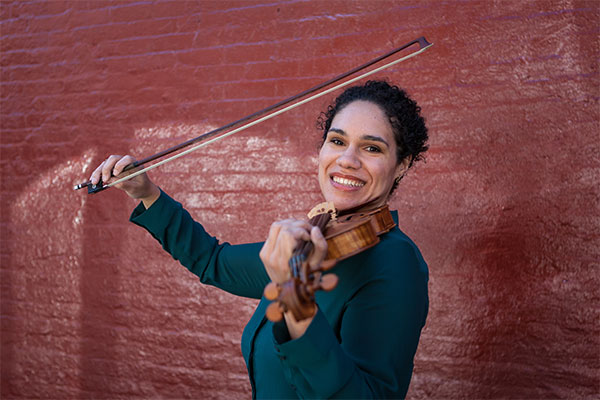 Jessie Montgomery, a Van Lier Fellow at Third Street Music Settlement then at the American Composers Orchestra (photo: Ari Mintz for The New York Community Trust)
---
During Women's History Month, we pay tribute to women who have been central figures in the ongoing campaign for equality.
While it's important to recall those who have led the charge for voting rights and equal pay, we often overlook the pioneering women whose philanthropy has shaped our city and trailblazed for subsequent generations of women.
Throughout the past century, women have been making a mark on New York through their charitable giving. While their generosity and vision has long been overshadowed in public conversations about philanthropy, studies have continuously shown that women are more likely to give—and give at a higher level—to charitable causes than men at every income level.
I've seen this dynamic play out time and again throughout my career in philanthropy and at The New York Community Trust, which has been working closely with New York philanthropists for nearly a century.
You may not know the names of women like Mildred Anna Williams, Jadin Wong Chichester, or Sally Van Lier, but these figures deserve our attention—both for what they've accomplished so far, what they continue to do through their philanthropy, and how they inspire the next generation of philanthropic women.
Williams' story is emblematic of the substantial impact of New York's women in philanthropy. When Williams died in 1939, she recalled her own struggles as a young woman and set aside $2 million in her will to create the Mildred Anna Williams Fund in The New York Community Trust to "support activities conducive to the welfare of girls."
Because that gift appreciated in value over time, Williams' charitable impact has multiplied. Over the past three decades alone, the fund has provided $27 million in grants to nonprofits that support girls and young women. Recent grants from her fund have helped young women navigate teen parenthood, find shelter away from abuse or traffickers, and become activists.  Her gift has been truly transformational to so many.
Her fund not only supports direct services for these young New Yorkers, it also promotes advocacy and infrastructure to improve their lives. Her philanthropy has helped open a women's health clinic in Long Island City and supported advocacy for legislation to curtail online sexual harassment.
While few modern New Yorkers are familiar with her name, Williams' impact on the lives of women across our region cannot be overstated.
The same is true for Jadin Wong. Growing up in California's gold country prior to the Great Depression, Wong pined for a career in show business. As a teenager, she climbed out of her bedroom window and joined a touring company, performing with a young Danny Kaye before being caught by a truant officer.
Over the years, she danced in Europe, appeared in movies including "The Pink Panther," and befriended stars such as Noel Coward. She settled in New York, appearing in Broadway shows including "The King and I" and "The World of Susie Wong," and started a management company that represented more than 400 Asian and Asian-American artists—opening doors for hundreds of performers who would have otherwise been overlooked.
Her travels increased her determination to help others with no contacts or money. Before her death in 2010, she started the Jadin Wong Educational Fund in The New York Community Trust, specifying that the money should go to artists, musicians, and dancers of Asian descent. Since then, the fund has enriched the arts and helped artists follow their passions.
Sally Van Lier provides another example of a woman who drew on her own experiences to create a legacy of helping others.
Van Lier knew what it was like to be a struggling artist. Starting out as an actress, she and her husband Edward, a real estate investor, were passionate patrons of the arts long after she left the stage. After Edward's death in 1978, she told The Trust she wanted to set up a fund to help talented, aspiring artists, especially those with very little money.
That led to the Van Lier Fellowship Program in The New York Community Trust, which offers emerging artists financial assistance, mentoring, studio space, and other help. Since 1991, the fellowship has awarded more than $17 million through 100 arts training groups, ranging from well-known institutions such as the Alvin Ailey American Dance Theater to smaller groups such as Theater Mitu. More than 2,000 artists have been Van Lier Fellows. Many have gone on to win top prizes in their fields including the MacArthur "genius grant" and the Pulitzer Prize.
As we celebrate Women's History Month, it's important to honor the generosity and vision of these and many other women who have been making a mark on our city for decades—and will continue to do so for generations to come.
***
Marie D'Costa is vice president and chief development officer for The New York Community Trust. She is a Founder's Circle member of Women of Color in Fundraising and Philanthropy. On Twitter @NYCommTrust.
***
Have an op-ed idea or submission for Gotham Gazette? Email This email address is being protected from spambots. You need JavaScript enabled to view it.