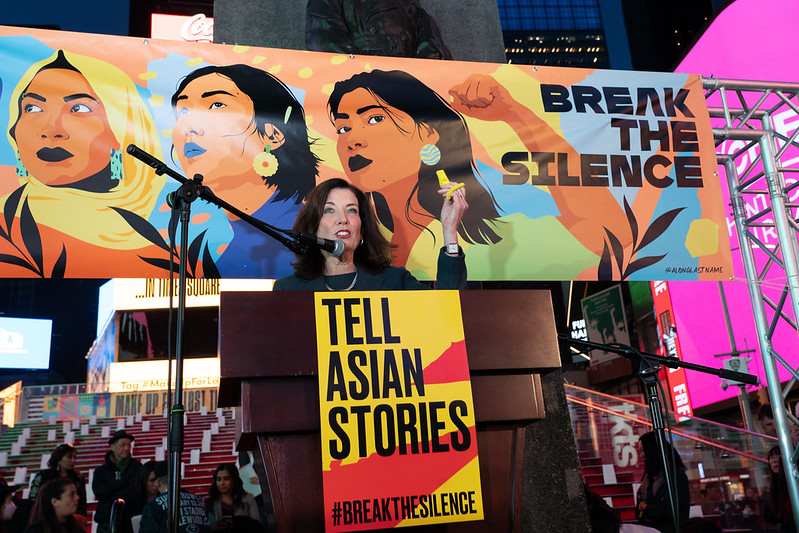 Gov. Hochul at a rally (photo: Don Pollard/Office of Governor Kathy Hochul)
---
Over the past two years, Asian Americans have learned to look over our shoulders on the subway platform and keep one earbud out as we walk down the street. An onslaught of anti-Asian hate incidents has instilled fear in our community, from our children to our elders, influencing how we go about our daily lives.
Seniors are afraid to leave their homes to obtain basic services, Asian Americans have experienced the highest rates of unemployment, and non-native English speakers struggle to navigate resources in a language they do not understand. Since the beginning of the COVID-19 pandemic, New York's Asian American and Pacific Islander (AAPI) community has been acutely targeted and isolated, and we are still bearing the brunt of its lingering effects.
Within the next several days, New York State will finalize a budget that will shape the lives of all its residents. The budget is a test of what our government prioritizes and values. State government leaders have an opportunity to combat the marginalization, violence, and isolation the Asian American community is facing, by including the AAPI Equity Budget in the upcoming budget deal.
The AAPI Equity Budget is a detailed $64.5 million policy that would fund programs to improve the lives of AAPI communities throughout New York State. From mental health care to education and economic initiatives, the Equity Budget would address a wide range of needs in New York's Asian communities. We are asking for this historic investment because our community has been systemically underfunded for years even while growing at the fastest rate of any racial group in the state, creating a chasm between what our service-providers and community-based organizations need and what they're receiving. This situation has further been exacerbated by a relentless surge in hate crimes and the economic toll of the pandemic.
The 2.1 million Asian Americans who call New York home account for 10.8% of the total population of the state. We are the fastest growing group, having increased by 37.6% since 2010. However, even as our community has grown rapidly, we have been left unsupported.
Poverty affects 1 in 5 Asian New Yorkers, owing to social isolation and a lack of access to government services. If Asian Americans do not speak English well, which is true for more than 40% of our community, they are more likely to live in poverty. This language barrier makes accessing government programs, health care, and economic opportunities even more difficult. It is past time for New York to recognize this reality and provide the services that our diverse community needs.
This is where the AAPI Equity Budget comes in. The majority of its funds would be distributed to existing community groups already working to uplift AAPI populations. Hundreds of ethnic groups and languages make up the pan-Asian community in New York, and allocating state funds to organizations already deeply connected to these distinct communities would ensure that resources are directed to those in greatest need. 

For example, the AAPI Equity Budget would support organizations offering culturally competent mental health care, through providers who understand AAPI experiences and speak our languages. This is especially important given the trauma that anti-Asian hate-based violence has inflicted on victims – and the fear these crimes have instilled in all of us.
The AAPI Equity Budget would fund language classes, a pre-K through 12th grade AAPI educational curriculum, senior services to reach our most isolated, food security, workforce development, safety against gender-based violence, civic engagement for a rapidly growing group, health care, access to covid vaccines and treatments, and countless other community needs.

This funding is critical to ensuring support, safety, and wellbeing for Asian New Yorkers at a time when our community is experiencing rapid population growth, persistent anti-Asian hate, increased isolation, and economic hardship brought on by the pandemic. The New York State budget must address the systemic underfunding of AAPI communities in the face of sustained increases in demand.
Last year, California passed a similar measure. It is now up to New York, as the state with the second-largest Asian population, to step-up. We ask New York State's Governor, Senate, and Assembly to show their support for Asian American communities as we face one of the most challenging times in recent memory, and pass the AAPI Equity Budget.
***
Jo-Ann Yoo is the Executive Director of the Asian American Federation, the largest AAPI umbrella leadership organization in New York. John Liu is a New York State Senator. On Twitter @AAFederation and @LiuNewYork.
***
Have an op-ed idea or submission for Gotham Gazette? Email This email address is being protected from spambots. You need JavaScript enabled to view it.