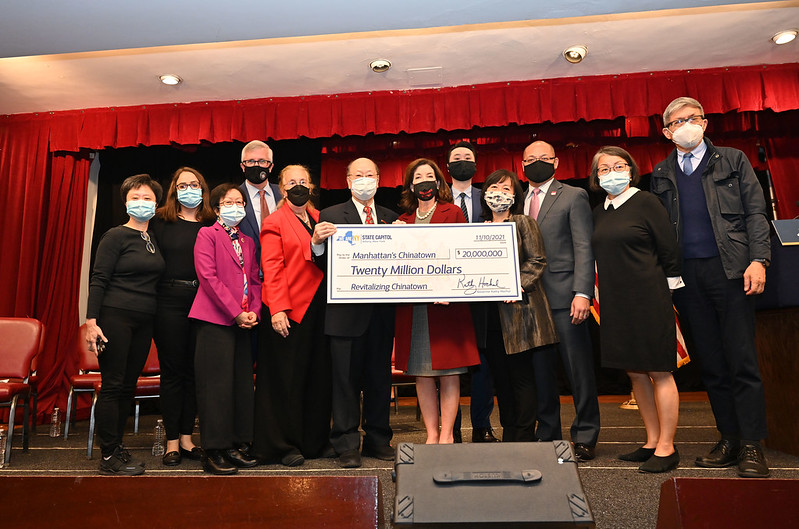 Gov. Hochul presents funding for Chinatown (photo: Kevin P. Coughlin/Office of the Governor)
---
I immigrated from Taiwan to the U.S. at age 27, with just two pieces of luggage, because of my belief in the American Dream. 
Like most Asian-American immigrants, I understand the struggle of acclimating to a new country and a new city. You must navigate new systems and overcome language barriers. And now, as Asian hate crimes continue to soar, many in the Asian-American Pacific-Islander (AAPI) community find ourselves fearful within our own city and grappling with how to protect ourselves. 
The recently-passed New York State fiscal year 2022-23 budget will include $20 million to support community organizational efforts to aid the AAPI community in New York, which is double what the state spent on AAPI funding last budget but only a third of the $64.5 million requested by the newly-formed AAPI Equity Coalition this year.
While this is a good start in providing Asian-American organizations with more funding, more needs to be done to solve the systemic issues that are at the root of the problems facing the AAPI community today. The state needs to prioritize combating the rise in anti-Asian hate crimes, bridging the language gap for Asian immigrants, and providing support to the grassroots organizations already within New York's AAPI communities.
As crime rates have gone down in New York City overall, hate crimes against Asian-Americans have increased by 400%. My heart breaks every time I see another story about violence against Asian-Americans, especially in a place like New York that boasts inclusivity and diversity. 
Just last month, a man hit a 67-year-old woman in Yonkers 125 times just because she was Asian. 
Now we have women and seniors lining up for access to free pepper spray, just to feel somewhat secure against what seems like daily senseless and hateful acts of violence. We cannot allow Asian people to continue to live in fear of being attacked or discriminated against any longer.
In order to prevent future hate crimes, we need to provide Asian communities with culturally-sensitive resources to apprehend and prosecute those committing these acts of violence, as well as develop a program for non-English speaking victims to safely report hate crimes and to receive counseling and support.
The Asian immigrant community, in particular, has very few resources because of language and cultural barriers. During my 10 years working as chief of staff for State Assemblymember Peter Abbate, many constituents came to me and our office when they had issues with the social services, education, and health care systems, often because they could not understand how things worked and there were little-to-no appropriate resources to help.
So many lives could be improved by expanding language access to government agencies and programs, providing interpreters at polling sites, and supporting nonprofit organizations working relentlessly to provide crucial services to immigrants.
Asian communities are historically underserved, underfunded, and underrepresented in New York, which is why I continue to call attention to their needs. Now more than ever we need to show AAPI New Yorkers that they are being heard, that they are being seen, and that they are being protected. 
We need to bridge the gap between the AAPI community and state government — this is why I hope to be in Albany next budget season to fight for more funding for the AAPI community, and provide it with resources that are long overdue.
Asian-American immigrants should have the resources they need to not only survive but thrive as they pursue their American Dream, just as I have. 
***
Iwen Chu is running to represent the newly-created State Senate District 27. She is President of Star and Stripes Democratic Club and was Chief of Staff for Assemblymember Peter Abbate for the past 10 years. On Twitter @Iwen4NY.
***
Have an op-ed idea or submission for Gotham Gazette? Email This email address is being protected from spambots. You need JavaScript enabled to view it.