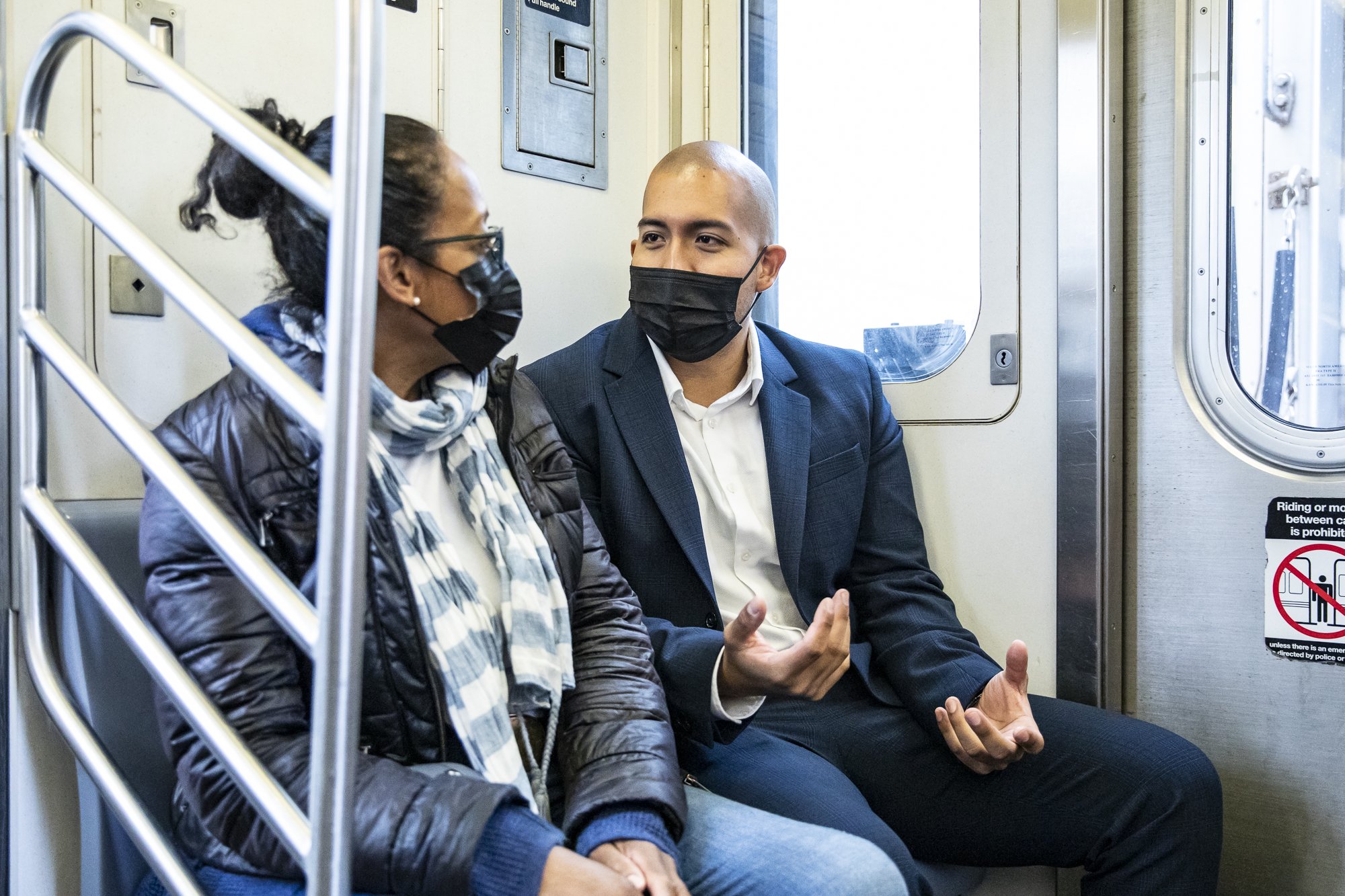 Juan Ardila, the author, on the subway
---
Keeping everyone safe is the most important function of government. As a leader, I take that responsibility very seriously. The recent subway shooting in Brooklyn is devastating. As has been the dramatic rise in hate crimes and increase in gun violence during the pandemic. These events and trends cause anxiety across communities. Every New Yorker must feel safe in their homes, on our streets, and in our subways. 
Public safety requires competence and effectiveness. Yes, we need to fight tooth and nail to pass legislation that eliminates the flow of illegal guns into New York, and expand our gun control laws. But If we are to deal responsibly with crime, we must deal effectively with all of its causes, including poverty, inaccessibility to mental health services, inadequate housing, drug and alcohol misuse, and more.
Recent events have continued to show that there is no causal connection between police staffing and budget on one hand and crime on the other. The unprecedented expansion and intensity of policing over decades to deal with so many of society's most complex problems has not reduced crime; an immense police presence did not keep crime from rising during the pandemic. A crime increase is a symptom of the failure of government at every level.
Police too often see themselves as soldiers in battle with communities of color rather than their protectors. Arresting Black and Latino teenagers for turnstile jumping and harrassing immigrant street vendors has nothing to do with keeping us safe. It is counterproductive and it destroys the community's trust. 
As criminal justice expert Professor Alex Vitale writes, "This form of policing is based on a mindset that people of color commit more crime and therefore must be subjected to harsher police tactics. Police argue that residents in high-crime communities often demand police action. What is left out is that these communities also ask for better schools, parks, libraries, and jobs, but these services are rarely provided."
We need policies that protect all of us, not just the few. We all must join together to seek the necessary investments in our communities that will create opportunity and safety, that will protect our families, both now and in the future. Resources are the key to safety and stability. That's why, as I seek to represent parts of Queens in the State Assembly, I've created a five-point plan to keep all our communities safe.
First, we need to expand anti-gun violence programs. That includes utilizing the courts to file lawsuits against gun dealers who evade responsibility for the flow of guns to New York City. Let's also make New York first in the nation to institute a program for mandatory firearm insurance. We must hold financially liable those who choose to purchase guns that are used in crimes. It shouldn't be easier to own and operate a motor vehicle than a gun. We should require mandatory training required to purchase a gun and ongoing registration of firearms to make sure they are accounted for. 
Second, we must establish police accountability and build community trust. I support increasing police transparency and codifying the reach and abilities of a Special Prosecutor for cases of death from police interaction, and reducing unnecessary arrests for low-level, ticketable offenses.
Third, to reduce homelessness, we must work to adequately fund public and affordable housing and work to keep families and seniors in their homes. There is legislation to help the millions of New Yorkers who are tenants stay in their homes. "Good Cause Eviction" will stop unjust evictions and help reverse the increase in homelessness. This bill stops landlords from removing tenants from apartments without an order from a judge. The judge would decide if an eviction is for a good cause, including failure to pay rent or violating terms of the lease.
Next, New York has failed to adequately provide mental health services to those who need them and we are paying the price as a city because of it. According to the Urban Institute, more than half of incarcerated people are experiencing mental illness, and many crime victims have unmet mental health needs. We must treat health problems with health professionals, not law enforcement. Crisis Stabilization Centers are one key tool in this work, and we must create more of them. Instead of sending people to jail, we can have the option to provide rapid support services to anyone who walks through the door. It's time we integrate these mental health experts into our public safety resources.
Finally, we must invest in our youth and expand social services. Every day after school, millions of children are left unsupervised and unenrolled in activities. It should be no surprise that this is when there is a peak in juvenile crime. We can directly address this by providing subsidized programs and initiatives for sports, arts, and youth employment. Research shows that after-school programs significantly reduce rates of arrest and recidivism. We should also mandate social workers in all middle and high schools across the state and make school psychologists available to students at every school. Our neighborhoods must lead the change with exceptional education and youth resources to help our kids get on the right path. 
With these common-sense solutions, I'm confident New York will become safer, more just, and more compassionate — not just in the short-term but in the long-run. Everyone deserves to feel safe in their own communities and it's our job as leaders to ensure they do. 
***
Juan Ardila is a Democrat running for the State Assembly, District 37, representing the Queens neighborhoods of Long Island City, Maspeth, Ridgewood, Sunnyside, and Woodside. On Twitter @JuanArdilaNYC.
***
Have an op-ed idea or submission for Gotham Gazette? Email This email address is being protected from spambots. You need JavaScript enabled to view it.