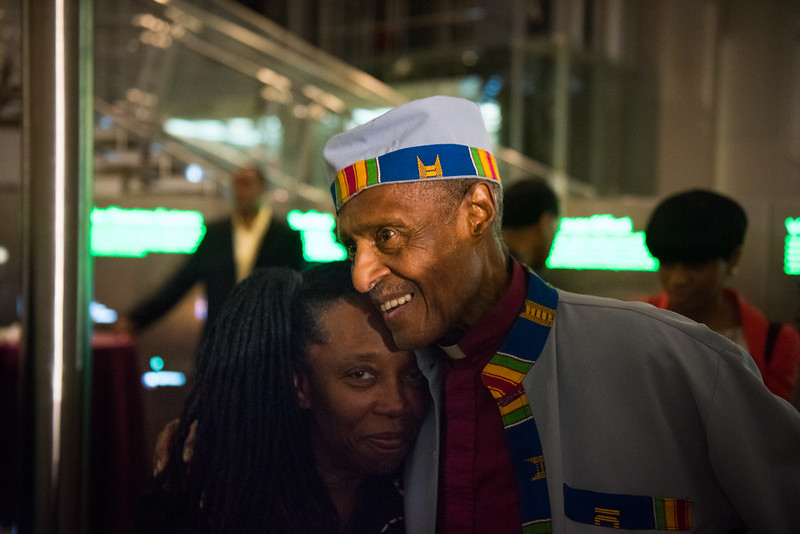 Black History Month (photo: Edwin J. Torres/Mayoral Photography Office)
---
Each February, we celebrate the achievements of towering singular figures — icons who paved the way for Black Americans to have a more just and dignified existence in the United States. Indeed, they should be lauded for their accomplishments, but we must also remember the innumerable people whose experiences constitute the whole of Black histories.
There are many nonprofits that promote and preserve New York City's rich cultural heritage. These nonprofits are doing exemplary work to ensure that the city's tapestry of stories includes local artists, activists, laborers, and historians that may otherwise be little known. This is important for a few reasons: it portrays more accurate narratives about historically-marginalized groups; paints a fuller picture of histories that are as diverse as the people who live them; and leads to a better understanding of our past so we can expand the possibilities of our future.
One little known story in our city begins in 1969 Brownsville, where Mother Rosetta Gaston created the Children's Cultural Corner in her home to pass down African-American history and culture to younger generations. Today, known as the Brownsville Heritage House, it is situated on the second floor of the Brooklyn Public Library's Stone Avenue Branch and continues to preserve local heritage through the arts, education, and history.
BlackSpace, a collective of Black urbanists, is working with the House to shore up its activities as a community hub. This includes developing an archive of its 500-artifact collection, plus items from local residents that highlight Brownsville's histories of changing demographics, progressive organizing, and Black Arts Movement-inspired schools.
Another effort that is bringing everyday stories to light is underway in Staten Island. The Staten Island Museum is working with the Richard B. Dickenson Chapter of the Afro-American Historical and Genealogical Society and Frederick Douglass Memorial Park, an African-American cemetery, to digitize Census and burial records and make Black family histories more accessible.
Of particular significance is a museum card catalog that Dickenson, the late borough historian, created with entries for every mid- to late-19th century African-American resident on the Island. The U.S. Census largely excluded Black people until 1870, so records before this period are especially informative for families tracing their ancestry.
In Upper Manhattan, the Dyckman Farmhouse uncovered the names and stories of enslaved people and indentured servants who built the building in the 1800s and worked there, but whose historical presence was made invisible. This history came to life at the Farmhouse in 2020 through an installation by the artist Reggie Black. He projected "Slaves Lived Here" onto the building, literally bringing to light the stories of laborers at the site and in the surrounding Inwood neighborhood.
To make the stories of today available to future generations, African Voices Communications, known for its literary magazine and women's film festival, is working with Spelman College. They are digitizing and archiving back issues of its magazine and database of films to preserve fiction, poetry, and other artwork from the African diaspora. Functioning as a permanent repository, the college will make the records accessible online for a broader public.
Black History Month is a reminder to rededicate ourselves to an ongoing study of the past, a process that should begin with looking at all the histories that brought us to where we stand today.
The New York Community Trust supports groups that are preserving these stories and making them widely available. We hope others will join us in this continual discovery of our city's past by visiting cultural institutions that steward Black histories, as well as encouraging friends and family to do the same. These histories can be a source of new inspiration from a city whose true wealth—its people—always renews us with hope for the future.
***
Salem Tsegaye is the program officer for arts, culture, and historic preservation at The New York Community Trust -- the community foundation for New York City, with divisions in Westchester and Long Island. On Twitter @SalemTsegaye of @NYCommTrust.
***
Have an op-ed idea or submission for Gotham Gazette? Email This email address is being protected from spambots. You need JavaScript enabled to view it.