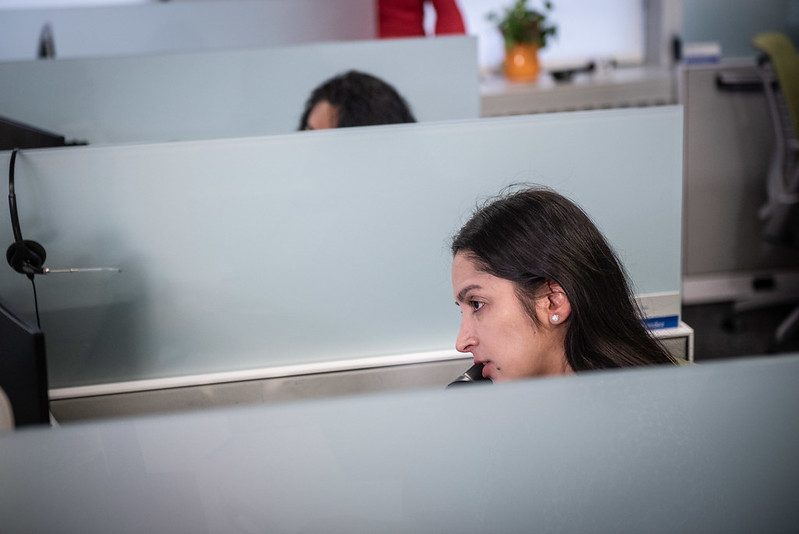 988 hotline to launch this summer (photo: Michael Appleton/Mayoral Photography Office)
---
Suicide is a leading cause of death in the United States and the number of people who think about or attempt suicide is of course even higher. This is one of the greatest public health crises of our time and we have an opportunity to respond in a transformative way with the implementation of the 988 mental health crisis hotline.
To ensure that starting in July New Yorkers will dial 988 for a mental health crisis, not 911, we are advocating for significant investment in peers and families with lived experience to be involved from crisis response and services to hotline feedback.
In October 2020, the federal National Suicide Prevention Designation Act was passed to transform the existing ten digit number into the easy to remember 988 number for mental health emergencies. The need is great. In 2020, the National Suicide Prevention Lifeline received nearly 2.4 million calls.
In New York, we are glad to see that $80 million has been invested by the state in a critical 988 hotline fund and a 988 surcharge established that will offer sustainable funding each year. However, we must take further action before the hotline number goes live this July.
For 40 years, the National Alliance on Mental Illness of New York City (NAMI-NYC) has rooted its work in the power of peer and family support and we advocate for their inclusion in 988 implementation. Here are the key next steps:
First, New York must invest in a peer-led, non-police response to mental health crises. Individuals and families affected by mental illness, including the NAMI-NYC staff, have been waiting for an opportunity like this to more fully transition to non-police response for mental health crises. Half of all people killed by the police live with mental health issues.
During the pandemic, we have heard countless stories from families we serve on our own helpline. When one mother called 911 during a crisis, rather than receiving help for her son, a 23-year-old Black man, the police arrived with their guns drawn. Since 2015, the NYPD has killed at least 18 individuals experiencing mental health crises and 15 of those individuals were Black or other people of color.
We need peers, not police, responding to mental health crises.
The new $21 million state investment in 20 Safe Options Support (SOS) teams announced by Governor Hochul alongside Mayor Adams and intended to address recent concern about subway safety, includes both mental health professionals and police.
The 988 rollout requires further investment in training and developing a pipeline to certify young adult and adult peers and their families. Practitioners and advocates have long praised Oregon's CAHOOTS program and we have seen the success of New York City's B-HEARD pilot program in Northern Manhattan, which dispatches two EMTs or paramedics and a mental health professional to the scene of mental health emergencies.
We need a mental health response to a mental health crisis, not to reinforce the criminalization of people living with mental illness.
Second, New York must fund 24/7 crisis stabilization programs with peer specialists before sending people to emergency rooms.
We support $100 million for 12 new crisis stabilization centers, three of which will be in New York City, to keep people living with mental illness out of emergency rooms. In addition, Certified Behavioral Health Clinics are well-positioned to provide these services 24/7, 365 days a year without appointments or referrals.
Crisis stabilization programs can provide appropriate referrals for services and supports in their communities, and connect New Yorkers to wraparound supports leading to long-term, safe, and stable health care, housing, and employment. In Tucson, Arizona, one program–open 24/7 for walk-ins and up to 23 hours a day for stabilization services–has found that 60% of people served return to the community and do not require hospitalization.
Additionally, studies show that the involvement of peer specialists at such programs can reduce inpatient admissions and emergency room use as well as reduce stigma and bring hope of recovery unlike any professional staff can.
Let's keep New Yorkers with mental illness out of emergency rooms and police departments.

Third, we must elevate the voices of peers with mental illness and their families. While stakeholders throughout New York are in communication about 988 implementation, we fully advocate for even greater participation of people living with mental illness and their families to be an instrumental and central part of the design, planning, implementation, reporting, and improvement of this program.
We know that communities of color have been disproportionately impacted by the pandemic, compounded with systemic racism, and that LGBTQ+ communities, particularly young adults, are at greater risk of attempting suicide. We need peers with mental illness and their families from underserved communities to be a part of 988 planning committees and engage in how they will participate in crisis response, crisis stabilization, and community services, which is almost more important than the 988 number itself.
From cross-agency and provider collaboration to the technical requirements of referring callers to local behavioral services, there are so many unknowns of implementation these next several months. Proactive community feedback and insight would be critical even with an introduction of an early 988 pilot. 
If we truly want to divert mental health calls from police to behavioral health providers, New York City needs a clear plan for peer involvement and feedback across the board. We will continue to advocate alongside our community partners to ensure that people affected with mental illness – our family, our friends, our neighbors, our colleagues – are not endangered when reaching out for help.
***
Matt Kudish is the Executive Director of the National Alliance on Mental Illness of New York City (NAMI-NYC), which supports families and individuals affected by mental illness. To join our advocacy efforts around 988, visit here. On Twitter @NAMINYCMetro.
***
Have an op-ed idea or submission for Gotham Gazette? Email This email address is being protected from spambots. You need JavaScript enabled to view it.