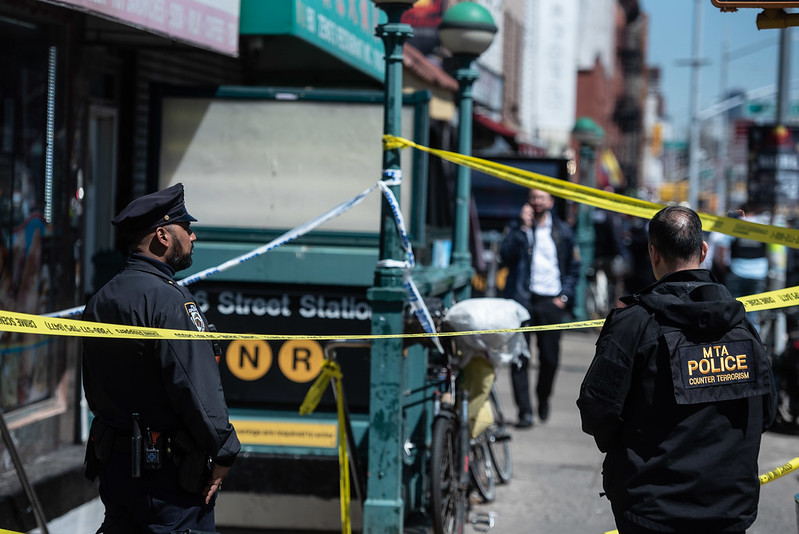 At the scene of a subway shooting (photo: Michael Appleton/Mayoral Photography Office)
---
Like all New Yorkers, I was shocked and horrified by the recent subway shooting. 
Gun violence in New York City has skyrocketed over the past two years. Reported crime citywide has increased by 41% since the beginning of the year over the same period last year. Shootings increased by 31.6% in January alone. Attacks on city subways have gone up as well, with felony assaults in the subway rising by 25% since 2019. These crimes have a particularly destructive impact on the social fabric, leaving many residents and commuters shaken and afraid to use public transit. 
While New York City remains far safer than during the peak-crime years following the fiscal crisis, the escalating gun violence demands swift and immediate action from all levels of government.
First, Congress: the subway attack illustrates the tragic consequences of Congress' utter failure to enact reasonable protections against the misuse of deadly weapons. 
The alleged subway shooter, Frank James, reportedly purchased the semiautomatic handgun used in the attack secondhand at a pawn shop in Ohio. In fact, almost two-thirds of guns used in crimes in New York State are first purchased outside the state. The reason is obvious. New York has robust firearm laws that require gun purchasers to be licensed, and licensure is granted only after a thorough background check by law enforcement. Accordingly, most guns used in crimes here are brought into New York from other states – like Ohio – with more lax regulations.
In the 1990s, then-Representative Chuck Schumer took a big step toward shutting down the illegal flow of guns by leading the enactment of the Brady Law. I worked as counsel to Rep. Schumer at the time and helped draft the law. Brady was a simple but powerful concept. It required gun stores to perform a criminal background check on any prospective gun purchaser before completing a sale. 
Brady was highly effective at first, but over time gun traffickers found a loophole. Brady applies only to licensed gun dealers, not to so-called "private sales." Unscrupulous gun traffickers discovered and exploited this loophole by selling – and buying – firearms at gun shows. Today, more than 50% of gun sales evade the background check requirement. It is far past time for Congress to close the gun show loophole by requiring background checks for gun show sales.
Congress should also adopt a national version of New York's "red flag" law. In 2019, New York established a procedure for competent officials, such as teachers or police officers, to identify individuals exhibiting an inclination to harm themselves or others. I helped draft this law as New York's Director of State Policy. These individuals may not purchase a firearm without further inquiry by a judge or law enforcement.
In light of Frank James' numerous social media posts contemplating gun violence, it seems plausible that a nationwide red flag system, like New York's, would have prevented him from purchasing a deadly weapon.
Finally, Congress must renew the Assault Weapons Ban, another law spearheaded by Rep. Schumer in the 1990s. The law sunsetted in 2004 and Congress has neglected to reinstate it. The law prohibited not only military-style semi-automatic rifles, but also large-capacity magazines which allow shooters to spray-fire dozens of bullets in a matter of seconds. James brought three such devices into the subway, carrying a total of 90 rounds of ammunition. These magazines would have been illegal if the Assault Weapons Ban were still in effect.
While Congress has the most work to do, New York State and City should also take action to reduce gun violence.
The New York City Police Department should collaborate with the State Police on gun trafficking investigations. Every single firearm used to commit violence in New York should be traced from its original purchase to its ultimate harmful use. In most cases, there will be an illegal sale along that path – and the trafficker should be prosecuted.
Both the State and the City should also invest more in violence interrupters and community mobilization, both proven prevention strategies. Too many young people feel the need to arm themselves precisely because they are acutely aware of the violence that surrounds them. Yet more guns lead only to an escalating cycle of violence. Education, and one-on-one work with individual at-risk young people, can break this cycle. We must change community norms to the point where the appearance of a gun is truly shocking – not just another Tuesday.
***
David Yassky is a former New York City Council Member who is currently running for the State Senate in District 23, including parts of Brooklyn and Staten Island. On Twitter @Yassky4Senate.
***
Have an op-ed idea or submission for Gotham Gazette? Email This email address is being protected from spambots. You need JavaScript enabled to view it.