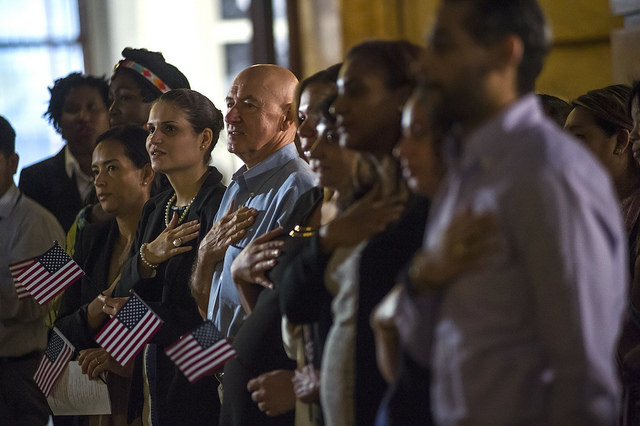 A citizenship ceremony (photo: Ed Reed, Mayor's Office)
---
New York City's new plan will expand access to care for immigrants across the City
Access to health care is on the rise all across New York City, thanks to federal, state, and city efforts over the last few years.
For example, the latest data show that the number of people who are uninsured dropped 34 percent from 2013 to 2014. That's the good news. The bad news is that many of the remaining uninsured New Yorkers still face daunting barriers to access basic care because of their immigration status or because they don't yet speak English fluently. Indeed, during the congressional debates on the Affordable Care Act, immigrants were treated as the "poison pill" for the legislation, and during debates on immigration reform, health care coverage is similarly sidelined.
We are working to change that dynamic at the local level. With Mayor de Blasio's new plan to improve immigrant access to health care, we are creating a more equitable city. Over the coming months, we will launch the Direct Access project, to explore an affordable system that will provide comprehensive primary and preventive care to immigrants who are ineligible for support under the Affordable Care Act. This project's success will serve as the basis for a more inclusive health care system, including families in our city without access to insurance.
Direct Access is a recommendation of the Mayor's Task Force on Immigrant Health Care Access, a group of City government officials, community advocates, health care professionals, hospital administrators, and public health experts. The Task Force's recommendations acknowledge that many immigrants face unique struggles in accessing care. Many who do not yet have full English proficiency have difficulty finding help in their language. Some encounter a health care system that seems dauntingly unfamiliar. Others find themselves excluded from access to care due to our broken federal immigration system's outdated rules and the failure of multiple attempts at federal reform.
These barriers mean that far too many of our fellow New Yorkers are relegated to a second-class health care system in which they must forgo basic medical care such as check-ups, cancer screening, and chronic care management. Instead they are forced to rely on inefficient emergency room visits and overburdened neighborhood providers, with little to no opportunity for follow-up care. This means that our immigrant family members and neighbors often do not get sufficient basic health care, resulting in missed workdays and unnecessary illness, and a cost that we all share.
The Affordable Care Act, passed in 2010, has helped to solve these problems for millions of Americans. It has expanded access to health care across the country, providing support to nearly all low-income and moderate-income Americans to get health insurance.
But that qualifier—"nearly all"—makes a big difference in our diverse city. According to our analysis, as many as 345,000 uninsured New York City residents who live, work, and raise their families here will remain uninsured because they are ineligible for help under the Affordable Care Act due solely to their immigration status. That is more people than the entire population of St. Louis. Much, perhaps most, of this population would benefit from proposed immigration reforms or the President's November 2014 executive actions. However, all of those measures have been held up in congressional committees or in the courts, victim to political calculations.
We cannot wait for others, in D.C. or Albany, to solve this problem for us. The health and safety of our residents is ultimately our responsibility, and the Mayor's plan represents a bold step forward—the first effort in the country since the implementation of the Affordable Care Act to grow immigrant health care access.
The Mayor's new immigrant health effort is the first step towards a more inclusive health care system. This will strengthen our health care system, our immigrant communities, and our city as a whole.
***
by Nisha Agarwal, Commissioner, NYC Mayor's Office of Immigrant Affairs. On Twitter at @NYCImmigrants.
***
Have an op-ed idea or submission for Gotham Gazette? E-mail editor Ben Max: This email address is being protected from spambots. You need JavaScript enabled to view it.