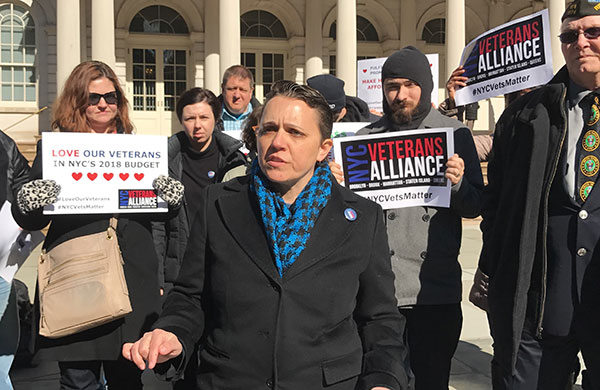 Kristen Rouse, the author
---
Many New Yorkers may be taking in the change in leadership at the U.S. Department of Veterans Affairs as perhaps just another chapter in a uniquely tumultuous administration. For New York City's more than 220,000 veterans, however, far more is at stake than just the latest presidential intrigue.
As hearings begin for Rear Admiral Ronny Jackson—an accomplished Naval officer who has served as personal physician to George W. Bush, Barack Obama, and Donald Trump—New Yorkers should be listening in for issues directly affecting our city and region.
Dr. David Shulkin was open and accessible to veteran leaders during his tenure as VA Secretary, which was an important factor for the many VSOs who continued to back Shulkin despite his ethical violations. Both a physician and reformer, Shulkin presided over important bipartisan reforms and was held in high regard as a leader who could get things done for a bureaucracy with a budget of nearly $200 billion and employing more than 370,000 employees, with facilities in all 50 states, four territories, and the Philippines. Shulkin made frequent appearances in New York City, and listened often to the concerns of veteran leaders.
I spoke with Shulkin last November following our community's shutdown of a proposal that would've ended outpatient surgeries at the Brooklyn VA Medical Center. We raised the alarm, and Brooklyn elected leaders, led by Rep. Dan Donovan, took a stand against the move. I was relieved to have Shulkin tell me personally that he didn't support scaling back services at New York City VA hospitals.
NYC Veterans Alliance members continue to express concern about what's happening at our VA medical centers located in Manhattan, Brooklyn, and the Bronx. Although veterans generally express satisfaction with the care they receive at the VA's New York City hospitals, they remain concerned that existing VA services and programs remain in place and continue to improve. Appointment wait times still need to come down. The VA Choice program is too often a bureaucratic nightmare. Staffing shortages plague the VA locally and nationwide. And the Manhattan VA hospital is still undergoing renovations to recover from the damage that Superstorm Sandy inflicted more than five years ago.
With Shulkin's removal, the future of the VA, locally and nationally, is called into question.
We don't know yet if Rear Admiral Jackson would give us the same assurance that Shulkin did to protect New York City hospitals. And it remains unclear whether the administration intends on moving toward privatizing VA healthcare. But it's not simply VA healthcare at stake in New York City—it's the processing time for VA disability ratings and appeals; management of pensions, home loans, and educational benefits; and sustained funding for the highly effective programs that have reduced veteran homelessness by 90% since 2011 -- all of which countless veterans and families across the New York City Metro area have earned and must be able to rely on, now and into the future.
Congress needs to do the work of determining whether Rear Admiral Jackson's distinguished career has adequately prepared him to manage a massive government agency that still must undergo transformation in technology and organizational culture. Our New York City congressional delegation must especially ensure that funding stays in place to continue the delivery and improvement of existing services, programs, and benefits for our city's veterans well into the future.
***
Kristen L. Rouse is a U.S. Army veteran and founding director of NYC Veterans Alliance. On Twitter @TrueBoots and @NYCVetsAlliance.
***
Have an op-ed idea or submission for Gotham Gazette? Email This email address is being protected from spambots. You need JavaScript enabled to view it.