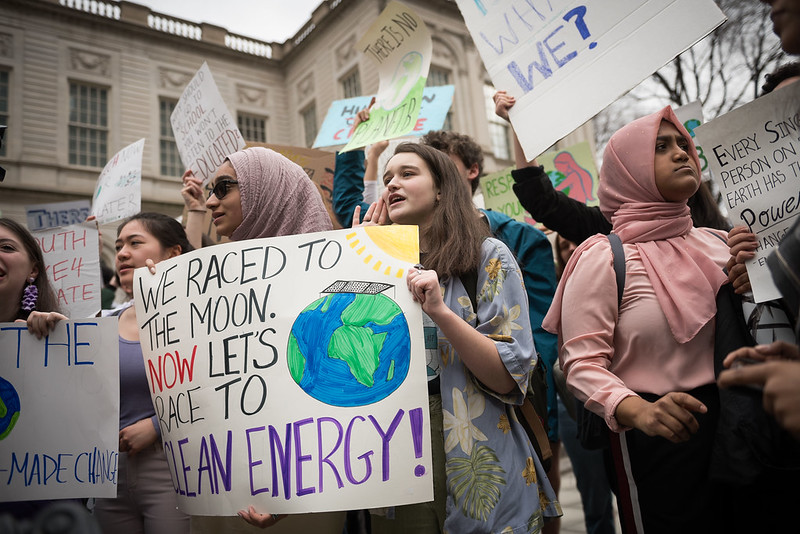 Pushing for a climate plan (photo: Ed Reed/Mayor's Office)
---
From Superstorm Sandy to Tropical Storm Isaías, climate change threatens all New Yorkers. That policymakers have largely not acted on this threat in a meaningful way is a profound failure. Now is the time to rectify that lack of action.

In New York at least, our new Democratic State Senate majority took power in 2019 and answered the call. Our Climate Leadership and Community Protection Act (CLCPA) is a nation-leading effort to fight back, putting our state on track for net zero greenhouse gas emissions and directing the benefits to communities that the fossil fuel industry left behind.

CLCPA commits New York to an equitable clean energy future – with 70% of electricity being renewable by 2030, 100% carbon-free by 2040, and an 85% emissions reduction overall by 2050. Crucially, at least 40% of investment is reserved for climate justice areas. These ambitious goals are critical, and they are the law. We must do what it takes to win this clean-energy future, secure a livable climate, and fully-fund a just transition for frontline communities.

The Queens waterfront is on the front lines of this battle, simultaneously home to numerous fossil fuel burning plants and NYCHA residents who suffer their effects. These streets are known as "Asthma Alley" due to the high rates of respiratory disease caused by pollution permeating the neighborhood. When everything works as intended at a fossil fuel plant, residents still get hurt. Pollution is no accident—it is a choice we make every time we expand fossil fuel infrastructure.
Neighborhoods nearest to these power plants are also among those hardest hit by COVID-19, the result of several factors including the cumulative impact of pollution, environmental racism, and income inequality driving incidence of respiratory illness. We must take special care to center public health as we consider the energy transition.

Corridors like Asthma Alley are most deserving of protection from the impact of burning fossil fuels, yet some energy companies seem determined to expand their carbon footprints, doubling down on burning fossil fuels that poison the community and heat our planet. With new technology and the CLCPA at the center of a new policy paradigm enabling us to transition away from environmentally hazardous power plants, why would we rubber-stamp new fossil fuel development?

There was a time when incremental progress could be deemed a success—when use of a less dirty but still damaging fuel may have been considered a step in the right direction. Insofar as using natural gas as a bridge to a renewable energy future was ever good policy, surely it has been spanned. The future is now. The work to meet the requirements of CLCPA and imbue New York energy policy with environmental justice has begun.

We know that once fossil fuel plants are built, they are difficult to decommission. In 2001, the New York Power Authority (NYPA) managed to eschew standard land-use protocols by claiming that emergency power plants were needed temporarily. NYPA pledged these plants would fire for only three years. Some of us sued to stop these "temporary" plants - and we won - but the plants remain operational nearly 20 years later.

Now there is a proposal to construct a natural gas 'peaker plant' in Astoria. Peaker plants feed the city additional power in times of high demand, running a relatively small number of days per year but requiring substantial fuel stores. And while natural gas is cleaner than kerosene, it is still a fossil fuel that does not move us quickly enough toward meeting the Earth-saving requirements of CLCPA.

Climate justice demands bold action now. CLCPA has raised the bar and we must meet it. This peaker plant proposal must be opposed. Despite game-changing laws like CLCPA, if this plant is built, like the wave of peakers constructed at the beginning of this century, we can expect it to remain in operation for decades. Even if we add renewable capacity after it is built, there will be pressure to keep it firing—and polluting—in order to make good on the investment required to build it and others.
In other words, new fossil fuel projects diminish our tenuous carbon budget and may be fiscally irresponsible on timelines that count: not financial quarters but over the lifetime of a capital investment and the lifetimes of people breathing polluted air.

The so-called "Astoria Replacement Project" needs replacing. Scrapping the proposal and focusing instead on clean power, innovative battery storage, and community empowerment will help meet the need to supercharge our energy policy in a just fashion. Let us muster the political courage necessary to force utilities to harness a clean alternative using an equitable process as quickly as they aspire to slip into our neighborhoods one of the last polluting power plants the law is likely to permit. Let us take this opportunity to refocus our energy economy towards public good and away from big corporations whose primary concern is the short-term profits of their executives and shareholders.

Think of the possibilities – for communities to reclaim open space, secure truly affordable housing, and win career-long green jobs – if solar fields, wind turbines, innovative battery storage, and community-owned renewables supplant dirty electricity. Let us think big and explore the possibility of placing the growing numbers of unemployed into workforce training that directly leads to well-paying jobs that stand the test of time. Let us build out a clean, electrified power sector so we can decarbonize the economy while advancing public health and frontline empowerment at every turn, ensuring that, for example, New Yorkers who drive can exchange their polluting tailpipe vehicles for electric cars.
We need to treat the energy industry as an integrated part of our overall economy and empower communities to harness it to provide sustainable job opportunities and environmental justice to their resilient neighborhoods. We need to seize the present opportunity to deliver on our commitment to clean energy and climate justice by stopping this misguided proposal for another peaker plant in Astoria.
***
Michael Gianaris serves as Deputy Majority Leader and represents western Queens in the state Senate. Harry Manin is a Sunrise NYC activist and climate policy advisor. On Twitter @SenGianaris and @sunrisemvmtnyc.
***
Have an op-ed idea or submission for Gotham Gazette? Email This email address is being protected from spambots. You need JavaScript enabled to view it.