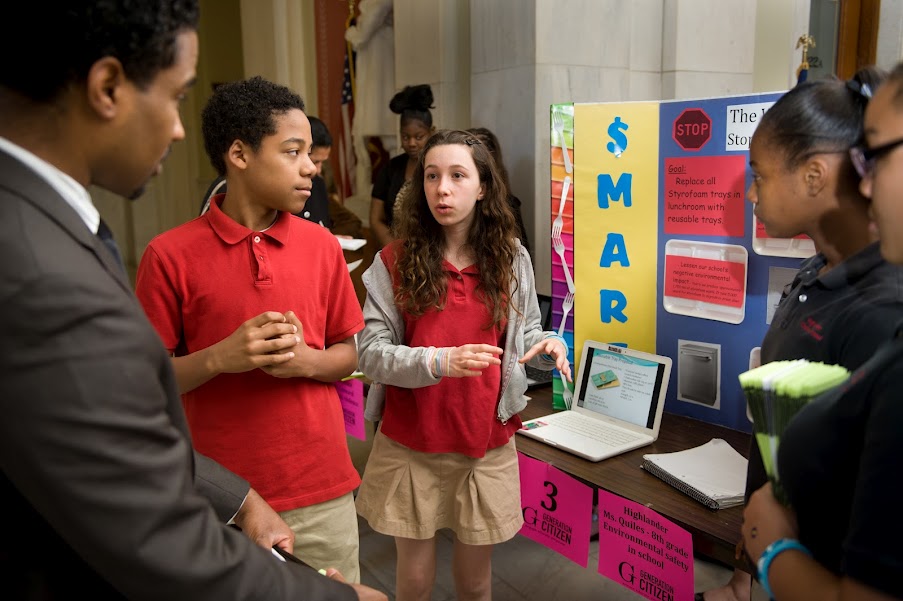 (Students present at a Generation Citizen Civics Day)
---
One of the best parts about living in New York City is that even though we reside in the biggest city in the country, individual citizens can play a vital role in deciding community issues. An example of this citizen engagement is our 59 community boards, comprised of local civic leaders, which serve to empower residents to address zoning issues, assess the needs of their communities, and offer substantive policy recommendations to their elected representatives.
But currently, community boards exclude one of the most important demographics in our city - young people. Only residents 18 years and older are eligible to be appointed to these boards. The state Legislature is considering bills, sponsored by Senator Andrew Lanza (S04142) and Assemblywoman Nily Rozic (A02448), which would grant up to two 16- and 17-year-olds the opportunity to formally serve on each board. This would ensure that young peoples' voices are heard, while simultaneously demonstrating New York City's support to furthering youth civic engagement. Councilmembers Ben Kallos, Mark Levine, and Ritchie Torres have sponsored a City Council resolution of support, and a public hearing will be held at City Hall on June 9th to discuss the proposal.
The legislation would not mandate the inclusion of 16- and 17-year-olds, but by providing the option, the bill would allow boards to diversify their composition, benefit from diverse input and perspective, and demonstrate their community's value of and investment in their future leaders.
Although the legislation must pass at the state level, city elected officials are doing their part in advocating for the change. Manhattan Borough President Gale Brewer has championed this bill from its inception, and three of her fellow Borough Presidents have pledged their support. It is clear that almost every elected official in New York City endorses this legislation - Albany must act accordingly.
While the bill seems to have overwhelming support throughout New York City and the state, some opponents do argue that young people are not responsible enough for this commitment. It is important to note, however, that this bill does not change the qualifications and high expectations for membership. We should continue to hold our community board members to high standards while also recognizing that some young people are eager for and ready to take on these responsibilities, and that this experience would help them grow as leaders.
New York City Comptroller Scott Stringer served on his community board at the age of 16. He proved ready for this challenge, and this early political training prepared him for an esteemed, long career in public service. Young people make and sustain commitments all the time: sports teams, clubs, jobs, and schoolwork. They can serve on these boards, and do so effectively.
Others argue that young people are not informed enough to weigh in on necessary discussions involving land use and zoning. But community boards must educate all members on these issues, including adults. Young people would be able to provide a different perspective on these topics that might not otherwise be represented.
Finally, opponents say that there is already poor youth (18-21-year-old) participation on boards, meaning that there is no reason to expand the opportunity to others. But the comparison is not quite fair. Many 18- to 21-year-olds are in college, or living on their own for the first time. Sixteen and seventeen-year-olds are, for the most part, much more stable. At the end of their high school years, they have adjusted to managing school and extracurriculars, and they often still have the support and structure of family life to ground them. We should be taking advantage of this life cycle to identify and develop young leaders while they are still firmly part of their communities through school, faith, and neighborhood bonds.
This opportunity may also serve to reinvigorate in-school discussions about civic responsibility and political participation. Knowing that students are eligible for official community board service could encourage teachers to educate students about local government structures and activities, proactively building knowledge of and respect for these institutions among our future civic leaders.
Our communities deserve the best advocates we have, and those advocates might just be carrying backpacks. Let's not hold that against them. The State Senate and State Assembly should pass the Lanza/Rozic bill and send it to Governor Cuomo for his signature this session.
***
Sarah Andes is the New York Site Director of Generation Citizen.
***
@GothamGazette
Submit an op-ed idea or draft to Gotham Gazette executive editor Ben Max: This email address is being protected from spambots. You need JavaScript enabled to view it.