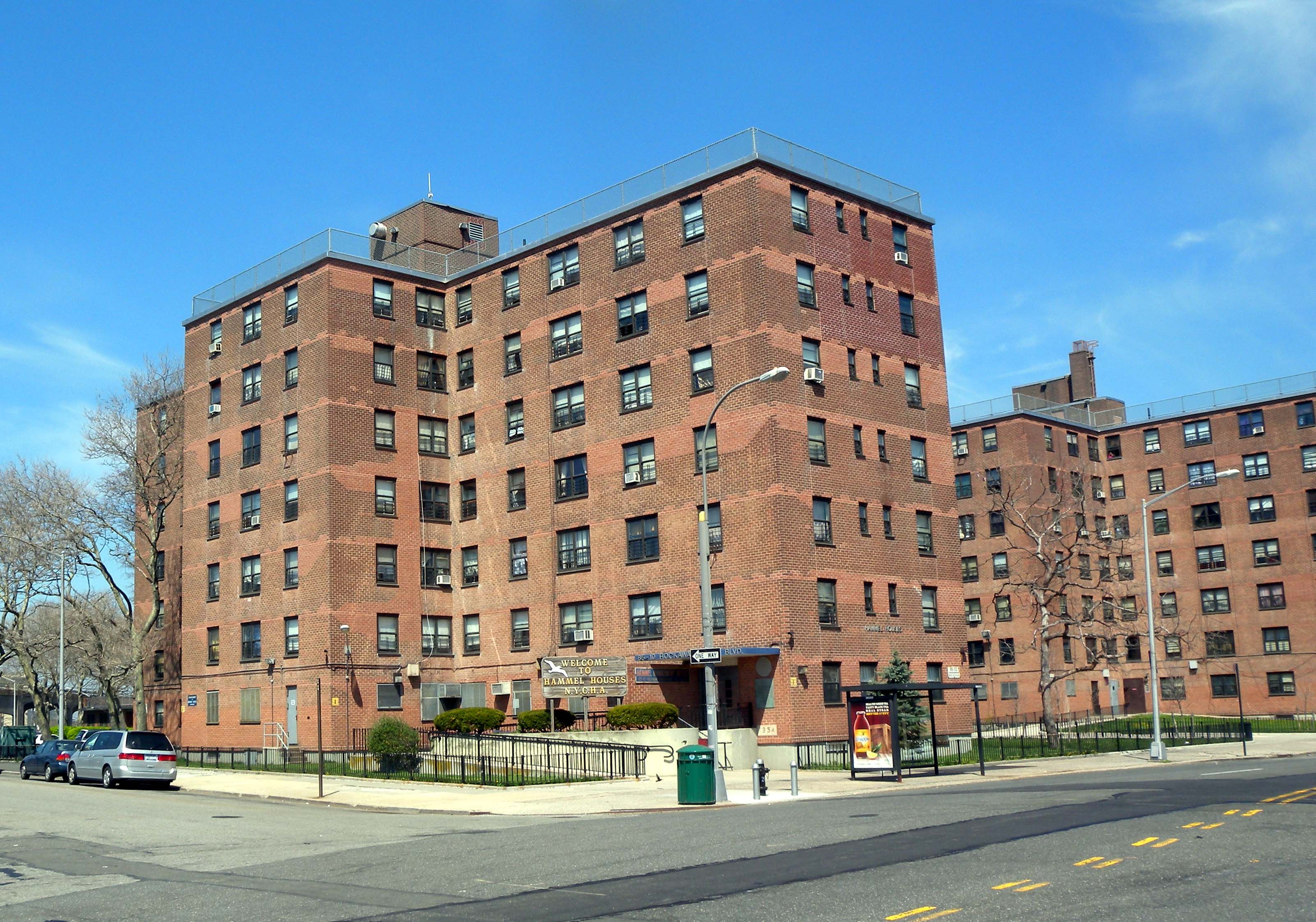 Hammel Houses, NYCHA (wikimedia)
---
Mayor de Blasio's recently released affordable housing plan is extensive and forward thinking – but also extremely expensive. The 200,000 units it envisions are estimated to cost $41 billion, of which $8 billion will come from City coffers.
We could reach the same goal without such astronomical spending. In fact, the City could do it without spending a single dollar from its budget.
To accomplish this feat, we need to harness the power of the market. Here is a five-point plan for how we can do so to create a housing plan that serves all New Yorkers:
First, we must put to use the vast sums of funding in the capital markets to build mixed-income housing and provide for low-income households through a partnership between the public and private spheres. This funding can help generate more housing in a cost-effective way.
Second, there are numerous tracts of land around the city that are not meeting their full potential. By enabling development in these areas, we can reduce the overall cost of land to a level that promotes the creation of affordable housing. For a start, more than 30 million square feet of development rights related to NYCHA projects are sitting unused in Manhattan. In addition, the City controls or outright owns many other properties around New York, including the nine blocks in the Seward Park Urban Renewal Zone and the 90 acres adjoining the Brooklyn Army Terminal, that could be turned into thriving mixed-income developments.
Third, developers should be required to lease the ground on which new projects are built, which can generate ground rents through the luxury component of the development. The additional funding, in turn, can be set aside for a self-funded rent voucher program.
Fourth, the solution to low-income affordability is not more low-income housing; rather, it is more income. We can empower struggling working households by providing them with the income needed to rent an apartment like others in the marketplace, in the form of transferable or "sticky" vouchers. These rent vouchers would be self-funded by the new mixed-income communities to be created under this proposal.
Fifth, to make these ideas a reality, we need to create an independent Affordable Housing Authority. An Authority with the appropriate mandate and powers can solve the problem using a public-private partnership model. Similar agencies, such as the 42nd Street Development Corp., have successfully revitalized neighborhoods around the city. The new Authority would simply apply this proven archetype on a citywide scale.
By using this model, the funds needed for new developments can be financed through capital markets without the massive outlays of the mayor's plan. Indeed, we can completely redevelop many of the city's aged and dilapidated NYCHA projects, using this very model.
Creating affordable housing is one of the major public policy challenges of our time. Fortunately, we have the financing and know-how to fix this problem in an economical way. Now we need only the political will to make it happen.
***
Leonard Grunstein is Managing Member at Hanlen Real Estate Development & Funding
***
@GothamGazette
Have an op-ed idea or submission? Send it to Executive Editor Ben Max: This email address is being protected from spambots. You need JavaScript enabled to view it.