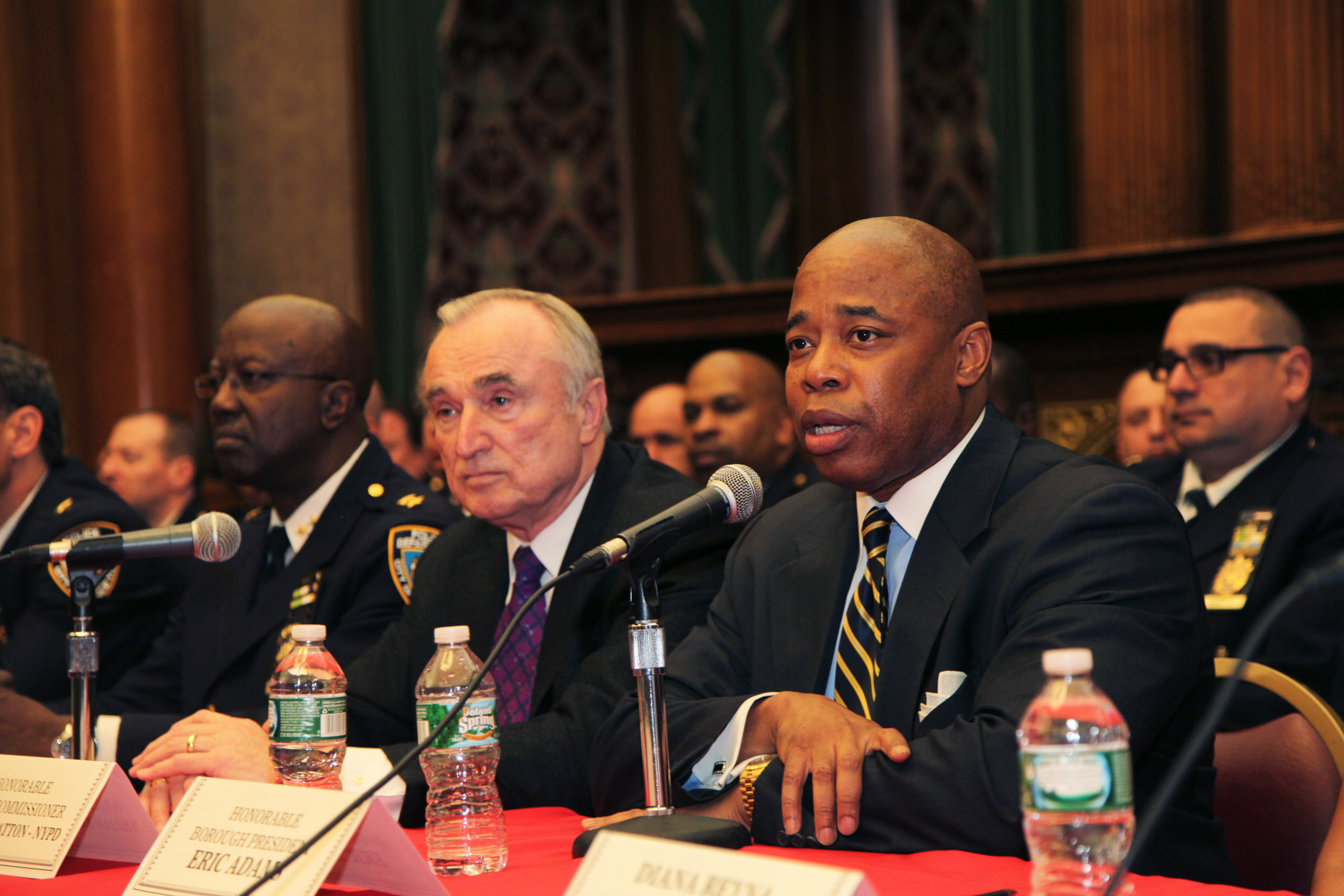 Commissioner Bratton, left, and Brooklyn Borough President Eric Adams, the author (photo: Kathryn Kirk/BK BP's office)
---
There are many things that have contributed to the Brooklyn renaissance, but perhaps no factor has been more essential than New York's transformation into America's safest big city. Places like McCarren Park in Williamsburg, a hot spot for drug-dealing during my days patrolling the 94th Precinct, are now a peaceful haven for stroller sets, as real estate values in the surrounding area continue to climb to all-time highs. Every investment that the public and private sectors make in our neighborhoods is predicated on the foundation of public safety, either in its maintenance or its ongoing improvement.
The reduction in crime that began in the 1990s was sparked by the leadership of Bill Bratton, a public servant who our city is fortunate to have back as the city's police commissioner. Early on in this second tour of duty, we have seen his analytical, proactive approach to crime fighting be enhanced by the progressive vision of Mayor Bill de Blasio, who has turned the page on the days where bias-based policing was thought to be the only way to keep New Yorkers safe.
The duo has already moved forward to improve relationships between police and community by ending the arbitrary use of stop, question and frisk and halting the humiliating surveillance of Muslims, while instituting a seven-point plan to train officers on the norms of neighborhood courtesy, professionalism, and respect. They moved to improve security at NYCHA by adding more cameras, outdoor lighting, and patrolmen, and they introduced the "Summer All-Out" program to put more cops on our streets in response to community conditions on the ground.
More can and must be done to ensure public safety for all, actions that go beyond the reach of City Hall and One Police Plaza. With the recent spike in shootings and the possession of illegal handguns, we must have a dialogue on this National Night Out that addresses this crisis's root causes.
I want to initiate the conversation to answer these issues. As a 22-year veteran of New York's Finest and an office-holder of over seven years, my experience guides me to recommend strategies addressing three areas: mental health awareness, intergovernmental coordination to curb the flow of illegal arms, and community accountability.
There is a real mental health problem for our communities, and we need to understand how it affects our perception of public safety. We shun and resent family members with illnesses because of the difficulties meeting their specialized needs. This should not be the case, as it establishes a pattern of hurt people hurting people. Without resources or a support system when abandoned by family, our mentally ill become a public risk to safety. Rather than abandoning our brothers and sisters burdened by mental illness, we should provide them with greater access to treatment so that they do not end up on our streets or in our jail cells; we need to sympathize and empathize, not ostracize and stigmatize.
Creating a culture of information sharing and collaboration between city agencies and community organizations is another logical, and overdue, step to improving our safety. Illegal handguns are flooding into our streets from southern states with looser laws. While we have made appeals to Congress for intervention, our appeals have fallen on deaf ears. We cannot accept inaction from Washington on life and death matters; however, given the current state of national politics, we have to focus in the short term on the capabilities of our own city, its agencies, and its people. The aforementioned strategy for safer public housing should be a road map for future coordinated efforts, where we might be able to create partnerships for city, state and federal authorities to halt gun trafficking and educate our youth of the dangers of carrying and distributing weapons.
Lastly, we need to hold our communities accountable for failing to provide opportunities for our young people or to raise them with a sense of urgency to find employment, pursue education, and avoid the allure of gangs. Parents can fix this by teaching children the values of civic engagement and having a sincere discussion with their children about their dreams for the future. They must also play a real role in checking on their sons' and daughters' activities and ensuring they are free from the grips of drugs and weapons.
There is no single solution for stopping crime and preventing violence in our streets. We as a community, including parents, relatives, friends, and neighbors, have to be the definition of our brothers' and sisters' keepers. We are seeing something, but right now, we are not all saying something. This is part of better police-community relations, and it speaks to our societal responsibility to each other. Once this is understood, we can see further reductions in violence and the continued evolution of Brooklyn's renaissance.
***
Eric Adams is Brooklyn Borough President and a former New York State Senator and member of the NYPD.
Do you have an op-ed idea or submission for Gotham Gazette? Send it to Executive Editor Ben Max: This email address is being protected from spambots. You need JavaScript enabled to view it.