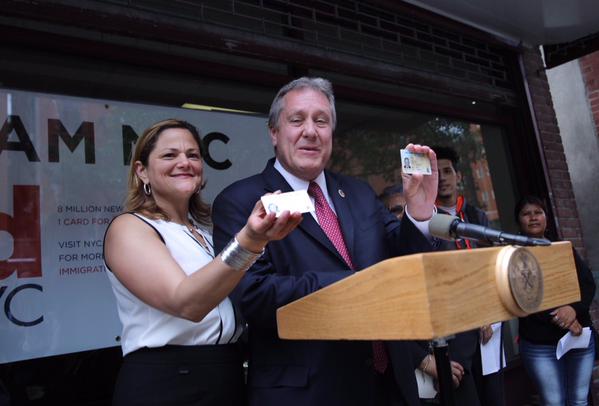 Council Member Dromm, the author, with his IDNYC (photo: William Alatriste)
---
Earlier this year, the New York City Council passed my resolution urging the state legislature to keep the cap on charter schools. That was nothing new: Council Members have long showed their opposition to raising the cap. But, with recent efforts by powerful special interests, including more than $13 million spent in lobbying and campaign ads, we need to remind New York why raising the cap is not only unnecessary, but also harmful to our public school children.
First, there is the capacity question. Charter schools have 2,500 unfilled seats in New York City. In addition, current charter agreements could allow for more than 27,000 additional authorized seats. In other words, these charter schools already are not handling their assigned share of students, and that burdens crowded public schools, making it more difficult for those schools to provide quality education.
Second, charter schools are not required to serve students who transfer to or join schools mid-year because of disciplinary measures or because of a family's choice. They also do not serve nearly the same amount of students with special needs as public schools. This means that when the school year starts, charters receive funding for a certain number of students yet actually end up teaching fewer than they are budgeted for. They then pocket the remainder and can boast lower class sizes while public schools again shoulder the burden.
Finally, the Center for Popular Democracy reported that New York stood to lose over $54 million to charter school-related fraud in 2014 alone. Audits can help uncover instances of fraud, mishandling of funds, conflicts of interest within governing boards, and a number of other troubling findings, yet charter schools largely oppose efforts to increase transparency. The State Comptroller's attempt to audit charter schools has already been foiled at every turn, meaning New Yorkers are left in the dark about how exactly our public dollars are spent.
Meanwhile, more than $5 billion in state money is owed to our traditional public schools to provide every child access to a "sound basic education" per the Campaign for Fiscal Equity ruling. Forty-four percent of all schools in New York City are overcrowded. The City's Independent Budget Office reports that most schools are at 102 percent capacity or more, and 88 percent of the city's charter schools are co-located within a district school, adding to the space crunch.
Co-located charter schools, by the way, are an exercise in inequality: privately run schools, with access to both private and public funds, that are taking resources from underfunded district schools. What does this mean for the social climate in these schools? Many students feel, and rightfully so, that district schools and their students are not valued the way they should be.
It is sensible to provide the money and attention owed to our public schools to keep them strong. Charter schools already divert resources from the majority of students, who attend public schools. Charter schools do not serve our children, especially the most needy, with enough accountability to justify increasing their share of funding.
All children deserve an education system that celebrates their potential by giving them the space and funding necessary to achieve educational excellence. The raising of the charter cap would be damaging to our public school system in terms of morale, space, funding, and overall quality. Leaders in Albany should finish their legislative session without altering the cap. Instead, it is time to ensure a feasible means of success for public schools by giving them the focus they need and not investing in a private enterprise that has yet to fulfill its promise to New Yorkers.
***
Daniel Dromm is the Education Committee Chair of the New York City Council.