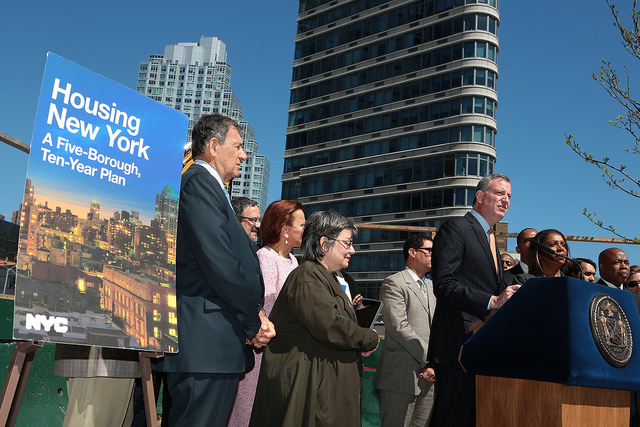 Housing plans (photo: Ed Reed for the Office of Mayor)
---
Last week, New Yorkers learned that a bill creating a new Citywide Certificate of No Harassment program would be part of the city's new housing deal. The legislation, which will be finalized by a new task force before being adopted, will require landlords to get a certificate confirming that they have not harassed their tenants before demolishing or altering a building.
This provision of the housing deal is especially good news for tenants across the city.
As real estate prices have skyrocketed and gentrification has spread, so too has rampant harassment by landlords. All too often, they try to get rid of working-class and low-income tenants, especially those in rent-regulated apartments, so they can renovate units and lease them at much higher prices. This pattern has displaced thousands of tenants and left all too many with nowhere to go.
Take the case of María Elena Khochaiche, a retired, low-income renter who lived in her rent-regulated Bushwick apartment for 40 years. Recently, the value of her apartment rose quickly with the neighborhood's gentrification. Her landlord responded with greed: he tried to get rid of the rent-regulated tenants, including her, because he knew that he could make more with market-rate tenants.
He began by taking them each to court. They had done nothing wrong, but the fear of frivolous lawsuits led several residents to simply give up and leave.
Eventually, all the other tenants left, but María Elena had nowhere to go. She knew she'd never be able to afford another apartment in Bushwick. But that didn't stop the landlord. Instead of letting María Elena stay in peace, the landlord opted to stop making legally-required repairs to pressure her to leave. Broken windows stayed so she could not open them, the bathtub stayed backed up so she could not bathe, and a mouse infestation went unaddressed. For months, the lights in the hallways did not work. Seventy-five-year-old María Elena had to use the light from her cell phone just to make sure that she didn't fall while she struggled to reach her front door.
María Elena followed the rules and filed a housing complaint, but her landlord took advantage of the process and filed numerous motions to bog down the case.
Eventually, María Elena couldn't take it anymore. When the landlord offered her a buy-out to leave, she just couldn't fight on, even though she knew that taking it would mean not being able to stay in the community she loved.
The decision troubled her, but María Elena was one of the "lucky" ones. Her neighbors were forced out without getting as much in return.
María Elena's experiences are all too common for New York City tenants. Landlords harass tenants to try to get them out of affordable housing—often by using threats or legal action, or failing to make repairs that they need to make apartments livable—and then, once the tenants are gone, either renovate or build new market-rate units to rake in as much profit as possible.
The result: many New Yorkers end up with nowhere to go.
Without requiring landlords to obtain a Certificate of No Harassment, unscrupulous landlords will continue to use every trick in the book to cut corners and push tenants like María Elena out. But when landlords are required to get a Certificate of No Harassment before starting renovations or demolition, they will not be able to get away profiting from mistreating their tenants. And if they do, their mistreatment would come to light and subsequent construction or demolition would be blocked unless the landlord provided a "cure" of permanently affordable units.
This "cure" of setting aside permanently affordable units will be critical for making sure no landlord can profit from harassment. And taking away the profit motive will provide a strong disincentive for harassing tenants in the first place.
The Certificate of No Harassment legislation, once finalized and voted into law, will bring greater peace of mind to tenants like María Elena and be a substantial victory in the fight to hold abusive landlords accountable for harassing their tenants.
***
Javier H. Valdés is the Co-Executive Director of Make the Road New York. Benjamin Dulchin is the Executive Director of the Association for Neighborhood Housing and Development. On Twitter: @MaketheRoadNY & @ANHDNYC.