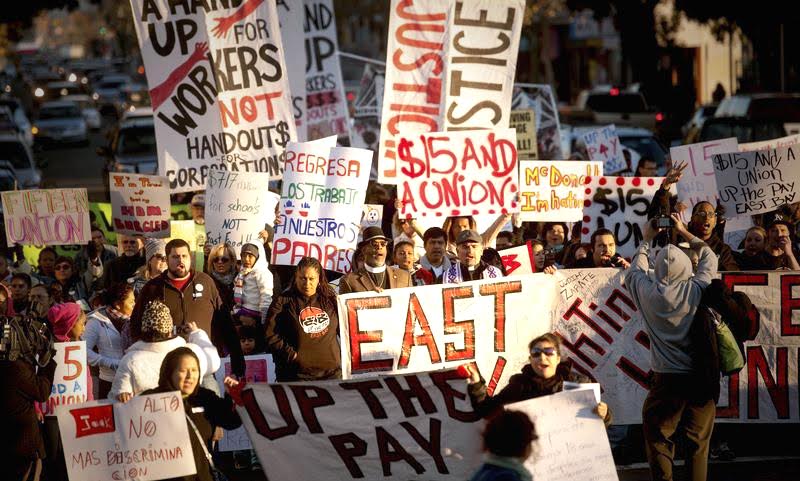 ---
Millions of New Yorkers are celebrating a deal this week to raise the state's minimum wage. The deal puts a better future in sight for families around the state and sends a powerful signal to other states considering wage hikes of their own.
The deal is a testament to the power of organizing. Today's headlines would be unimaginable just a few years ago. When New York Communities for Change organized the first fast food worker strike – almost four years ago – people thought we were crazy.
As the federal government repeatedly stalled on a meaningful increase to the nationwide minimum wage, it seemed that higher wages were out of reach.
In response, fast-food and other low-wage workers rose up to fight for better wages and a better quality of life, sparking a movement that spread to cities and towns across the nation.
It is no coincidence that the Fight for $15 began right here in New York City. The level of inequality in our city has long been one of the worst of the country – and has grown to historic proportions in recent years.
According to a 2014 Census Bureau survey, the top 5 percent of Manhattan households made 88 times as much as the poorest 20 percent. And as of last year, workers earning minimum wage could not afford median rent in a single neighborhood in New York City.
Wages have long failed to keep pace with the growing cost of living. In fact, the Economic Policy Institute found that the statewide wage of $9.00 per hour was well below what it would be if it had simply kept pace with inflation since 1970. The same study found that, accounting for both inflation and a higher cost of living, the minimum wage today would match its 1970 value if it reached $14.27 per hour this year – nearly the level agreed on by the New York State Legislature.
Governor Cuomo made the right move last year by mandating higher wages for fast-food workers – those on the front lines fighting for reform. But leading industry by industry risked neglecting too many workers. In order to truly create change, the rules must apply equally to everybody. Last week's deal did that, letting workers across the economy finally dream bigger than the next paycheck.
The deal is a victory for New York City workers. However, it bypasses hard-working families in Upstate New York. While over a million low-wage workers in the city will see their wages rise to $15 per hour by the end of 2018, those in Long Island will only reach $15 in almost six years and those upstate will need to wait five years only to reach $12.50. Although the deal allows wages to rise to $15 after that, the rate will depend on review and inflation and could take years.
It is a painfully long stretch given the growing cost of living north of the city. The New York State Comptroller, for example, has found housing costs skyrocketing, with at least one in five people in every county – including those far upstate like Warren and Monroe – spending more than a third of their salary on rent. In some counties half of residents must spend that much. With added expenses like utilities and food, it leaves little room to save up for college or retirement.
It is imperative that legislators now finish the job and give all New Yorkers a chance at a living wage.
Just days before Albany finalized its deal; California showed us that a $15 wage statewide is possible. Our state must fulfill the promise of Fight for $15 statewide and let all workers adequately provide for themselves and their families. Otherwise New Yorkers will continue doing what they have been doing for almost four years: risking everything to provide a better life for their families.
***
JoEllen Chernow is Director of Economic Justice at Center for Popular Democracy. Jonathan Westin is Executive Director of New York Communities for Change. On Twitter: @popdemoc and @nychange.