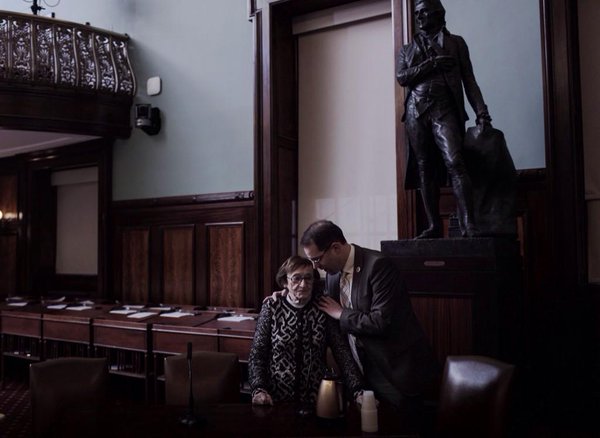 Mrs. Klein, a Holocaust survivor, with Council Member Levine (William Alatriste)
---
"If our stories do not survive when we are gone, then six million Jews were murdered in vain." That sobering call to action from Mrs. Klein, one of the 4,700 Holocaust survivors served by Selfhelp Community Services each year, rings especially true as we marked Yom HaShoah, the annual commemoration of Jewish survival through last century's great tragedy.
At this time of the year, we are once again reminded to share the stories of the past to prevent atrocities of this kind from happening again. The time to share the memories and lives of the remaining survivors is fleeting. This is the last generation of Holocaust survivors – a sad fact that is painfully real.
To pass these stories to the next generation, Selfhelp recently concluded seven performances of Witness Theater, a program that Selfhelp brought to New York, with the support of UJA-Federation of New York, the Jewish Communal Fund, and the Conference on Jewish Material Claims Against Germany. Now in its fourth year, the program utilizes drama therapy as a vehicle through which high school students work with local Holocaust survivors to re-enact critical moments from the survivors' lives, creating a moving and educational performance to share with fellow students, parents and the community.
As I watched the survivors on stage, it was hard not to notice how time is taking its toll. A small twitch in their hand, their walkers and canes, and the assistance they need from the students to move across the stage, all remind us how much support they need. And as this last generation grows older, their needs become more intense, more costly.
New York is home to more than half of the approximately 110,000 Holocaust survivors living in the U.S., with the majority residing in New York City, Long Island, and Westchester. Of the 55,000 survivors living in New York City, about half live at or below the poverty line. Many of them lack the means for even the most basic necessities, including proper housing and health care, and they live on fixed incomes that do not accommodate escalating food prices, water and utility bills, the cost of medications, and other vital supports. Niceties such as a show, a new dress, a visit to the museum are unimaginable when rent must first be paid.
The circumstances under which many Holocaust survivors live, along with the nature of the challenges they confront as they age, require special attention. Normal aging is complicated by unique problems not generally experienced by elderly persons. They have brittle bones and serious dental problems caused by malnutrition and stress experienced during their youth and early childhood. Traumas of dislocation, as well as the loss of loved ones and communities, can cause sleep disturbance, anxiety, depression, or an inability to trust. Some survivors may keep food nearby at all times. Others may bathe or permit sponge baths, but will not take a shower.
To address the needs of this population, the New York City Council created the Holocaust Survivor Initiative last year, with the leadership of Speaker Melissa Mark-Viverito and Council Members Rafael Espinal, David Greenfield, and Mark Levine. This $1.5 million allocation supported 11 non-profits around the city to provide case assistance, socialization programs, and entitlements and benefits enrollment to the 55,000 Holocaust survivors living in New York City.
These city funds helped Selfhelp to serve almost 300 low-income survivors with case assistance. Our social workers helped clients enroll in a range of benefits and entitlements, such as Medicare and Medicaid, rental and nutritional assistance, and Meals-on-Wheels. In just one fiscal year, we conducted a total of 343 home visits and provided almost 1900 hours of case management. The funding allowed our staff to help clients access and save close to $1.5 million. When more than half of the city's survivors live at or below the poverty line, the money they save goes straight towards food, medication, and rent.
Two years ago, Selfhelp testified at a U.S. Senate hearing on the needs of Holocaust survivors. At that hearing, Senator Bill Nelson, the chair of the U.S. Senate Special Committee on Aging, noted, "I am proud that the United States has a legacy of caring for the needs of aging Holocaust survivors. But, we must recognize that the demand for care is still there – and only becoming more challenging."
I am so grateful that our leaders on the city, state, and federal levels of government have raised the needs of this population and started to allocate funding. However, as Senator Nelson noted, the demand for care is increasing, and an increased investment is needed.
Our elected officials often remark that a budget is a statement of priorities. With about 30,000 survivors living at or near the poverty line, struggling to get by, one of our city's top priorities should be caring for our survivors and providing assistance so they can age with dignity, independence, and the support they need.
***
Stuart C. Kaplan is CEO of Selfhelp Community Services. On Twitter @selfhelpny.
***
Have an op-ed idea or submission for Gotham Gazette? Email This email address is being protected from spambots. You need JavaScript enabled to view it.