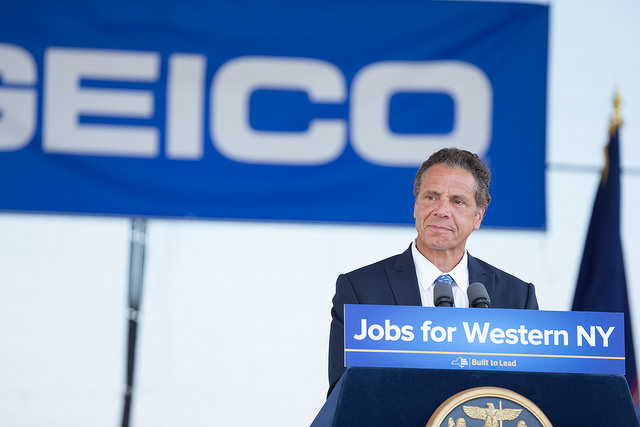 Gov. Cuomo at a jobs announcement (photo: Philip Kamrass, Governor's Office)
---
Over the last few weeks, several reports and legislative hearings have once again cast an unflattering light on New York's economic development policies. Unfortunately, this is nothing new. In my 14 years serving in the State Senate, I've seen the names of the programs change, but the results remain the same – huge giveaways to a select group of companies that don't live up to their job creation promises.
On the Friday before the Independence Day holiday – a great time to dump bad news - the state released the job creation figures for Start-Up New York, Governor Cuomo's much-touted program of tax-free zones primarily around colleges. You had to read the fine print to find the number of jobs created for the first two years of the program: 76 in 2014 and 408 in 2015 (although closer analysis revealed the actual number for 2015 was 395). This from a program for which the state has spent over $50 million, around $130,000 per job, just for advertising alone. The report also indicates about $1.1 million in tax breaks associated with the program in addition to these expensive ads.
At an August 3 hearing, the Assembly Committee on Economic Development grilled administration officials on these unimpressive results, and also questioned why the bulk of these government funded ads were spent in the months before the 2014 election, when the governor was seeking a second term. In his testimony, E.J. McMahon of the Empire Center for Public Policy, a conservative policy think-tank, provided some particularly useful analysis of just how much money is being devoted to these programs, and pointed out that the problems with Start-Up are just the tip of the iceberg.
According to McMahon:
"In the 2017 fiscal year, on-budget disbursements for economic development are projected to increase by $844 million—more than doubling the fiscal 2016 figure…From 2017 through 2021, the Empire State Development Corp. is expected to spend more than $6.6 billion on these and other programs, with roughly three-quarters of the money generated by backdoor borrowing…At least a half-billion more will be spent during this period on the Excelsior Jobs Program. And another $420 million a year in refundable tax credits will flow into the pockets of film and TV producers and production companies—plus $50 million a year in newly created music and video game development tax credits."
Coming up with a complete accounting of all programs is extremely difficult, given the lack of transparency around economic development expenditures. Other states such as Illinois and Vermont require a Unified Economic Development Budget as part of their budget process, and I have long carried legislation that would create such a budgetary requirement in New York. Many legislators and testifiers at the Assembly hearing expressed frustration at the difficulty of evaluating the effectiveness of these programs given the lack of information about real cost and job creation numbers.
Recent reports from Comptroller Thomas DiNapoli on the Excelsior Jobs and Power for Jobs programs have highlighted similar issues. In his review of the Excelsior program administered by Empire State Development, the comptroller found a lack of documentation that many participants were even eligible. Furthermore, because of a reliance on self-reporting, for many companies it was impossible to verify job creation claims, or that the jobs created met requirements for work hours. Additionally, the comptroller found that job-creation goals for some companies were lowered after they failed to meet their targets.
Problems with the Power for Jobs program administered by the New York Power Authority (NYPA) were even more galling. NYPA allocates power to businesses and not-for-profits that agree to retain or create jobs in New York and to make capital investments. Among other findings, the Comptroller discovered that NYPA's method of reporting participation in the program resulted in overstating job retention and creation by almost 30,000 jobs.
It is understandable that the governor and economic development agencies want to appear proactive in efforts to create jobs, particularly in struggling areas of the state. However, New York's hard-working families need real jobs, not just accounting tricks. Economic development programs need to be based on facts, not wishful thinking, and must be completely transparent about their costs and results.
The evidence continues to pour in that New York's current policies may benefit specific recipients, but they do not amount to a coherent or cost-effective strategy for job creation in our state.
***
Liz Krueger is a New York State Senator representing the East Side of Manhattan, and the ranking Democratic member of the Senate Finance Committee. On Twitter @LizKrueger.
***
Have an op-ed idea or submission for Gotham Gazette? Email This email address is being protected from spambots. You need JavaScript enabled to view it.
Note: this column has been updated to accurately reflect the tax breaks associated with Start-Up NY, about $1.1 million, included in the report referenced.