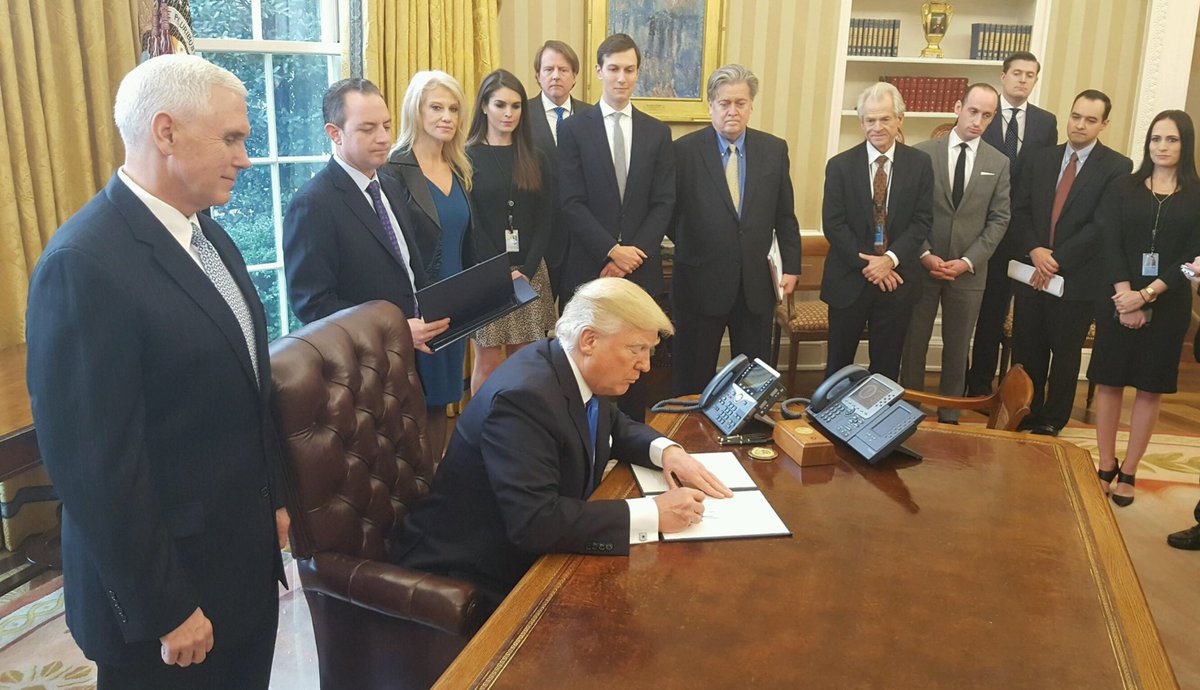 President Trump signs an order (photo: @realDonaldTrump)
---
One of President Donald Trump's first executive orders is to declare war on 39 sanctuary cities – New York, Boston, San Francisco, Chicago, Seattle, Los Angeles, to name a few – and hundreds of other sanctuary municipalities and counties in the United States that are safe harbors for undocumented immigrants.
The threat is clear.
If our sanctuary cities do not enforce Trump's executive order, by notifying federal authorities of undocumented immigrants accused of criminal offenses, a sanctuary city will lose federal funds, law enforcement funding and grants. For New York City, it could be billions of federal dollars.
Shockingly, in Trump's world, the deportation process starts when an individual is "charged with any criminal offense and [even] when a charge has not been resolved."
New York's response to the president must be: Keep your money.
Mayor Bill de Blasio, standing with other elected and public officials – including the Police Commissioner – defiantly stated that New York City will not comply with this presidential order.
But, there has to be more than defiant rhetoric.
Missing at the mayor's press event were the city's district attorneys, who are charged with the prosecution of all criminal offenses. It will be the D.A.s – and to some extent the police also – if they comply with the executive order who will be required to notify federal immigration authorities of allegations, charged offenses, and the disposition of criminal offenses committed by undocumented immigrants, irrespective of the seriousness of the offense.
Consequently, if the executive order is enforced by our district attorneys, any charge will result in the detention and mandatory deportation of an arrested undocumented immigrant for nonviolent crimes or low level offenses, such as disorderly conduct, possession of small amounts of marijuana, a "quality of life" or "broken windows" offense. All of this occurring before an individual is found guilty of any offense.
In New York City, and elsewhere, prosecutors must not become part of Trump's federal deportation squad. The district attorneys must reject Trump's financial blackmail, and not comply with his unlawful, odious executive order.
By a stroke of the pen, Trump obliterated fundamental fairness, the presumption of innocence and due process -- something that prosecutors must not permit to happen, no matter who is charged with an offense.
Trump's order also wilfully disregards existing federal law mandating that before deportation – for any offense, including "aggravated felonies" and other crimes – a conviction must first occur. Constitutional law is founded on the presumption of innocence and due process for all, including an undocumented immigrant who is arrested or accused.
With this presidential decree, Trump eliminated a trial or any semblance of justice before deportation. Now, an executive order accusation means "let's kick them out," because all undocumented immigrants or those who overstay a visa, he thinks, "present a significant threat to national security and public safety."
The president also fails to realize his executive order has serious public safety consequences.
Under normal circumstances, police and prosecutors have a difficult time encouraging an undocumented immigrant who is victim of or witness to a crime to cooperate in an investigation. With the looming risk of deportation, a victim or witness fears assisting law enforcement. This will only increase under Trump's policies as they are.
There is no question immigration reform is a complex issue. This executive order is not a step in the right direction, but just the beginning of a process to reshape our country's immigrant landscape by diminishing civil liberties and constitutional protections.
Reform cannot be resolved with Draconian measures – arbitrarily barring entry, arrest, detention and deportation – because, in the president's general opinion, "The presence of such individuals in the United States...are contrary to the national interest."
We must never forget that every day the American flag proudly flies on top of the Brooklyn Bridge, Ellis Island, and Liberty Island where the Statue of Liberty stands as a beacon of freedom. These symbols are reminders of our history and fights to protect freedom and civil liberties no matter how an individual enters or resides in the United States.
Our sanctuary cities will survive and grow in defiance to Donald Trump's belief that these cities – a hope to so many – "have caused immeasurable harm to the American people and to the very fabric of our Republic."
Mr. President, you are so wrong.
***
Arnold N. Kriss is a Manhattan attorney and former Brooklyn Assistant District Attorney and NYPD Deputy Commissioner-Trials.
***
Have an op-ed idea or submission for Gotham Gazette? Email This email address is being protected from spambots. You need JavaScript enabled to view it.