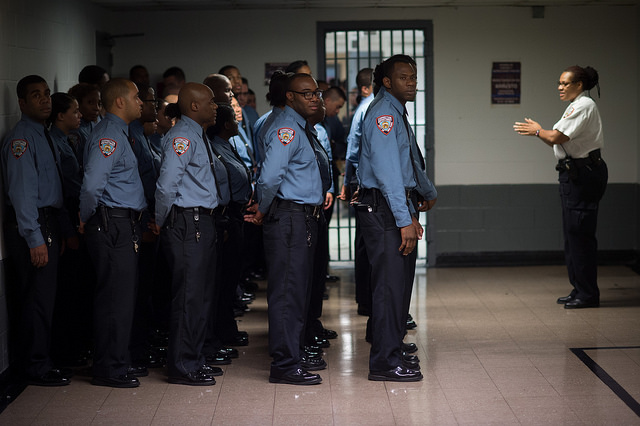 (photo: Michael Appleton/Mayor's Office)
---
Each year 650,000 inmates exit prisons; a disproportionate share are black men. Indeed, at least one-quarter of black men have criminal justice involvement. Without effective reentry programs, joblessness and recidivism follow. All agree that educational enhancements should be an important component of reentry initiatives. There is, however, a struggle between those who advocate expanding access to academic programs leading to four-year degrees versus those who emphasize certificate and other training programs.
Last month, the New York Review of Books glowingly reviewed books that not only advocated for academic programs but also argued against vocational ones. This misguided myopia is divorced from reality.
The reviewed books were written by participants in the Bard Prison Initiative (BPI) program that serves the New York prison population. We are told that it transforms inmates who "lack more than the rudiments of basic literacy" into disciplined students who attain four-year liberal arts degrees. In defending its liberal arts approach, the article pointed to corporate executives who counsel students to "acquire broad knowledge in the liberal arts and sciences."
By contrast, it criticized President Obama, who told a 2014 audience, "folks can make a lot more, potentially with skilled manufacturing or the trades than they might with an art history degree." It also frowned on prison vocational efforts that "don't show nearly the kind of personal or job-related gains that full college-in-prison programs yield."
This perspective is wrong in many ways. Corporate leaders do not encourage majoring in liberal arts. Instead, they urge students to take these courses to supplement majors in which technical skills are developed. Left unsaid, by channeling students into primarily humanities majors, BPI avoids prison students overcoming their severe mathematics deficits. As a result, virtually none of the BPI graduates entered the corporate work world. Instead, they overwhelmingly gained employment in social service occupations in the public and nonprofit sectors: "working as youth advocates, counselors and teachers."
The disparagement of prison vocational programs is also off base. New York is one of the most successful states in enabling inmates to study for the High School Equivalency (HSE) exam. Despite these efforts, most inmates leave prison without passing the exam, making this four-year college-for-all approach inapplicable to most of them.
By contrast, a recent comprehensive government study found that certificate programs have significantly increased post-prison employment rates.
Most troubling, however, the BPI program has been a signal to others that the college track is the desired goal for as many of the previously incarcerated as possible. I recently surveyed a number of New York City prison reentry programs for a report that will be published by the Manhattan Institute. I found in virtually all cases, the only option given to those with a HSE was academic programs at the community colleges. Other options, like certificate programs, were virtually unoffered.
I reviewed the highly respected Futures Now program at Bronx Community College, which provides college entry to the previously incarcerated. It has a committed staff that help them navigate the college experience. Unlike those in prison, however, these overwhelmingly black and Latino students have a myriad of issues that inhibit their academic success: housing problems, problematic social relations, and financial needs. Since virtually all of these students still have academic deficiency, they must first go through remediation courses.
The problems with this four-year college-for-all strategy do not end there. In 2012, the median annual earnings of those with four-year degrees working full-time was $49,650. The modest share of Futures Now students that complete their four-year degree will overwhelming have weak transcripts and majors that will place them at the lower end of the earnings scale. The lowest-earning 30 percent of four-year graduates earn no more than $36,850: the median earnings of full-time workers with only two-year degrees. Thus, only a small share of Futures Now students end up earning more than if they had chosen two-year occupational programs that focus on direct employment.
Despite their best efforts to overcome these hurdles, only one-quarter of Futures Now students complete the two-year program; and few of them seek direct employment. Bronx Community College does not have job placement professionals, they expect their students to transfer to the senior colleges. Indeed, the largest share of Futures Now students was enrolled in the liberal arts track, favored by those who expect to transfer. If the best support program available only has a 25 percent success rate, many would have been better off enrolling instead in certificate programs available in the City University of New York (CUNY) system.
One final problem created by this well-intentioned strategy: Many of the successful few from the Futures Now program who attain four-year degrees have weak employment prospects and are counseled to seek postgraduate programs that can be expensive. A Brookings Institute study estimated that average black student debt ballooned from $23,400 to $53,000 as a result of postgraduate debt whereas white student debt rose from $16,000 to $28,000.
Studies consistently find that black students have lower grades and test scores than white students. As a result, black students are less likely to be accepted into public postgraduate programs and instead a disproportional share attend for-profit institutions: 28 percent compared to 10 percent of white students. Given their similarly poor undergraduate records, the outcome for many Futures Now college graduates who enroll in postgraduate programs may be high student debt with problematic employment credentials.
We should applaud Bard College for improving the lives of many inmates. We should not, however, accept their generalizations that it is better for the previously incarcerated to have liberal arts rather than occupational degrees, vocational programs for inmates and the previously incarcerated are detrimental, and prison reentry programs should focus exclusively on academic programs for those who have passed the HSE exam. While a share of those previously incarcerated can benefit from academic programs, particularly two-year occupational degrees, the majority is better served by certificate or other short-term training programs.
[Also read: Certificate Programs Offer Opportunity to At-Risk Youth]
***
Robert Cherry is Stern Professor at Brooklyn College and CUNY Graduate Center.
***
Have an op-ed idea or submission for Gotham Gazette? Email This email address is being protected from spambots. You need JavaScript enabled to view it.