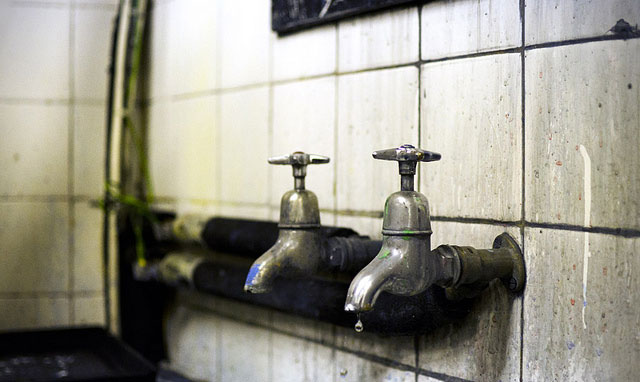 (Photo by Dineshraj Goomany)
---
After nearly three years of grappling with contaminated drinking water, the citizens of Flint, Michigan finally obtained some relief as a federal court approved a settlement mandating replacement of lead pipes.
As we mark Public Health Week in New York, we must confront the sobering need to "get the lead out" here as well.
Lead is a potent neurotoxin. It is particularly damaging to children, who absorb as much as 90 percent more lead into their bodies than adults. Once ingested, lead flows from the blood to the brain, kidneys, and bones. Children's organs and bones are immature and more vulnerable than adults'; they also have an incomplete blood-brain barrier.
We have known for some time that high levels of lead can cause severe health impacts – including anemia, kidney disease, abnormal brain function and even death. Yet the medical science now confirms that even low levels of lead can cause permanent damage to our children.
Over the past two years, the tragedy of Flint has stunned the nation -- we watched the drinking water of an entire city become contaminated with lead.
Now we know this toxic threat extends well beyond Flint - to communities right here in New York. In fact, test results show that lead is even contaminating drinking water in schools and pre-schools, flowing from thousands of fountains and faucets where our kids drink water every day.
As more schools test their water in New York, they are finding lead. In the latest round of testing in New York City, reports show nine times as many water sources tested above the EPA's "action level" of 15 parts per billion (ppb) compared to tests conducted just a year ago.
Such confirmed cases of lead-laced water are likely just the tip of the iceberg. Often, we only hear about "elevated" results – i.e., those showing more than 15 ppb of lead in the water. However, there is no safe level of lead.
Moreover, even properly done testing often fails to detect lead in water. Mark Edwards, the Virginia Tech expert who helped Flint residents uncover their tragedy, has even compared lead testing to Russian Roulette.
The reason for this pervasive problem is simple: all too often, the water delivery systems in our homes and schools are lined with lead – from the pipes to the plumbing and fixtures. In some cases, the service line, which brings water from the main pipe in the street into a home or school – is entirely made of lead.
So instead of waiting for more tests to confirm this toxin at the tap, we should take a more preventative approach, one that truly prioritizes children's health and safety.
The common-sense solution is to remove lead from pipes, plumbing, and fixtures. And until we're sure that's 100 percent done, we can protect our children with filters certified to remove lead, at every tap used for drinking or cooking.
To be sure, undoing this toxic legacy throughout all of our communities will take time. But the first place for us to start is with our schools and daycares, and the other places where our children go each day to learn and play.
Fortunately, Governor Andrew Cuomo and the New York State Legislature have finalized a $2.5 billion Clean Water Infrastructure Act as part of the budget for the new fiscal year. This is a huge boost to efforts to protect drinking water at its source.
However, in February, state Comptroller Tom DiNapoli released a report that places the state's drinking water infrastructure needs at $40 billion over the next 20 years. Such high estimates make it clear that steady and consistent future funding will be required as well.
As our nation rushed through more than a century of unprecedented economic growth, we allowed toxic health threats like lead to become embedded into the fabric our lives. We allowed manufacturers to put this potent neurotoxin in our paint, gasoline, and many other products.
For decades, public health officials have been working to undo the damage. Banning lead in gasoline immediately removed a major source of toxic air pollution. Barring lead in paint stopped a major threat to children's health from becoming even worse, but we are still cleaning up the damage from millions of homes with lead paint, as well as related lead in dust and soil.
Yet until Flint, few of us were thinking about lead in the pipes and plumbing that bring drinking water right to our faucets. Now we know, and now we must act.
For the sake of our children's health, it's time to get the lead out here in New York.
***
Heather Leibowitz, Esq. is the Director of Environment New York, a statewide advocacy organization. On Twitter @EnvNY.
***
Have an op-ed idea or submission for Gotham Gazette? Email This email address is being protected from spambots. You need JavaScript enabled to view it.