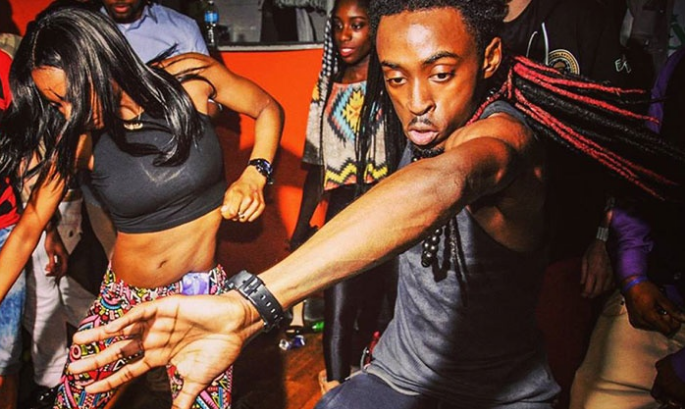 (photo: choreographer Blacka Di Danca)
---
New York City is experiencing a sonic boom. From electronic cumbia in the Bronx to thumping techno in an East Williamsburg warehouse to experimental sounds in a former Greenpoint luncheonette, the energy of the city's diverse music cultures is at a creative and popular peak. At the grassroots level, a diffuse network of DIY arts spaces cultivates the next generation of musicians. These fiercely independent venues exist to create opportunities for emerging artists and new voices, offering a first show, a supportive crowd, and a sense of community.
But not everyone is feeling the good vibrations: archaic laws and a punitive bureaucratic mindset are stifling small, local venues that are already struggling to cope with skyrocketing rents. Given a severely lacking support structure for the city's DIY music and art spaces, a single misstep can prove disastrous. In this environment, the selective enforcement of current rules and regulations serves to criminalize nightlife—dampening economic opportunity and making New York less safe.
One particularly draconian example, the Cabaret Law, was passed at the height of the Harlem Renaissance in a bid to curb the rise of jazz clubs in the prohibition era. In the words of the Committee on Local Laws, the aim was to rein in "the 'wild' stranger and the foolish native" by prohibiting restaurants and bars from allowing more than three patrons to dance without receiving a separate cabaret license. For more than 60 years, the law specifically banned the principal instruments used in jazz, until a 1986 ruling found that provision unconstitutional. Despite this overtly discriminatory origin, the law has remained in force to this day.
In addition to its redundancy—strict rules already govern noise, alcohol, crowds, and other late-night nuisances—the Cabaret Law continues to have a chilling effect on specific styles of music, encouraging local music and art spaces to book rock bands or folk performers instead of hip-hop artists or salsa musicians that might inspire the crowd to dance. Applying for a license involves a gauntlet of additional regulations and costs, including additional security, surveillance, operational, and recordkeeping requirements. The cost and complexity help explain why just 94 of the city's 25,000-plus food service establishments currently hold a cabaret license.
This regulatory relic is just one example of the adversarial relationship that characterizes the city's interactions with independent nightlife and local arts communities. Many DIY spaces never recover after accruing multiple violations and thousands of dollars in fines. Even modest fixes can be out of reach, especially for smaller spaces: changing a certificate of occupancy, applying for a public assembly permit, or undertaking renovations to comply with byzantine building codes all pose significant hurdles. The lost revenue from just a few days spent closed for repairs can mean the difference between making rent and risking eviction.
In a city where one experienced entrepreneur cites costs upward of $1 million to open a 100-capacity venue, it's no surprise that artist- and youth-run spaces end up mired in a constant struggle to operate legally. The result is that the city's small, local arts venues—which account for more than 12,000 jobs and $800 million in annual economic output—struggle to make ends meet.
Rising rents are a major contributing factor, but the city government presents obstacles of its own. In order to prepare for the onslaught of city agencies, DIY spaces are not only paying artists and staff, but also attorneys, expeditors, compliance consultants, and contractors to satisfy health, building, fire, water, gas, and electrical regulations. Faced with escalating costs, zoning pressures, and an enforcement-focused system of regulatory agencies, New York City's status as an incubator of arts and culture is under threat.
The Center for an Urban Future's Creative New York report found that at least 24 music venues closed between 2011 and 2015, with more DIY spaces, such as Palisades and Shea Stadium, shuttering in the past few months (although the latter is poised to return). A recent report from the Mayor's Office of Entertainment and Media confirmed these findings, announcing that more than 20 percent of the city's smaller music venues have closed over the past 15 years.
Sustaining independent music and nightlife means supporting efforts to create safer physical spaces. It is essential that all spaces comply with common sense safety rules, such as clear paths of egress and working fire extinguishers. But the existing financial and regulatory burden creates a two-tiered ecosystem, with fully licensed, for-profit venues operating aboveground while many artist-run or not-for-profit spaces are forced into the shadows. This has the paradoxical effect of pushing vital arts spaces further underground, making artists and patrons less safe, not better protected.
New York needs a strong base of local arts venues to create opportunities for emerging artists and sustain the next generation of musicians, organizers, and cultural producers. The city should take steps to cultivate its grassroots music and nightlife venues, or risk undermining the foundation of its creative growth. The creative sector now employs roughly 300,000 New Yorkers, or 7 percent of all jobs in the city. And small clubs, bars, and music venues account for thousands of additional jobs, fueled by live performances every night of the week.
A strategy to support these entrepreneurial endeavors could include free or subsidized legal advice and architectural services for artists and venues; a grantmaking or matching-funds program for urgent safety improvements and public assembly permits; a program to provide mock inspections to local music and art venues; and a nightlife liaison inside City Hall—an approach successfully undertaken by some of New York's cultural rivals, including San Francisco and Berlin.
Perhaps the simplest step in the right direction is to repeal the Cabaret Law. After nine decades of antagonism toward nightlife, the time has come to let New York dance.
***
Eli Dvorkin is managing editor of the Center for an Urban Future and a founding member of the Silent Barn. On Twitter @nycfuture.
***
Have an op-ed idea or submission for Gotham Gazette? Email This email address is being protected from spambots. You need JavaScript enabled to view it.