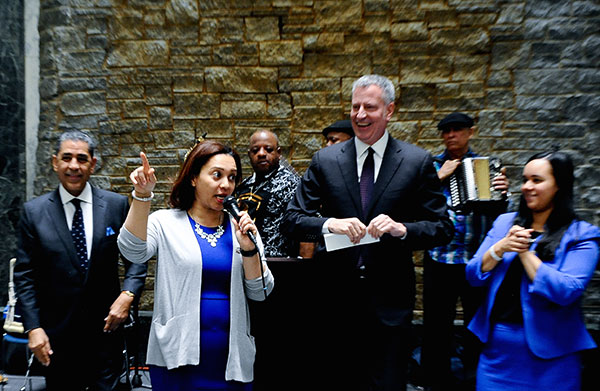 Sen. Alcantara, the author, & Mayor de Blasio (NY State Senate Photography)
---
In April, New York City certified its 5,000th Minority and Women-owned Business Enterprise (M/WBE). Its proud owner is Miguel Cabrera, an immigrant from the Dominican Republic who came to the U.S. in 2009 and owns a transportation business.
When I met Miguel earlier this month in Albany, we talked about immigrant life in the United States. He told me that he became City-certified so that he could reinvest in his local community in the Bronx.
He embodies the spirit of New York City. It is a place that empowers people from different backgrounds to display their entrepreneurial spirit and turn their American Dream into a reality.
There are countless business owners like Miguel who need the support of the City to overcome historical barriers to accessible capital and contracting opportunities. In order to address the impact that discrimination has had on the marketplace for City contracts, Mayor de Blasio has made an aggressive commitment to help foster success among the city's M/WBEs, including establishing a goal of certifying 9,000 firms by 2019; awarding $16 billion in contracts to M/WBEs by 2025; awarding 30 percent of the value of City contracts to M/WBEs by 2021; and creating loan programs such as the Contract Financing Loan Fund, which give M/WBEs access to loans of up to $500,000 at a low 3 percent interest.
This renewed focus on M/WBEs has led to slight but significant increases in the number of M/WBEs that do business with the City. In Fiscal Year 2015, the City had an 8 percent rate of M/WBE participation among firms that did business with the City. That number rose to 14 percent in FY 2016 and then 19 percent in the first two quarters of FY 2017.
To continue seeing progress, the State must step up and give the City additional tools to address the historic effects of discrimination in the marketplace and spur growth among M/WBEs, which make up more than 50 percent of New York City businesses.
A bill I introduced earlier this month, S.6513, would do just that.
Currently, City agencies have discretionary spending authority that allows them to spend $20,000 to $35,000 without a formal competitive process. The State's threshold, however, is up to $200,000 and it's time we allow the City similar flexibility, a move the de Blasio administration fully supports.
I often hear from constituents that the time associated with a formal competition can discourage M/WBEs, which are mostly small businesses, from going through a lengthy procurement process for projects that are small and offer only a slight profit margin. The loss of time and resources M/WBEs shoulder during the competitive process can hinder their growth. This is compounded by the fact that this is a subset of small businesses that have historically been at a competitive disadvantage. To address this problem, my bill will significantly raise the City's threshold for discretionary spending to be more in line with the State's.
This provision would help the City make swifter progress in addressing the historical and current impact of discrimination, and would help M/WBEs build capacity and the experience needed to successfully bid and perform on City projects.
To my colleagues in the Senate: small businesses are the backbone of any successful economy. They hire locally and reinvest in their communities. All of our local communities and businesses should have the opportunity to flourish. Please join me in giving the City and its M/WBEs these much needed tools.
***
Marisol Alcantara is a state Senator whose district includes Washington Heights, Inwood, and the Upper West Side. On Twitter @NY31Alcantara.
***
Have an op-ed idea or submission for Gotham Gazette? Email This email address is being protected from spambots. You need JavaScript enabled to view it.