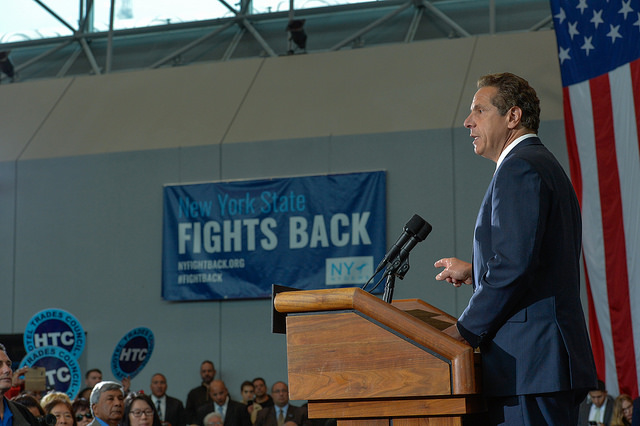 Gov. Cuomo rallying to flip NY House seats (photo: NY Democratic Party)
---
If the national Women's March was any indication, we are in for a Democratic tidal wave come 2018. We're only seven months into 2017, of course. But if such a wave does occur, then the Republican Party in Congress will only revert back to ideological extremes and obstructionism.
Why? Because the seats up for grabs are largely the 50 seats held by moderate Tuesday Group caucus members. As their influence wanes, the influence of the Freedom Caucus and other extreme conservatives will only grow.
While governing is about compromise, politics is about winning, and having worked on several campaigns in New York, I certainly cannot begrudge Democrats for trying to unseat some of our more moderate Congressional members, as they are the campaign equivalent of low-hanging fruit.
However, in order to govern, the center must hold.
America needs the Tuesday Group. America needs Democratic blue dogs. Congressional Republicans need moderate leaders like Paul Ryan, Kevin McCarthy, Charlie Dent, and Cathy McMorris Rodgers.
Without them, the party in Congress will see a return to turmoil, the likes of which we only briefly glimpsed after John Boehner announced his resignation in September 2015.
Ward Baker, former executive director of the National Republican Senatorial Campaign Committee, wrote a lengthy memo last year to GOP Senate campaigns after it became clear Donald Trump was on track to win the Republican nomination for President. The message of the memo: run your own race.
Tuesday Group members, I cannot stress this enough.
Do not feel beholden to a toxic and unpopular and unpredictable White House. Support the Speaker, cast your vote, but vote your constituents, vote your conscience – not the Saturday morning Twitter spasms of an irrational and unstable Commander-in-Chief.
Reince Priebus and Howard Dean both proved that big tent strategy beats strict ideological adherence every time.
Dean built a 50-state infrastructure that helped Democrats navigate their way to the majority in 2006. Meanwhile, Priebus wrangled FreedomWorks, Americans for Prosperity, Club for Growth, Ending Spending, and other conservative groups to do the same for Republicans in 2010 and 2014.
That's the reason why my party is now gifted with talented pols like Joni Ernst, Rob Portman, Cory Gardner, Elise Stefanik, John Katko, and Marco Rubio.
In New York, Governor Andrew Cuomo has already declared "war" on Republican House members throughout the state, but based on his track record his bark is worse than his bite. Congressional Reps. John Faso and Claudia Tenney may face strong Democratic challenges, but Cuomo will be too busy padding his own reelection effort to take notice.
Democrats, if they're interested in winning, need to ditch – and quit praying at the altar of – a Vermont demagogue and remnant of the Old World communist left, who still refuses to even identify as a Democrat, and instead embrace such 21st Century party pragmatists as Cory Booker, Patty Murray, Tom Perez, and John Hickenlooper.
If not, Democrats will only continue to flounder, and suffer more "close but no cigar" moments like Katie McGinty in Pennsylvania, Jason Kander in Missouri, Jon Ossoff in Georgia, and, quite obviously, that glass ceiling-shattering candidate who was supposed to win the White House in 2008 and 2016.
Democrats, I may not be your friend, but I'm certainly not your enemy – Putin and ISIS are the enemy. Your party is in turmoil, you need to figure out what you stand for, and then bring your A-game.
Show Americans you've got what it takes to provide jobs, provide roads and bridges, provide health care, education and equal justice, provide prosperity, liberty, safety, security, and the freedom of choice for all.
However, if you can't do that, if you can't organize for something other than marching, if you can't resolve your own petty internecine warfare between intransigent Bernie believers and mainstream party practicables then you deserve to live in the minority until you do.
***
John William Schiffbauer was the Deputy Communications Director for the New York Republican State Committee 2014-16. Last fall, he served as campaign manager for Republican Melinda Crump's State Senate campaign in New York's 31st District. On Twitter @jwschiffgop.
***
Have an op-ed idea or submission for Gotham Gazette? Email This email address is being protected from spambots. You need JavaScript enabled to view it.