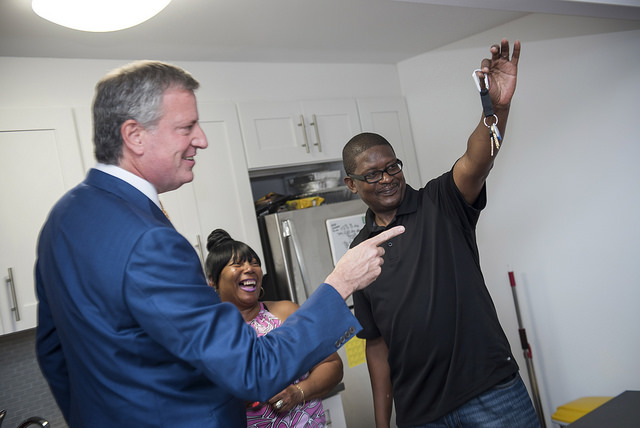 new tenants (photo via Ed Reed/Mayor's Office)
---
Amid this National Hunger and Homelessness Awareness Week, as organizations across the country bring attention to the issues of hunger and homelessness, it's important to also bring attention to and advocate for thoughtful policy solutions that address the gaps in our current efforts. On homelessness, it is essential that we provide landlords and formerly homeless tenants the support they need to both encourage landlords to rent to people without stable housing and address tenancy issues as they arise instead of amid the emergency of homelessness.
According to the City's Turning the Tide on Homelessness in New York City, as of February, the de Blasio Administration had helped 51,500 individuals move from homeless shelters to housing or keep their housing under the threat of homelessness. This is a striking number when considered in the context of current homelessness numbers, illustrating the extent of our housing affordability crisis. Despite preventing or ending homelessness for tens of thousands of New Yorkers, there remains a crisis. At best, city homelessness has only stabilized, if you consider Furman Center analysis that the 2 percent increase in the city shelter census from 2015-16 is the lowest yearly increase since 2011.
Amid our difficult housing market, the City must do even more to turn the tide on moving individuals from shelter to permanent housing and keeping them housed. Paramount is enhancing landlord engagement. As Turning the Tide notes, landlords are "key partners" in the "continued success" of rental subsidy programs and moving individuals from shelter to home.
To an extent, the City engages landlords in housing those experiencing homelessness. It offers landlords signing bonuses and security deposits to mitigate the perceived risks of renting to those with City rental subsidies. It will also provide a 2 percent rent escalator for new scattered-site supportive housing units to incentivize landlords to provide units. (The City's "NYC 15/15" program aims to build 15,000 units of supportive housing, permanent housing that includes social services, over 15 years.)
The City also engages landlords in housing the homeless through its public-private partnerships. For example, the Come Home NYC program with Enterprise Community Partners, engages landlords in permanently housing homeless families with income. Enterprise recruited landlords to provide apartments, offering participating landlords a guarantee of up to $3,000 per lease to offset costs like missed rent and legal fees.
Financial incentives are an important carrot to spur landlords to rent to people experiencing homelessness. Concerns and stigmas about renting to this population exist, even if unfounded. For its Home No Less Will Do Campaign, homeless charity Crisis UK researched landlord attitudes on renting to homeless people, surveying nearly 1,000 landlords and interviewing landlords and landlord organizations. It found 82 percent of surveyed landlords unwilling to rent to this population due to a perceived greater risk of rent arrears and intensive tenancy management; and when renting to the homeless, 18 percent increased the security deposit and 16 percent increased rent.
But New York City should engage landlords with more than financial incentives. For example, offer landlords other carrots to encourage them to rent to those with City rental subsidies or Section 8 vouchers. One useful tool is a named contact for the landlord to utilize in the event of tenancy issues. In another Crisis UK survey, a majority of landlords stated that having a named contact, in addition to direct rental payments and guaranteed funds, would incentivize them to rent to homeless people. Also according to Crisis' anecdotal evidence from a tenancy support program, landlords appreciate having the consistent tenancy support of reputable nonprofit providers when renting to these prospective tenants.
One example the City should consider is the City of Boston's recently launched Landlord Guarantee Pilot Program. The program is based on a national model to address homelessness in cities with rental markets like New York City - very competitive with extremely low vacancy rates. It has been successful in Seattle and Portland, and New York City should consider it.
Like New York City's current landlord engagement, the Boston program offers landlords financial incentives such as access to funds for losses like unpaid rent and apartment damages. In addition, it offers landlords other incentives to rent to those with a housing subsidy. One is a landlord partner who supports the landlord-tenant relationship. Another is access to landlord resources such as free mediation services. A landlord partner and landlord resources address landlords' perceived risks in renting to people experiencing homelessness. Importantly, they also switch the emphasis from acting in a crisis to maintaining tenancy, assisting landlords with resolving issues that could derail the tenancy, before they rise to eviction and homelessness.
As the impact of City efforts to move individuals from homelessness to housing demonstrates, we need to do more to really impact, prevent, and reduce homelessness. This means looking outside the traditional boundaries we work within in New York City. We cannot build our way out of homelessness. We also cannot repeat the mistakes of the past. Ending homelessness requires various sectors working together in partnership.
***
Nicole Bramstedt is the Director of Policy at Urban Pathways, a nonprofit social services and supportive housing organization serving homeless adults. On Twitter at @UrbanPathwaysNY.
***
Have an op-ed idea or submission for Gotham Gazette? Email This email address is being protected from spambots. You need JavaScript enabled to view it.