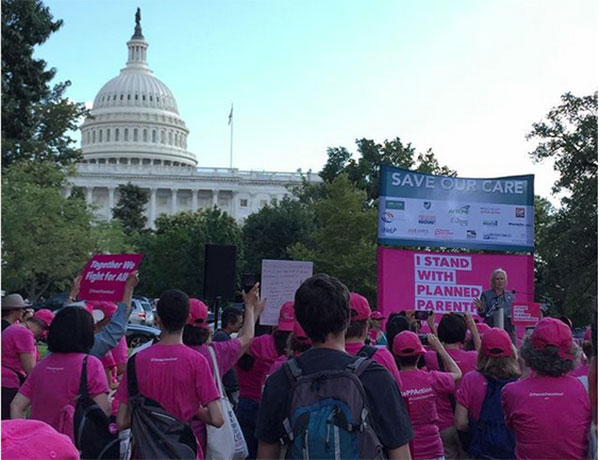 ---
The Washington Post recently reported that, in an unprecedented and dangerous move, the Trump-Pence administration has banned the Centers for Disease Control and Prevention (CDC) from using seven key words and phrases: "evidence-based," "science-based," "transgender," "fetus," "vulnerable," "entitlement," and "diversity."
As a health care provider committed to fighting health disparities and caring for everyone who comes through our doors, we are horrified by these reports. This is dangerously ideological, and will put the health and well-being of millions at risk.
It's not just about these seven terms. The Trump-Pence administration is trying to make a radical change in the focus of the entire agency—pushing a science- and evidence-based agency to one seeking to advance extreme ideology. The CDC is a non-partisan, non-ideological federal agency charged with scientific research and improving and protecting public health. This move is a direct contradiction to the pledge the agency has made to the American people.
This is just one more attempt by the Trump-Pence administration to prioritize a fact-free, ideological agenda over people's health. From day one, this administration has shown a complete disdain for women, LGBTQ people, people of color, and science—from the policies they've enacted to the people they have put in charge of important programs. This effort further reveals their agenda: using the federal government to push harmful, politically driven policies at the expense of science and medicine.
This is only the latest of a long string of dangerous policies and rhetoric coming out of the Trump-Pence administration. Just a few weeks before this, Trump decided that reliable birth control methods should be replaced with the "calendar method," which fails nearly a quarter of those who use it every year.
It's clear that this administration is attempting to infiltrate all areas and agencies of government—and of our private lives—with their harmful ideologies. And it's not just the administration. Under House Speaker Paul Ryan's leadership, the House has worked tirelessly to restrict access to sex education, birth control, and abortion. In fact, when recently discussing the GOP tax cut plan, Speaker Ryan proclaimed that women need to have more babies.
The edict to the CDC is an affront to women, to transgender people, and to all communities that experience health disparities—this is an affront to the patients that we serve every day in New York City and elsewhere. It's also an affront to the professionals who work at the CDC, to the science and medical communities whose work will be deeply affected, and to anyone who has benefited from scientific research or medicine in the United States and around the world.
The Trump administration is using the federal government to try and control women's bodies and erase LGBTQ people and people of color. This goes directly against the will and values of New Yorkers—and of Americans—and we will not stand by and let this happen.
This move is beyond ideologically twisted, and will put millions of lives in danger, including our patients'. The Trump-Pence administration should be ashamed, and must end this dictate immediately.
***
Laura McQuade is President and CEO of Planned Parenthood of New York City.
***
Have an op-ed idea or submission for Gotham Gazette? Email This email address is being protected from spambots. You need JavaScript enabled to view it.