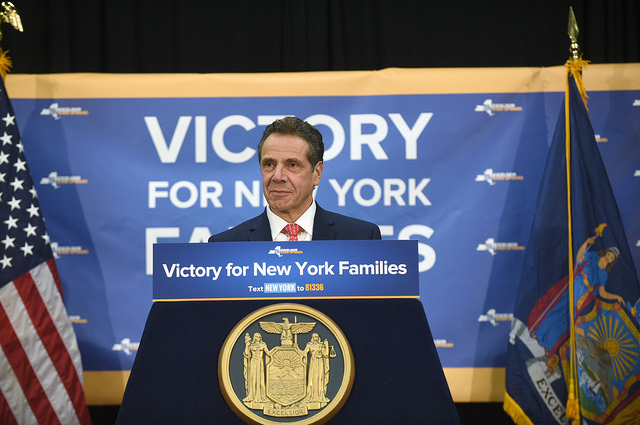 Gov. Cuomo (photo: Kevin P. Coughlin/Governor's Office)
---
In a time when more and more training and credentialing is necessary to enter the labor market, Governor Cuomo's workforce development proposal included as part of his 2018 State of the State symbolizes an important recognition that our economy depends on having a skilled and qualified workforce to meet the demands of tomorrow.
The sense of urgency can be found in the realities that today's young adults are facing in entering the labor market. Seventeen percent of, or 136,000, 18-to-24 year olds in New York City are out of school and out of work. As the economy continues to redefine itself, young adults are increasingly turning to part-time, gig-like employment opportunities to string together income. Many young adults were pushed to earn a college degree—as part of the American rite of passage—only to graduate with tens of thousands of dollars in student debt and entering a labor market with historically low-wages. Consequently, today's young adults have significantly less income and wealth accumulation than what their parents were making when they were young adults.
The challenges young adults face today are, in part, reflective of the dire need to reimagine how we are preparing young adults to launch their lives with a family-sustaining career. This means ensuring they have equitable access to postsecondary training and credentialing while meeting labor market demand. It's time for New York State to better leverage its strong and growing economy by building a 21st century workforce development system necessary to adequately prepare rising generations to participate in a constantly changing and increasingly competitive global context.
To be clear, this is not to be confused with the phenomenon of pushing every young person to go straight from high school into a four-year bachelor's-degree program—although everyone should have access to pursue a college degree if they desire. In fact, according to the Georgetown University Center on Education and the Workforce, 42 percent, or 1.7 million, New York State residents without bachelor's degrees have good, blue-collar jobs earning an average of $59,000 a year. This directly challenges the mainstream narrative that every young person needs a four-year degree and makes clear the need to invest in a 21st century workforce development system that can help meet the needs of employers in growing industry sectors, without needing a four-year degree.
Governor Cuomo's proposal to add $175 million to support workforce development efforts, establish a statewide workforce development office, design a data system, and establish a one-stop shop for job seekers and employers is a victory in and of-itself. However, we must remain diligent to ensure his vision becomes the reality New Yorkers need it to be.
The proposed $175 million of funding through the Regional Economic Development Councils is a much needed and timely investment—especially given the rapidly changing nature of the economy. Critical to the success of Governor Cuomo's bold proposed investment is to ensure that these resources are structurally permanent dollars the workforce, education, and economic development systems can depend on year-to-year in order to adequately train New Yorkers to meet labor market demand.
Because actual funding for the workforce system has declined significantly over the last decade—despite the increasing need for more industry-specific training and credentials—some of the initial resources should be used to build up and modernize the existing workforce development infrastructure. This will allow the workforce development system the opportunity to partner with employers and industry sectors, going beyond their current capacity to create cutting edge, innovative training and skill-development strategies for tomorrow's workforce.
While Governor Cuomo's proposal to establish a new State Office of Workforce Development is an important step in the right direction, to be effective, this office must have the authority and capacity to truly facilitate interagency coordination and systems building, and must be adequately resourced as a structural part of the Executive Chamber answerable to the Governor. This office must also be accountable to the New York State Legislature through public oversight hearings and annual reporting to maximize transparency and effectiveness.
Governor Cuomo's proposal to create a one-stop shop online portal for workers and businesses is a 21st century idea that JobsFirstNYC called for in Unleashing the Economic Power of the 35 Percent, recognizing the fractured and siloed nature of education, training, and employment. If effective, this portal will be a transformative tool that will include job and career information, education and training resources, geographical information on how to find social services related to work, and more.
Finally, Governor Cuomo's plan to create a statewide data analytics system modeled after Monroe Community College's framework is a welcomed idea. At first glance, the proposal seems to only focus on the demand side data that is critical to informing where more training and workers are needed to fill skills gaps. However, to be truly comprehensive, this new system must include a universal way to understand and measure programmatic performance that is easy to engage with and will help employers find creative solutions to meet their employment needs. This will ensure that state resources are being used efficiently and help the workforce development adjust its practice accordingly.
As Governor Cuomo and state legislators work to pass the state budget in the coming months, they must ensure that any workforce development strategy empowers local communities to leverage resources that meet the unique need of their economies. Additionally, the state's workforce development investment must be given the flexibility and infrastructure to create innovative workforce development strategies that are responsive to current demand and can anticipate tomorrow's evolving needs.
***
Kevin Stump is vice president of Policy, Communications, and In-School Practice for , JobsFirstNYC and Co-Chair of the #InvestinSkillsNY Campaign. On Twitter @KevinStump & @JobsFirstNYC.
***
Have an op-ed idea or submission for Gotham Gazette? Email This email address is being protected from spambots. You need JavaScript enabled to view it.