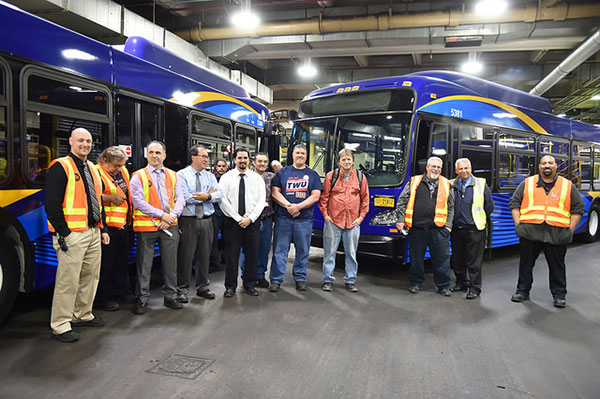 (photo: Kevin P. Coughlin/Governor's Office)
---
Even as the subways reach the breaking point, hundreds of thousands of New Yorkers face an additional commuting crisis: the lack of fast, reliable transit service in huge swaths of the boroughs outside Manhattan. In neighborhoods from Flatlands to Queens Village to Castle Hill, getting to work is a grinding chore, even when the trains are on time. That's because the transit system has failed to keep pace with the demand for better service outside the city's core.
Unlike the subway meltdown, this crisis still lacks a rescue plan. New York needs to get serious about improving bus and subway service outside Manhattan.
These punishing commutes are especially painful for the nearly half-million workers in the New York's booming healthcare sector. The workers who heal us are hurting the most.
They face the longest mass transit commutes of any private-sector workers citywide—a median of more than 51 minutes—as revealed in a new report from the Center for an Urban Future, and their commutes have increased at more than double the rate of all workers in the city.
Roughly two-thirds of all healthcare jobs are in the boroughs outside Manhattan, with many far from the nearest subway. Of the city's major healthcare facilities—including 21 hospitals and nearly 40 percent of nursing homes—our research found that almost one third are more than eight blocks from the closest subway station. This has given these nurses, health aides, and medical technicians a front seat to the shortcomings of an antiquated and broken system—assuming they can find a seat at all.
The slow and unreliable bus system compounds these frustrations, though there is rarely an alternative. More than 80,000 healthcare workers (17 percent of all employees in the sector) rely on buses every day—higher than any other industry.
Some sectors, like finance, have seen commutes shrink for city residents over the past two decades, as employees have moved closer to work. But healthcare workers have instead been pushed to the city's more affordable periphery, especially the swelling ranks of home health aides, who typically make less than $25,000 per year.
Healthcare workers may have especially arduous commutes, yet the challenges they face reflect a broader trend reshaping New York City, where much recent job growth is occurring outside the Manhattan core. Thirty years ago, the four boroughs outside Manhattan were home to 35 percent of the city's private sector jobs. Today, it's 41 percent.
The boroughs have also been home to 87 percent of the city's population growth since 1990, and most of the gains in transit ridership. But transit service has not kept pace with these demographic and economic trends. Meanwhile, little new investment has gone into improving existing service in these parts of the city—much less adding new service to address gaps.
To build a city that works for all of its residents, New York City and State needs to prioritize improving transit service in the Bronx, Brooklyn, Queens, and Staten Island.
New York's local leaders need to get behind a congestion pricing plan, such as that proposed by the Fix NYC panel, that will create a dedicated revenue stream for transit improvements. Such a plan should absolutely fund much-needed subway fixes that help reduce delays and modernize signals. But part of these new funds must go into improving and expanding service in the boroughs outside Manhattan.
The MTA should also launch a Bus Rescue Plan to mirror the essential work happening in the subways, and New Yorkers should be heartened to hear that new New York City Transit chief Andy Byford mentioned the idea. He should waste no time in crafting one. For the two million New Yorkers who ride the bus each weekday, including more than 80,000 healthcare workers, buses are the only option. But bus service across the city is unreliable, too slow, and doesn't run frequently enough.
The MTA and DOT should implement a host of best practices, including dedicated and enforced bus lanes, signal priority at traffic lights, and all-door boarding. These improvements would cost a fraction of what is needed underground.
With a new transit chief and subway action plan, New York City may finally be on the way to fixing the trains—a critical first step in turning around a failing system. Yet transit will forever remain on life support unless New York tackles the poor service plaguing neighborhoods citywide.
***
Bowles is executive director of the Center for an Urban Future. Chaban is CUF's policy director. On Twitter @jbowlesnyc & @MC_NYC & @nycfuture
***
Have an op-ed idea or submission for Gotham Gazette? Email This email address is being protected from spambots. You need JavaScript enabled to view it.