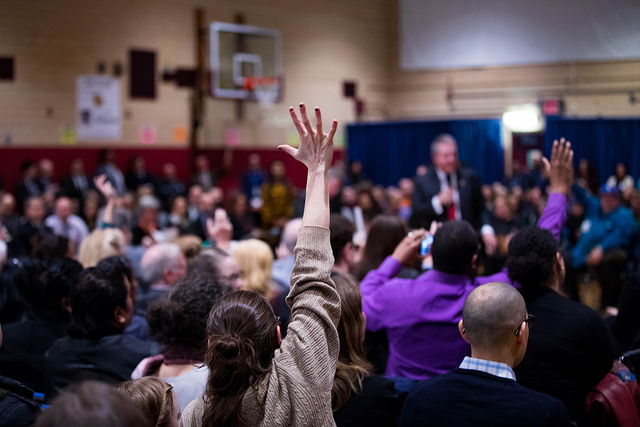 (photo: NYC Mayor's Office)
---
Today, throughout Kings County, aka Brooklyn, there are many low-income tenants, working class people, and people of color in desperate need of and clamoring for true progressive political representation in their Democratic Party and from their state representatives. Leaders throughout a number of communities are critically looking at our elected officials -- especially state-level politicians running in primary elections this year -- and asking if those officials truly represent their views.
Locally-focused, civic-minded Brooklynites are questioning whether these politicians show up to important meetings or rallies that involve our public schools, our rent-stabilized housing units, our transportation system, and more -- and whether they deliver on those key issues when representing our neighborhoods.
I often scratch my head and wonder why newly-founded groups like New York Senate District 17 for Progress and Rise & Resist,as well as some longer-standing groups like New Kings Democratsexist. And I often arrive at the same clear conclusion: they exist because they're tired of having centrist politicians representing them and their communities; they want their more left-leaning views represented in government. They want to hold their representatives accountable to the stances that they care about, and they're fed up with the closed processes of our county system.
Every county in the United States has committees of Democrats and Republicans that help to determine the agenda and endorsements of their local parties. In Brooklyn, there are 21 Assembly Districts that altogether make up the Kings County Democratic Committee. Each Assembly District has many election districts (each of which consists of a roughly three-to-four square-block radius) and Democrats can choose to gather an estimated 40 petition signatures every two years to join the county committee and help mold the platform of their party.
Today, the leaders of our Kings County Democratic Committee could play a huge part in giving the voiceless a voice by expanding the party and ensuring that Democrats from each election district have a say in how they want to be represented through party leadership and what policies the Democratic Party fights for. Unfortunately, this is far from the reality.
Why is it that in the 21st century in the fourth-largest county in the country -- Brooklyn -- there are still about 500 Democratic County Committee seats open? Is it not the function of our local Democratic Party to build our party and ensure inclusion of many voices as we determine the direction we want our party to take when endorsing candidates or crafting policy platforms? There is a key solution for solving this problem: we must organize to reform our party and hold elected officials accountable to our progressive priorities.
Next month, in June, I along with more than a dozen other long-standing Bushwick residents and activists will be petitioning to get on the Kings County Democratic Committee in our Assembly District (AD54). Others should do the same where they live. This includes knocking on doors and collecting roughly 40 signatures of registered Democrats in a four-to-five block radius of your home, depending on the exact map of your election district.
Door-knocking allows for honest conversation with our neighbors about why we're doing this. We're tired of having a Democratic Party that is not doing the utmost to push the envelope on things that matter to us. In Bushwick that means fighting the everyday displacement taking place and strengthening schools that have been ranked in the bottom third since state testing has been used as a performance measure.
I am proud to state that these new groups of individuals running for County Committee in AD54 are community board members, organizers, educators, community gardeners, and low- to middle-class tenants. This is important at a time when many progressive organizations in Brooklyn are being dismissed because of how heavily white their memberships appear to be. As a group, we are tired of business-as-usual politics. We are tired of not seeing our Assembly member and state senator at important local meetings. We are tired of progressivism not being the mantle on our table.
As a result, we'll aim to get some of our very own neighbors to also join County Committee during our door-knocking adventures so we can further build voting blocs that hold our elected officials accountable. It is time for us to be the change we wish see in our local Democratic Party. It is time for us Brooklynites to join en masse and bust open the closed doors of the Kings County Democratic Party.
***
Boris Santos is a community organizer for the office of City Council Member Antonio Reynoso and a former public school teacher. The opinions expressed here are his alone.
***
Have an op-ed idea or submission for Gotham Gazette? Email This email address is being protected from spambots. You need JavaScript enabled to view it.