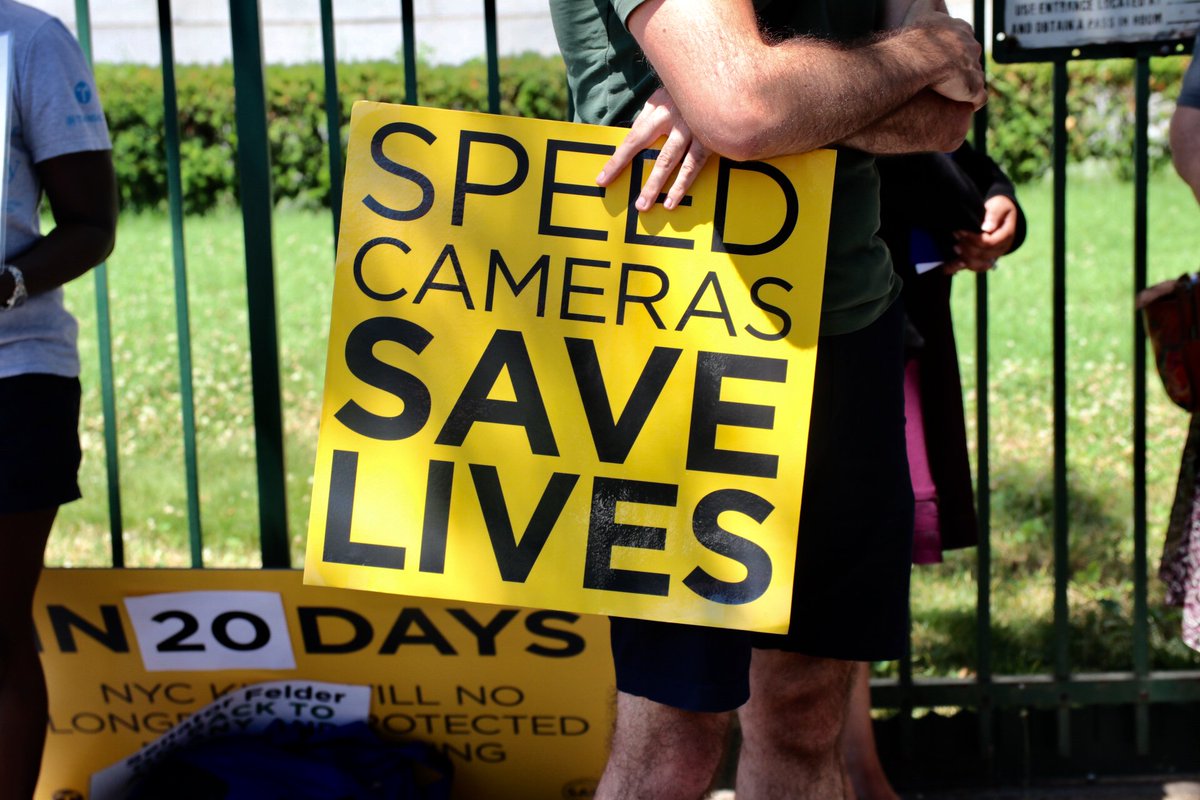 (photo: @NYC_SafeStreets)
---
No parent expects that a kiss goodbye on a seemingly normal day will end as it did. A phone call from the police. A frantic trip from a parent-teacher conference to the emergency room. Hours waiting with friends, Sammy's pediatrician, and family. Praying for him to live but prayers turning out to not be enough.
We should never have met. A social worker, parent, and concerned-but-not-an-activist Brooklynite and a committed elected official from Manhattan. But this unimaginable event brought us together in pursuit of a common goal.
The rage and heart-wrenching pain needed an outlet. So we met, and met again -- at rallies, press conferences and meetings. Now together, we fight for a common goal: to protect New York City schoolchildren and to change the culture of reckless driving that is killing someone like Sammy on our streets every 38 hours.
We have a preventable public health crisis. It was a silent epidemic before we met. But now this crisis is gaining widespread recognition, as is a proven life-saving remedy: speed safety cameras.
New York City's permission to operate 140 speed safety cameras in school zones is expiring. All of the cameras are about to be turned off. All because of inaction by the New York State Senate. But, the Senate can remedy this by reconvening in Albany and passing the life-saving bill that awaits its members.
After a four-year pilot, the data is conclusive: speed safety cameras work. They have reduced speeding, a leading cause of death and injury on New York City streets, by more than 63 percent, according to the New York City Department of Transportation. And at a time when traffic deaths have been on the rise across the United States as a whole -- traffic deaths climbed 14 percent nationally between 2015 and 2016 -- here in New York City, we have watched traffic deaths fall by 28 percent since speed safety cameras were switched on in 2014.
Simply put, if we can conquer the speeding epidemic, we can achieve Vision Zero and prevent people from dying. We're making progress. Together, we helped pass the state Assembly bill (A.7798C) to expand the speed safety camera program to 290 school zones and allow the cameras to be placed on the most dangerous streets near schools, not just directly in front of school entrances. This bill has the support of over 300 organizations across the city and 77 percent of New York City voters, and has 34 co-sponsors -- including three Republicans -- in the Republican-led Senate.
The Senate needs to reconvene and pass this bill immediately. For Sammy. For all New York City schoolchildren, and for all New Yorkers.
***
Amy Cohen is a founding member of Families for Safe Streets. Deborah J. Glick is a New York State Assembly member representing the 66th District in Lower Manhattan and is the prime sponsor of the speed camera school safety bill. On Twitter @NYC_SafeStreets & @DeborahJGlick.
***
Have an op-ed idea or submission for Gotham Gazette? Email This email address is being protected from spambots. You need JavaScript enabled to view it.